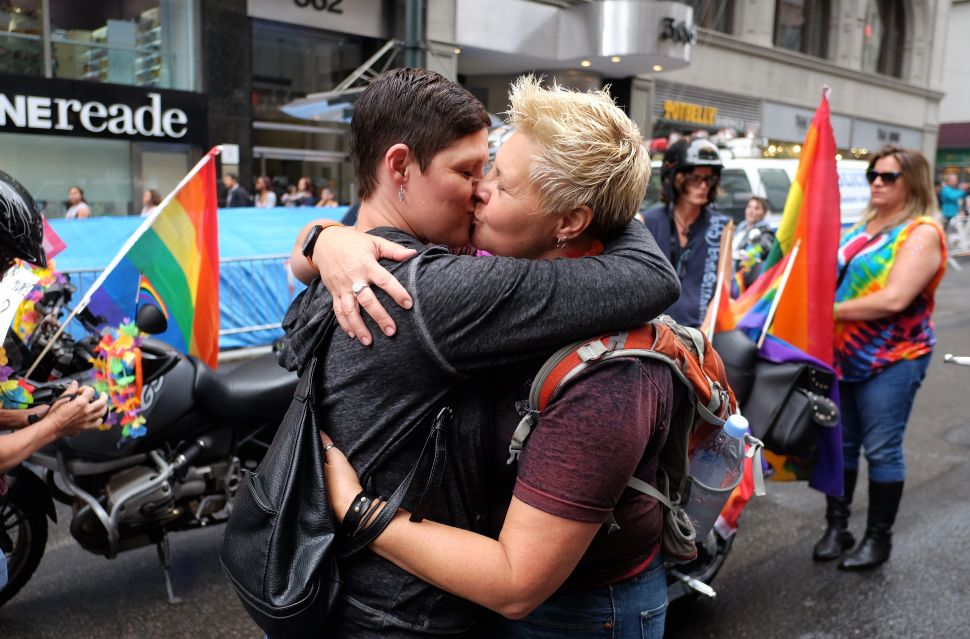 Were those wedding bells or the winds of change?
On September 1, 2002—16 years ago this weekend—The New York Times began listing same-sex unions in its wedding section. The Gray Lady marked the occasion on Instagram this week.
The "Weddings" page was renamed "Weddings/Celebrations" to reflect the fact that same-sex marriage wasn't legal in the United States at that time—cities and states only offered civil unions or domestic partnerships.
"In making this change, we acknowledge the newsworthiness of a growing and visible trend in society toward public celebrations of commitment by gay and lesbian couples," Times executive editor Howell Raines said at the time. "The Styles pages will treat same-sex celebrations as a discrete phenomenon meriting coverage in their own right."
Even after this change, however, stereotypes about the Times wedding coverage persisted—for example, that you had to go to Harvard or be a congressional staffer to get that precious print real estate.
But are these blanket statements fact or fiction? In honor of this weekend's anniversary, let's find out.
You Were Born in an Elite Suburb
The Atlantic examined a year of Times wedding announcements to see how many moneyed families ended up in its pages. Fittingly, the magazine chose Greenwich, Conn., (New York City's wealthiest suburb) as its test case.
Greenwich has about 60,000 residents, per the 2010 census. Eleven of the 2,640 people featured in the wedding section had ties to Greenwich.
So Greenwich residents make up about 0.02 percent of the U.S. population, but 0.42 percent of couples in the Times, making them 21 times more likely to have their weddings featured.
You Went to an Ivy League University
If you went to Harvard, Yale or Princeton, you've got a very good chance of getting your betrothal in the Times.
About 9.4 percent of featured couples went to Harvard. Another 5.8 percent graduated from Yale, and 3.6 percent went to Princeton.
Add it all up, and 18.8 percent of Times wedding announcements feature alumni of just three schools (that only 0.18 percent of the U.S. population attended). That means this Ivy League trio is 100 times more likely to appear in the Times than anybody else.
You're a Congressional Staffer
Members of Congress love to be economical with wedding announcements—they often choose the free listings in the Times over Washington Post items that cost hundreds of dollars.
According to Roll Call, current and former congressional staffers are featured on the Times society pages every other week. That means they're 75 times more likely to end up in the wedding section than any other occupation.
To improve your odds even more, it really helps if…
You Practice Law
An insane amount of lawyers get their weddings in the Times. In fact, 18 attorneys featured in the section during The Atlantic's study came from just three New York law firms.
Davis Polk & Wardwell (whose alumni include Grover Cleveland and Kirsten Gillibrand) is especially popular. About one percent of its lawyers got wedding write-ups in the Gray Lady, which means attorneys from a single firm are 974 times more likely to score wedding write-ups than anyone else.
You're a Same-Sex Couple
The Times' change 16 years ago had a discernible impact on the wedding section. Since then, gay and lesbian couples have been featured every week (and not surprisingly, the number grew higher once same-sex marriage was legalized).
The Atlantic's study found 98 same-sex couples appeared in the Times in a given year. That's 7.4 percent of the total, which means these couples are 74 percent more likely than the average American to land a Times blurb.
So, as much as we all like to mock the Gray Lady's wedding section for its highbrow ways, it deserves applause for putting same-sex couples in the spotlight long before anyone else did. Happy anniversary.