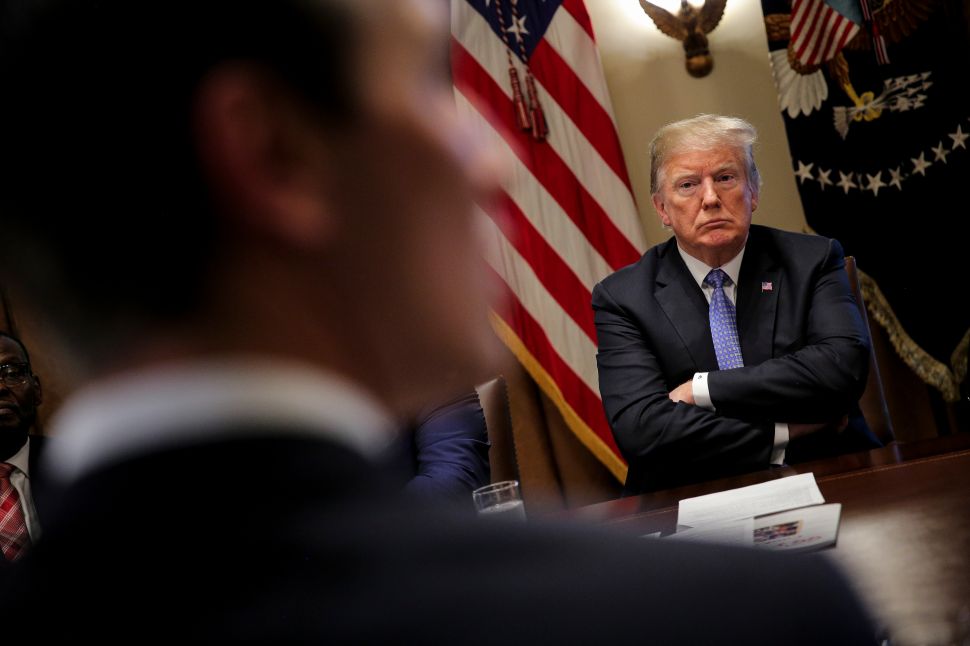 President Donald Trump loves measuring his job performance by numbers, and hates it when numbers don't look good.
On his economic scorecard, for example, Trump is most concerned with trade deficits—in particular, the trade deficit with China, which currently stands at a gaping $375 billion a year. Desperate to reduce that number, Trump has imposed and threatened multiple rounds of tariff hikes on Chinese imports in an attempt to make Chinese goods more expensive to American buyers so they don't buy as many.
Trump's serial tariff threats against China, as well as his underlying logic to win a trade war, have been criticized by industry groups as much as trade economists. What should he have done differently? And, with the trade negotiations still going on, what is his best strategy?
A group of business leaders have a few ideas.
Last week, Business Roundtable (BRT), a multi-industry group consisting of 200 CEOs of America's largest companies, published a memo with recommendations of what the Trump administration should pursue in the trade negotiation with China.
Specifically, the document lays out three parameters that BRT's CEO members believe are better measures of trade success that the trade deficit: the barriers of U.S. companies entering China; the regulatory environment facing U.S. companies that already operate in China; and how China regulates digital trade with the U.S.
First off, instead of imposing heavy tariffs on Chinese products, which would (and did) inevitably lead to higher tariffs on American goods in return, the Trump administration should figure out a plan to entice China to reduce tariffs on American imports, the document suggests. Currently, China's average tariff (9.9 percent) is nearly three times higher than the U.S. (3.5 percent).
In parallel to tariff reduction, BRT argues that the U.S. should push China to loosen restrictions on foreign ownership of businesses in China and speed up the licensing process for new foreign investments.
Regulatory hurdles of setting up operations in China are a major headache for many foreign companies. Take the automobile industry, for instance. American auto companies are allowed to manufacture and sell cars in China only through joint ventures with local companies and are subject to a cap of 50 percent ownership.
This rule was recently loosened for new-energy vehicle manufactures to allow full foreign ownership. The first beneficiary was Tesla, which launched a wholly-owned plant in Shanghai last month.
The BRT proposal recommends that the White House crack open similar restrictions in more sectors, including agricultural biotechnology, cloud computing, financial services, oil and natural gas, internet services and legal service.
For U.S. companies already operating in China, the BRT advises that the Trump administration should negotiate for equal taxation laws on American companies and domestics ones, and reduced government subsidies on Chinese companies.
That deal, however, will be tough to achieve provided China's increasingly protective stance on homegrown business. In 2015, Beijing put forward a strategic plan called "Made in China 2025." The plan aims to move China's manufacturing up in the global value chain by 2025 by supporting domestic development of high-tech sectors like pharmaceutical, IT and robotics.
The final guideline in BRT's proposal applies specifically to U.S. digital companies in China, a sector President Trump has completely overlooked so far.
"China's laws/regulations restrict data flows, require data localization, and allow for standard that either mandate technology transfer/IP disclosure or function as de facto requirements to buy only from Chinese companies," the document explains.
Right now, China is the only market hole of the two largest internet companies in the U.S.—Facebook and Google. Both companies have made failed attempts to enter China, facing barriers not only on the business front, but political and media regulation.
Even the digital-rich companies already with a presence in China face increasing pressure to give up data ownership. For example, in March this year, Apple was forced to hand over all iCloud data of Chinese Apple device users to a local company. Apple's compliance with Beijing instigated heated controversies in the Western press and from human rights groups at the time. A privacy expert who formerly worked at Google warned that Apple's decision put its Chinese users "in danger today," but may "put far more people around the world in danger tomorrow."