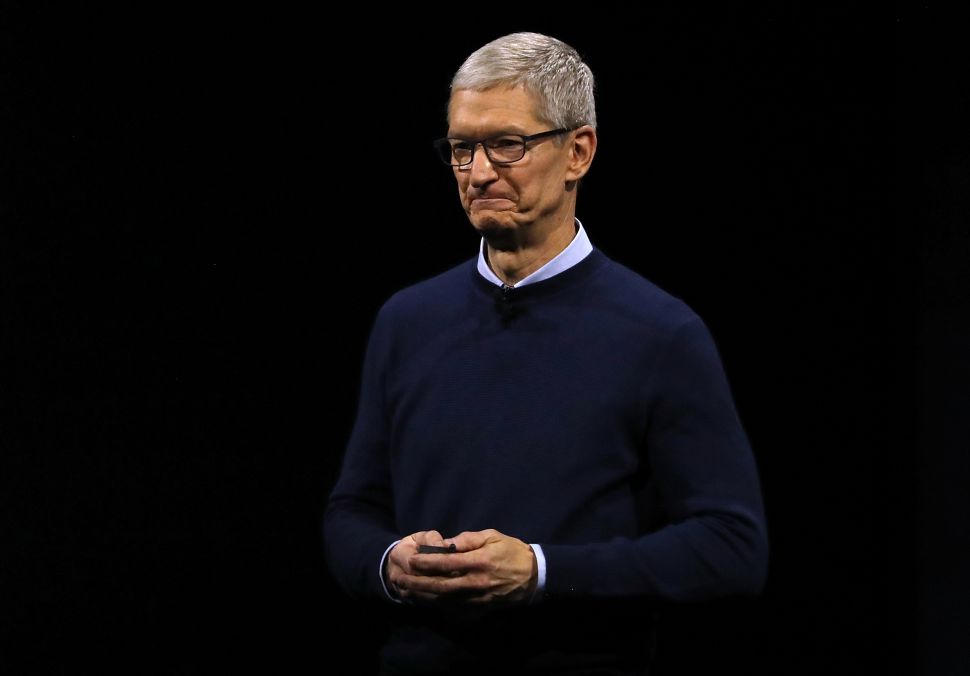 Apple (AAPL) flooded news headlines everywhere yesterday as its market value crossed $1 trillion for the first time after reporting handsome quarterly earnings. No other public company has ever reached this milestone.
Just days before Apple made history, all eyes were on Amazon to become the first $1 trillion company. Despite a decent earnings report, though, Amazon ended up a few millions short and stabilized near $900 billion for most of the past week.
When Amazon was a hot target of speculation, the most closely watched number other than company market value was potential changes in CEO Jeff Bezos' net worth, as it changed every previous time Amazon shares fluctuated. Now that Apple proudly sits at $1.004 trillion, what does it mean for Apple's CEO Tim Cook?
It depends on how you count his compensation.
Cook is somewhat an anomaly in Silicon Valley's mega-tech CEO club. Unlike Jeff Bezos, Mark Zuckerberg or Elon Musk, Cook doesn't own any founding equities in the company he runs, which in most cases account for the majority of a CEO's net worth and annual income.
Last year, Cook sat at a humble No. 71 on the list of America's highest-paid CEOs. His cash compensation totaled $12 million, including a base salary of $3 million, a performance bonus of $9.3 million and other items like pension, insurance and the use of a private jet. Cook doesn't receive equity awards based on performance for any single year. However, his net worth is tied to Apple stock in a less conspicuous way.
When Cook succeeded Steve Jobs as Apple CEO in 2011, he was granted a large welcome package of company stocks then worth $376 million. Those equities were set up to be paid out over the term of 10 years, provided that Apple's stock growth consistently exceeds the S&P 500 index.
The amount of payout to Cook every year can vary significantly depending on where Apple stands relative to other companies in the S&P 500 index.
For example, last year, he received $89 million worth of shares (560,000 shares at approximately $160 per share) because Apple shares' three-year appreciation exceeded that of two-thirds of the S&P 500 companies. If Apple was in the middle third, Cook's equity payout would have been cut in half; if Apple ended the three-year period in the bottom third of the S&P 500, he wouldn't have received anything.
With Apple's fiscal year ending in less than two months (on September 30), it's safe to predict that Cook will get a decent equity payout, although it's hard to say exactly how much. For the past three years, growth of Apple shares has outstripped that of the S&P 500 index by 37 percent.
In an internal memo on Thursday, Cook reminded his employees that the $1 trillion milestone was "not the most important measure" of Apple's success.
"Financial returns are simply the result of Apple's innovation, putting our products and customers first, and always staying true to our values," he wrote. "Steve founded Apple on the belief that the power of human creativity can solve even the biggest challenges—and that the people who are crazy enough to think they can change the world are the ones who do. In today's world, our mission is more important than ever… Just as Steve always did in moments like this, we should all look forward to Apple's bright future and the great work we'll do together."