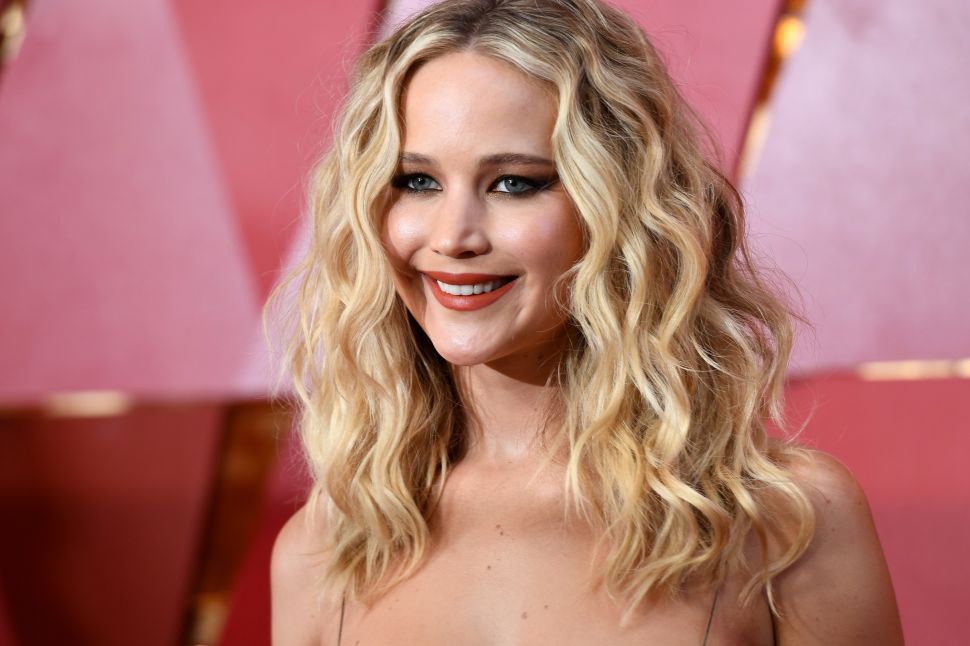 Jennifer Lawrence is one of the most talented actresses in America, having scooped up one Oscar statue and three more nominations by the age of 28. She's also the rare perennial awards contender who happens to be particularly adept at being a celebrity. Few play the Hollywood game as well as she does, as evidenced by her immense popularity (which she's achieved without the use of social media).
However, as a movie star, Lawrence hasn't enjoyed a true-blue hit since 2014's X-Men: Days of Future Past. As we've pointed out before, her recent output has been met with mixed reviews, underwhelming box-office sales and sometimes both. March's Red Sparrow was a fun-enough spy thriller, but at 47 percent on Rotten Tomatoes and with $151 million off a $69 million budget (studios typically like to triple the production budget), it wasn't a full-blown success. The oft-delayed and troubled X-Men: Dark Phoenix is unlikely to reverse this trend when it arrives next year. What she needs is a total winner.
Here, a few humble suggestions for her.
Fast-Track the J. Law-Amy Schumer Comedy
In 2015, Lawrence revealed that she and Amy Schumer were writing a comedy together that would be "funny," "dirty" and "real." However, nothing ever materialized and fans were left salivating at the idea of what could have been. But earlier this year, Lawrence gave a brief update on the project, revealing, "We've completed format, and we need a director and a date."
If you've been tracking box office stats over the past few years, you've likely noticed that comedies are struggling. For every breakout like Girls Trip, studios have been forced to write off a Rough Night, Ghostbusters or Baywatch. As audiences become increasingly tied to franchises, mid-budget comedies have slowly receded from release schedules.
But can you imagine the victorious narrative that would emerge if Lawrence and Schumer saved the modern comedy? If the pair delivered a $100 million-plus grosser that earned rave reviews, they might be able to breathe new box-office life into the genre. Everyone loves a good laugh, and a sparkling comedy would remind audiences how versatile J. Law is.
Headline an Original Action Movie With The Rock
Lawrence is a great Mystique and The Hunger Games was cool while it lasted, but she deserves to be center stage in her own original actioneer. We're talking an old-fashioned, adult-skewing, R-rated explosion of coolness. Scarlett Johansson cemented her badass bona fides in Lucy; Charlize Theron was fantastic in Mad Max: Fury Road and Atomic Blonde; Emily Blunt stole the show in Edge of Tomorrow. Let's find something like that for Lawrence and then pair her up with Dwayne "The Rock" Johnson, Earth's current box-office champ.
Our admiration for Johnson has been well chronicled, but this time around, let's see him in a vulnerable role. He should be the one in need of saving, supplying the pathos to the movie, and Lawrence should be the hero. Maybe Mission: Impossible – Fallout director Christopher McQuarrie needs a break in between Tom Cruise vehicles. Perhaps Kathryn Bigelow has been sitting on a throwback action script. Audiences have been dying for Michelle MacLaren's feature directorial debut. Make it happen, Hollywood.
Continue With Bad Blood
Director Adam McKay, a comedy veteran, shocked the industry with 2015's The Big Short, which tackled America's real estate crisis in the mid-2000s (a decidedly unfunny topic) and earned a shower of Oscars love. His follow-up, this year's Dick Cheney biopic Backseat, is expected to be part of the awards conversation as well.
After that, McKay and Lawrence are both attached to the undated Bad Blood, which follows real-life entrepreneur Elizabeth Holmes as she creates a bio-tech company that skyrockets her to fame with an estimated value in the billions. But when federal agencies begin investigating the company, her integrity is called into doubt.
In a post–Bernie Madoff world and with corruption running rampant in the upper echelons of society, audiences might be particularly receptive to a complicated morality tale involving the self-made 1 percent. This is exactly the type of showy prestige role that could put Lawrence back in the Oscars game.