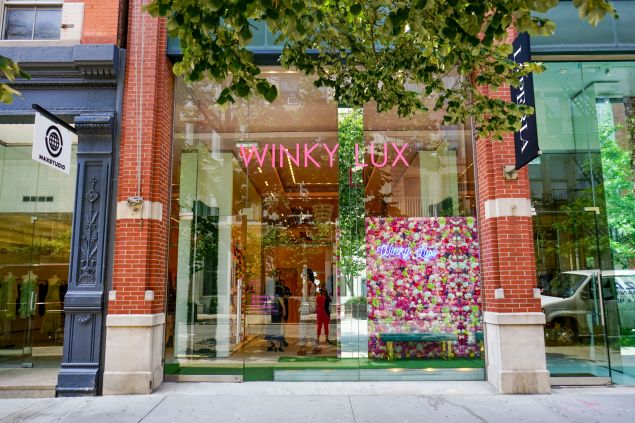 It was a 90-degree afternoon in Manhattan, and the humidity level was hovering somewhere in the same range. I was sweating as I waded through a crowd of impeccably highlighted 20-something females, who seem to have Botoxed away even the thought of perspiration. Their cheekbones shimmered with the same golden hue as their chunky hoop earrings and their nearly-nude matte lipstick looked to be stuccoed onto their lips. Each of them gripped a can of rosé, as if their life depended on it.
I should admit, I was one of them (minus the flawless makeup and free booze) because we'd all been granted the early opportunity to Instagram Winky Lux's pop-up shop in Manhattan, which opens to the public today.
"Just imagine…if Sephora and the Museum of Ice Cream had a baby. That little babe would be The Winky Lux Experience," was how the beauty brand's first N.Y.C. shop was originally described to me via a PR pitch. Instagram-bait experiences have become part of the daily norm in New York; previous iterations have included the Dream Machine and the Museum of Ice Cream, with the much-anticipated opening of N.Y.C.'s Pizza Museum just around the corner. And at this very moment, people are shelling out $45 to pose in a bathtub filled with rose petals at the Rosé Mansion while learning about the "history, science and economics of this magical beverage."
By comparison, a visit to Winky Lux is a total steal. You only have to pay $10 to gain entry to this selfie-encouraged seven-room "experience" attached to a retail shop (it is, however, entirely free to simple peruse the beauty boutique). That cost does get applied to the purchase of any item from the store, so you either pay an admission fee or feel very compelled to purchase something, depending on how you look at it.
Winky Lux is perhaps best known for putting a flower inside a clear tube of lipstick that magically turns your lips pink. That product was an overnight success for co-founders Natalie Mackey and Nathan Newman when it launched in 2015. The duo started the business with a $300,000 investment from friends and family, but quickly became famous in the fast beauty industry for formulating and releasing products at the same breakneck speed that which beauty trends tend to crop up. So it comes as little surprise that Winky Lux fetched $6 million worth of funding in February 2018, on top of an original seed round of funding of $2 million in 2017.
"Our customer wants experiences with friends and [to] have everything they do [be] shareable on social media," Mackey told Forbes earlier in 2018. That's exactly what their pop-up shops—which will eventually open in Chicago, Dallas, Los Angeles, Savannah and Nashville—aim to provide. Though it's worth noting that the world of Winky Lux looks far better through an Instagram filter than it does in real life.
Once I made it past the iPad-wielding bouncer, who treated the crowd like unruly toddlers (he actually requested that we refrain from unplugging any cords from the walls), I stepped into the first room of the "experience." It was painted green, covered in green Astroturf and haphazardly decorated with huge pink flowers. Hidden in the corner was a display of Flower Balm, alongside a sign that boldly announced: "It's the only balm stain to feature a real handpicked chrysanthemum inside." I snatched up the tube that accommodated a tiny purple bud and, after swiping it on the inside of my wrist, was horrified to see the balm had completely snapped in half. I pushed it back into the tube and rushed into the next room.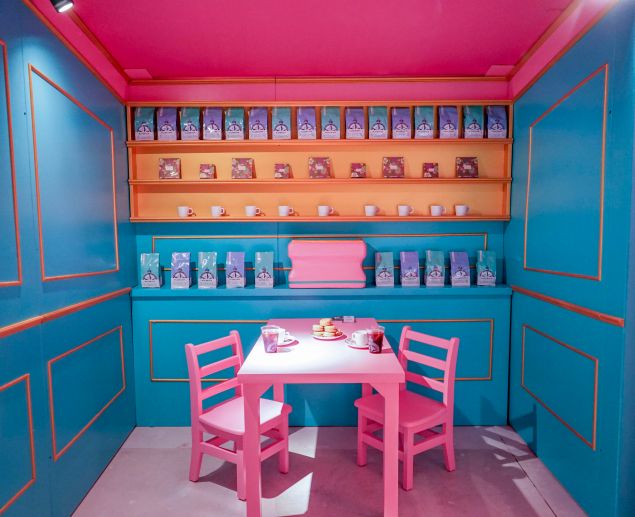 I was relieved to find that the next room was cloud-themed—and was even happier when a woman offered me a mochi ice cream and a towelette she said I could use to "deflower" myself. Turns out, it was actually to "de-flour" myself—as in, to literally wipe the excess rice flour from my hands. Over-extended puns, it seems, happen to be a theme of this "experience."
As does a lack of imagination, because the piece de resistance of the entire Winky Lux "experience" is the Infinity Room. What resemblance does it bear to Yayoi Kasuma's infamous Infinity Rooms? Well, in theory these two rooms are identical, but in reality Winky Lux's knockoff version just looks as if the brand lazily strung Christmas lights from the ceiling of a fully mirrored room.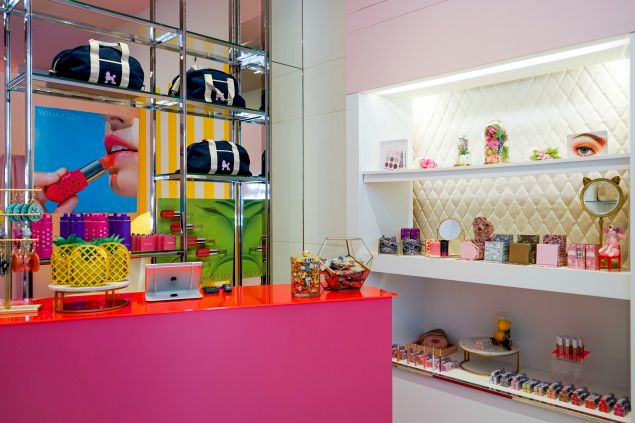 All in all, my tour of the seven-room "experience" lasted a grand total of three minutes, which was perfect, as I was really ready to leave. I exited through the gift shop, which is where plebeian visitors can use their pre-paid $10 to buy Uni-brow (an eyebrow pencil) or Peeper Perfect, a pink concealer that makes covering your under-eye bags fun! Should the makeup not be up to snuff, there are pink stuffed poodles, iridescent fanny packs and hot pink flasks stamped with the phrase "Man Tears," all available for purchase.
Back on the street, I immediately locked eyes with a man with a pure white cockatoo affixed to his shoulder. I'd forgotten that simply existing in New York is already an "experience," one we're lucky enough to be able to Instagram every day—for free.