Young Adult Twitter, a dizzying social-media sub-category concerned with all matters related to youth publishing, was set ablaze last week when subscribers to a mail-order book service called Book Boyfriend Box received a package containing (among other things) cartoon erotica, a novella of fan fiction titled "A Court of Smut and Wingspans" and a bar of blueish-purple vegan soap that looks like a very realistic penis. It's "Dick in a Box," but IRL.
While titillating subscription services aren't out of the ordinary, readers have expressed concern that A Court of Thorn and Roses, the series by Sarah J. Maas that served as the inspiration behind the latest Book Boyfriend Box, is largely read by teenagers and therefore shouldn't be promoted with veiny phallus-shaped soap and pictures of nude chiseled hunks clutching scraps of fabric over their bulges.
On its About page, Book Boyfriend Box informs potential customers that its objective is to "bring you bookish boxes with items that are exclusively about your favorite book boyfriends and girlfriends." Additionally, the page for the controversial box in question lists a warning that the package contains mature content recommended only for subscribers who are 18 and older. "So in a nutshell if Illyrian wingspans, smut and sexual innuendos isn't why you love the Night Court's Illyrian males this isn't the box for you," the page reads. Got it!
Nevertheless, it makes sense that people are confused. A Court of Thorns and Roses, which is listed on the website of its publisher, Bloomsbury, under the imprint Bloomsbury USA Childrens, is considered by many familiar with the series to belong to a developing classification of fiction called New Adult. A relatively new genre dreamed up by St. Martin's Press in 2009, New Adult features protagonists in the 18 to 30 age bracket, which would give authors license to write stories with a lot of horny shit in them.
But NA is still a relatively unheard-of category of fiction, and A Court of Thorns and Roses is marketed and referred to in the press as Young Adult Fantasy. So many subscribers are shocked that Book Boyfriend Box essentially mailed YA fans (i.e., fans between the ages of 12 and 18) a bunch of smut.
When asked for comment, Bloomsbury sent the following statement to Observer: "We are aware of this subscription box. Bloomsbury and Sarah J. Maas are not associated with the box (and its contents) in any way."
To be fair, Yaira Lynn, the woman behind Book Boyfriend Box, can't be accused of reading too deeply into the text. Online reviews of the series by parents and fans have expressed that the books might not be well suited for YA readers.
"Though this book is fantastically done it is currently listed as a Young Adult book," wrote one reviewer, who goes by KWrite. "The sex scenes are explicit, involving the following phrases: 'spreading,' 'slipped,' 'slide between my legs,' 'between thighs,' 'feasted on me,' 'seethed himself inside of me.' There is a lot of nudity and grinding and talking about rough sex."
Lynn is taking the controversy in stride. "With everything in life there will always be those that are scandalized," she told Electric Literature last week. "If the box scandalized you, it wasn't for you. Most of the feedback has been positive, so we are going to concentrate on that."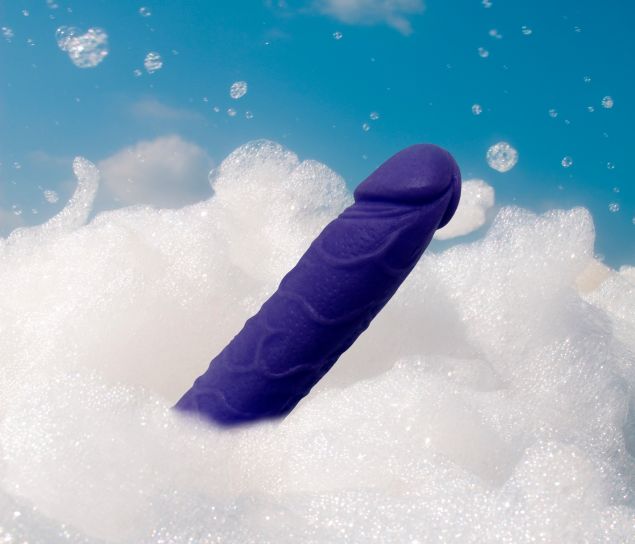 But some commentators are less bothered by the explicit tone of the box's contents and more alarmed at the prospect of subscribers actually using the penis soap, which comes with a suction cup that would allow it to be affixed to a wall.
Stay safe out there, friends. And yeah, maybe don't fuck the soap.