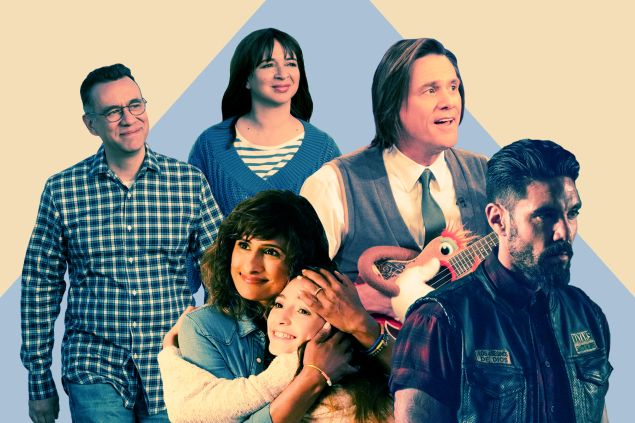 Welcome to Observer's 2018 Fall Arts & Entertainment Preview, your comprehensive guide to the best of the season. We've combed through cultural offerings from across the country to bring you our picks for the events worth leaving home for, and the releases you should be staying in for. Binge watchers should also check out our lists of must-see Netflix releases and must-see films.
When you begin to feel that fall chill in the air, let it remind you that you'll be confined indoors soon and that a stupid amount of new TV is about to be dropped on a never-ending array of cable networks, premium giants and streaming services, all competing for your attention. So what will you watch? Julia Roberts is here. Matthew Weiner is back. Anthology series are in. So are—per usual—existential marital comedies. Below, we've compiled the most notable newcomers to help you decide how to split your time. 
Mayans M.C. (FX, September 4)
Medieval fare, like The Bastard Executioner, may not have been his forte, but showrunner Kurt Sutter returns to FX doing what he knows best: Mining the emotional complexities of extremely violent bikers gangs with this Sons of Anarchy spin-off. Mayans M.C. delves into the world of drug trafficking and cartels near the California-Mexico border, and for thrill-seekers out there, there's basically an entire series-worth of plot contained in the first two episodes alone.
Kidding (Showtime, September 9)
The success of the Mr. Rogers documentary Won't You Be My Neighbor this summer seemed to underscore a deep cultural yearning for kindness and sincerity. This new Michel Gondry-directed Showtime series, which features Jim Carrey as a troubled children's show host with a similarly behemoth following, delves deeper into the darker aspects of carrying a giant, multimillion-dollar franchise while keeping your humanity and vulnerability intact.
Rel (Fox, September 9)
Wherever he's appeared lately (as a regular on The Carmichael Show, a scene-stealing supporting role in Get Out, or multi-episode arc on Insecure), Lil Rel Howery has consistently been one of the funniest people on screen. Now, Fox is giving him his own multi-camera comedy loosely based on his own life as a single dad in Chicago, with Jerrod Carmichael on board as producer, no less.
Forever (Amazon, September 14)
If TV comedies insist on continuing to mine the lives of complacent upper-middle-class couples, then they need to start getting weird. Enter Forever, created by Alan Yang (Master of None) and Matt Hubbard (30 Rock), whose trailer shows Fred Armisen and Maya Rudolph's blissful 12-year marriage in a dreamy montage of sunny suburban strolls, a neighbor gardening, chores, shuffleboard, and then… a knife and a ritualistic beach fire? With a dark, surreal premise on the horizon, consider our interest very piqued.
A Million Little Things (ABC, September 26)
Let's be honest: This is most likely a direct play for fans of This Is Us. Centered around a circle of friends who've drifted apart—financially, professionally, emotionally—the series kicks off with a tragedy that forces them all together. Is this guilty pleasure going to reinvent television? No. Should you even feel guilty for indulging in it? Not at all.
I Feel Bad (NBC, October 4)
https://www.youtube.com/watch?v=XMCbf-oWDe0
There are plenty of things to feel bad about, but tuning into ABC's new comedy starring Sarayu Blue is not one of them. The setup is familiar—a working mom tries to juggle it all—but the anxieties Emet (Blue) routinely dwell on feel a little more specific, from interrogating the infidelities in her recurring sex dreams to debating whether encouraging to her young daughter's interest in provocative dance is a feminist choice. We're glad we're not the ones deciding.
Into the Dark (Hulu, October 5)
We're not sure if this anthology horror series, which is essentially releasing a new feature-length film every month for a year, is coming for American Horror Story, Black Mirror or just the box office in general. But with Blumhouse, the production company for The Purge and Get Out, behind it, and a pilot premise about the horrors of selfie culture in L.A., it can come for whoever it wants. 
The Romanoffs (Amazon, October 12)
Matthew Weiner's highly anticipated return to the small screen is here, but Mad Men it is not. The Romanoffs is an eight-episode anthology series that covers the scattered, contemporary lineage of the dynastic family who ruled Russia for three centuries before being overthrown by the Bolsheviks in 1917. Each episode features an entirely new story and cast, which might explain the CVS-receipt-length ledger of stars slated to appear.
Camping (HBO, October 14)
There's not enough Xanax in the world to chill the vibe of Camping, HBO's new Lena Dunham–Jenni Konner-helmed comedy where Jennifer Garner plays an anxious, unhappy wife who plans, down to a T, an elaborate camping trip for her husband's 45th birthday. "It may not be any fun at all," she emphatically tells a friend in the trailer. It's delivered like a promise, and if that's that an indicator of the existential middle-aged schadenfreude that awaits, we're pitching our tents now.
The Conners (ABC, October 16)
One of the most anticipated new series of the fall is also one of its most controversial. The Conners tries to recapture the blockbuster ratings of the Roseanne reboot in the wake of the overtly racist tweet that got its star booted. Some will be understandably unwilling to engage with the series in its reincarnation, but for those who're interested, John Goodman has already confirmed one detail about the highly secretive series: The Conner family matriarch will be killed off. We wonder how?
Homecoming (Amazon, November 2)
https://www.youtube.com/watch?v=qsUfdJ7eZ3w
Here's a very logical sequence of events: Julia Roberts has decided to star in her first television series, and you've defacto decided to watch. Originally a fictional podcast, Homecoming follows waitress Heidi (Roberts), whose former life as a caseworker helping reintroduce soldiers to civilian life comes under scrutiny when a mysterious auditor from the Department of Defense appears in town. A sinister corporate plot begins to reveal itself, and who better to capture the show's paranoiac atmosphere than director Sam Esmail, straight from his gig as showrunner of Mr. Robot?
My Brilliant Friend (HBO, November)
The numbers alone are staggering: 9,000 children auditioned, 5,000 extras recruited, 215,000 square feet of set constructed, 1,500 costumes sourced. HBO is going all out with its eight-episode adaptation of Elena Ferrante's My Brilliant Friend, the first in a fiercely beloved quartet of novels by the anonymous Italian author. To paraphrase hordes of fans around the world: Please don't fuck it up.