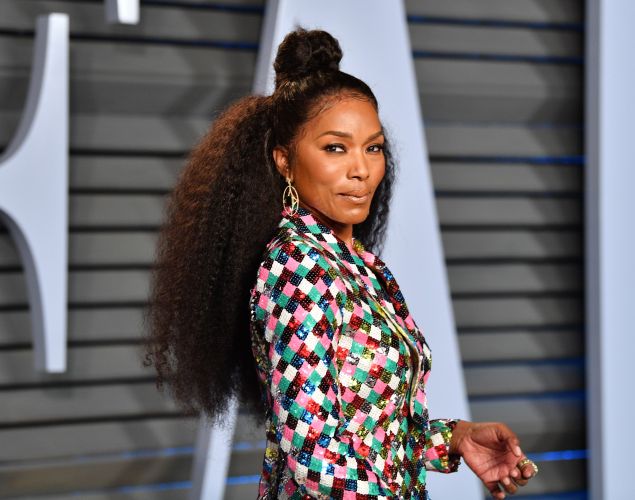 Normally, the announcement that a celebrity has decided to try out art making or curating like it's no big thing—like people don't spend years trying to break into the industry, or sign up for decades of student loans to learn the craft—leaves us a little perturbed. But when someone as smart, sensitive and flawless as Angela Bassett is the one dipping her toe in these waters, we'll give her a pass. And when she's using her acclaim to get attention for work like Chelle Barbour's Afro-surrealist mixed media collages, well, cue us joining the line to get in the door.
The solo show of Barbour's work that Bassett has curated is titled "You IS Pretty: Surrealism and the Black Imaginary," and it opened September 15 at Band of Vices, an artist-run gallery space in L.A.'s West Adams arts district. Bassett has a long-running association with the space; she's been buying work from the gallery's director, Terrell Tilford, since 2004. Tilford notes in the material accompanying the exhibition that as Bassett's collection has grown, so has her interest in other parts of a gallerist's job, such as selecting artists for representation and making the studio visit rounds.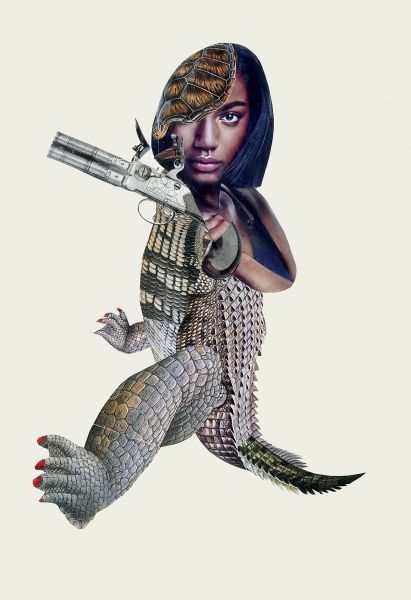 Wall text features Bassett explaining how she connected immediately with Barbour's collages, which make use of hybridized animal-humans and cyborg figures to comment on the endemic marginalization of black women in America. Of the artist, Bassett says, "C​helle ​Barbour has the rare artistic gift of being able to elevate a people, in this case, the black woman, to heights of majesty and complexity that is so often overlooked in society and our everyday lives."
For her part, Barbour comments that the aim of her work is to "[expand] the magical realism in the black female imaginary." Her art accomplishes this by bringing black women to center-stage, making them the viewer's only focus. Thus, she highlights the well-documented fact that black women are rarely afforded this type of critical attention in America.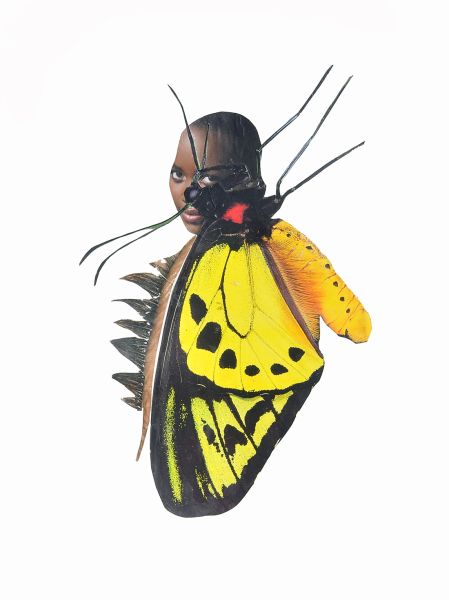 Melvin A. Marshall, the art historian and curator, takes up this point in his essay accompanying the exhibition when quoting artist and polymath bell hooks: "​No other group in America has so had their identity socialized out of existence as have black women…​When black people are talked about the focus tends to be on black men; and when women are talked about the focus tends to be on white women."
Barbour's women are embellished by beautiful and frightening animal tissues or augmented with sleek flourishes of high-tech. These Afro-surrealist and Afro-futurist inspired decorations enhance, rather than detract from, the figures' basic humanity.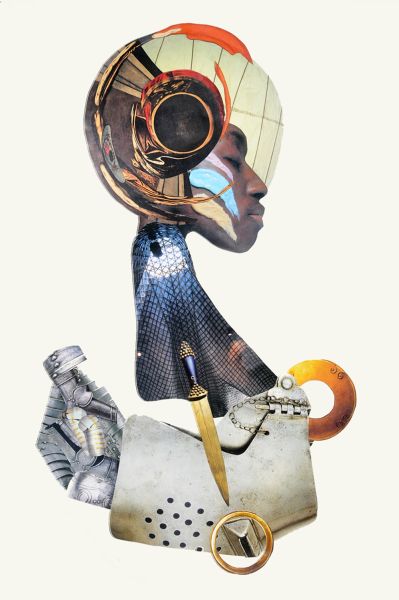 For example, many of her characters are armed for self-defense. In "Framing the Path Forward," a warrior decked out in armor and equipped with a golden dagger appears to kneel in meditation. "Killing Time" likewise merges benign scientific instruments with a small pistol. But destruction and self-defense aren't the only needs Barbour sees in technology. "Sassy Warrior" brings an exuberance to the merging of the human form with tech, implying a safer existence for black women somewhere beyond the horizon.
Bassett and Barbour ultimately pull off a difficult task. Such subtle topics like surrealism and futurism, when combined with an untrained and inexperienced curator, seem primed to stumble into unintentional kitsch. Yet the unexpected pairing of Bassett's eye and Barbour's art totally works. We're going on the record as eagerly awaiting another collaboration between the two.