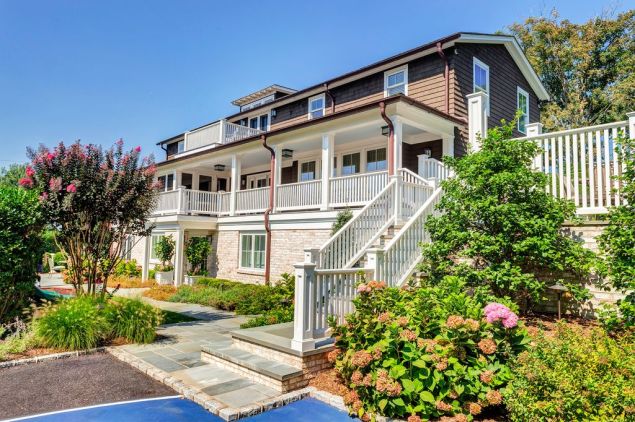 The Mooch is switching things up in the Hamptons—again. Even though Labor Day is barely behind us, Anthony Scaramucci is ready to part with his Southampton estate.
Scaramucci, who still warrants the title of former White House Communications Director despite his ever so brief, 10-day stint in the position, purchased the 0.32-acre property for $1.95 million in 2014. Alas, he and his formerly estranged wife, Deidre Ball, are apparently prepared to move on, and as such have listed the home for $3.995 million.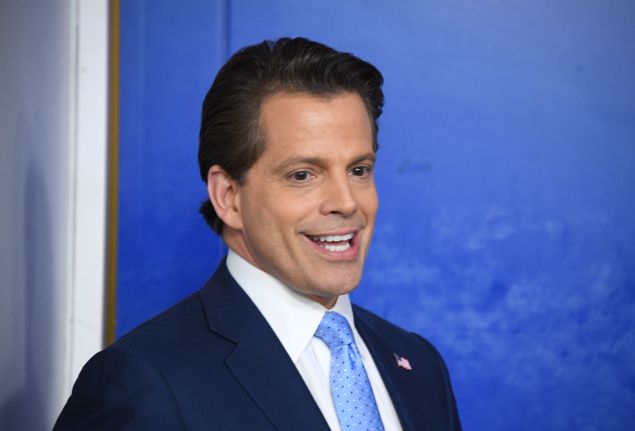 The four-bedroom, 4.5-bathroom home was recently renovated and expanded, per the listing shared by Brown Harris Stevens brokers Mark Baron and Jane Babcook, though the exact remodeling isn't specified. The 4,000-square-foot house is a relatively new build; it was constructed in 2007.
The living room features a fireplace and coffered ceilings, with wide plank floors and an aggressively neutral, gray color palette. (We're actually a bit surprised Scaramucci didn't opt for a louder aesthetic, because…The Mooch.) The kitchen is equipped with stainless steel appliances, white cabinetry and marble countertops, and leads to a more formal dining room. There's also a screened-in porch, for an al fresco eating situation.
The master suite is on the second floor, with a private balcony and two en-suite bathrooms. Again, all very neutral, which is somewhat odd for the man who was reportedly nicknamed "Gucci Scaramucci" by George W. Bush because of his flashy sartorial choices.
Then there's the lower level, currently configured with a play room, a gym with a steam shower and a home theater, complete with cushy grey seating, a projector and what appear to be tiny star-esque lights on the ceiling.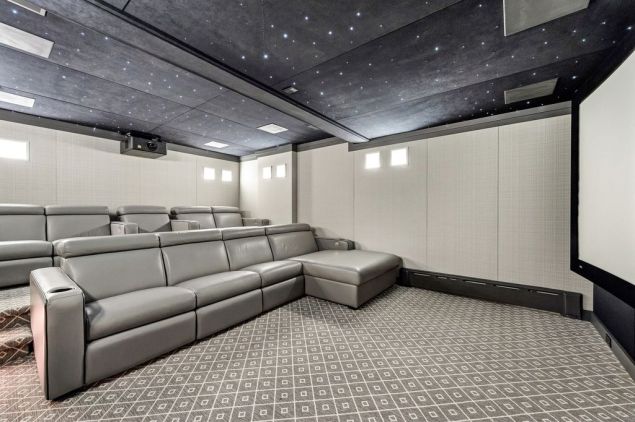 Outside, there's a heated pool and spa, a built-in barbecue and additional dining area.
But the Long Island-born Scaramucci isn't leaving the Hamptons behind for good, at least not yet. He and his wife purchased a home in Water Mill at 30 Lawrence Court in late 2017, shortly after they reconciled—Ball apparently managed to forgive her husband for that time he congratulated her on the birth of their second child via a text message.
Scaramucci spent $8.2 million on that 8,300-square-foot house, even though it was originally listed for $7.49 million. As developer Joe Farrell previously told the New York Post, Scaramucci decided he wanted numerous pricey additions, such as a pool house and a home movie theater.
After all that, one might think Scaramucci was finally ready to settle down for a bit, but no! Instead, he tossed the property back on the market less than nine months later, for just under $9 million, as he allegedly wanted something even better—beachfront in Bridgehampton. But it seems he may have changed his mind, once again, as the Lawrence Court home is no longer offered for sale. At least he's holding onto it longer than he lasted in the Trump White House.