After more than a year on the market, late architect Zaha Hadid's Miami condo has a buyer.
The final sales price, however, is nearly half of what the 2,541-square-foot apartment was originally listed for in May 2017. The $10 million home, located at the W South Beach, was removed from the market and then re-listed for $6.5 million in November 2017 due to it being a "buyer's market." Alas, the new owner paid a relatively meager $5.75 million for the three-bedroom, four-bathroom corner unit.
Hadid, who in 2004 became the first woman to win the Pritzker Prize for architecture, passed away unexpectedly of a heart attack in March 2016. She lived in the home while she was working on One Thousand Museum, a luxury hi-rise apartment building in Miami.
She created the current configuration by combining two adjacent apartments, which she purchased for a total of $2.79 million in 2010. She custom-designed the abode, transforming it into a futuristic, curve-filled space. A stainless silver accent extends from one wall to another through the ceiling, which has geometric lighting. It has a similar aesthetic to that of 520 W. 28th St., the West Chelsea building she designed where Ariana Grande and Pete Davidson currently live in a $16 million unit.
"Zaha's design style is exceptional," Angelica Garcia of ONE Sotheby's International Realty's Sports and Entertainment Division, who shared the listing with Ivan Chorney, told Observer via e-mail. "She knocked down a section of the unit's wall and lined it with steel to always reflect the ocean and the sky. The new owner will have the unique opportunity to live in a home designed with her signature flair, which truly is like no other."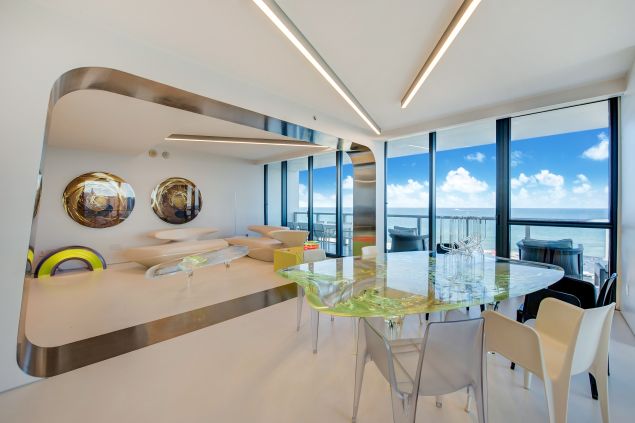 The buyer is reportedly Boston-based tech exec Ray Bassiouni, who is well acquainted with the building—he already owns two other apartments at the W South Beach. The apartment is furnished with ultra-modern pieces including lucite accents and tables, as well as über-low couches, but Bassiouni has some decorating to do. The original furniture, all selected by Hadid, will eventually go to a museum or Hadid's trust.