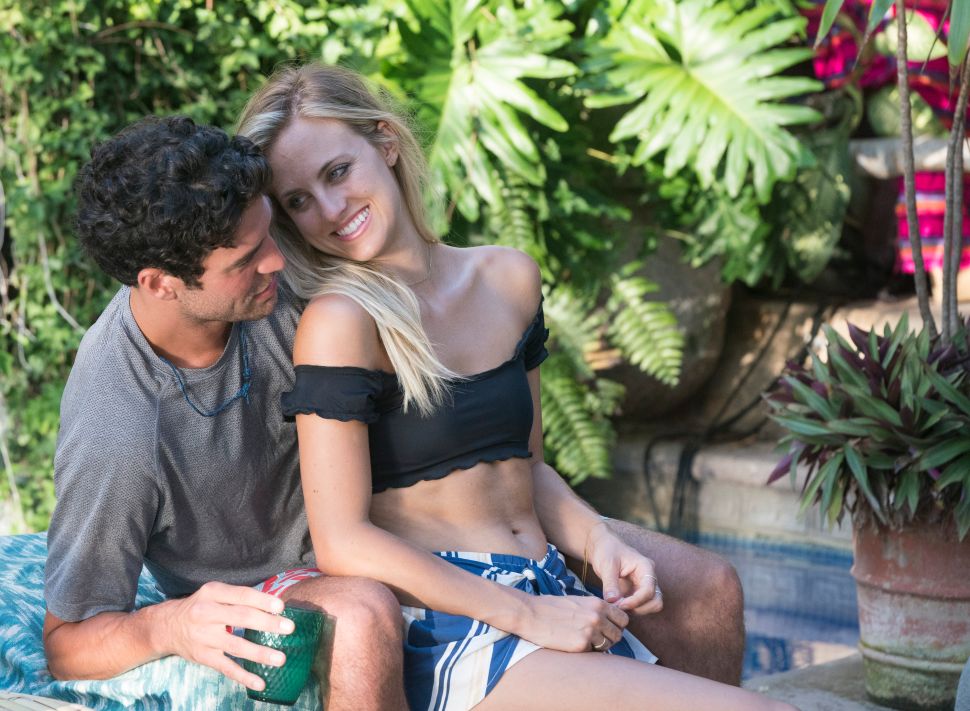 If you've never watched Bachelor in Paradise, a cursory scan of the show's structural quirks might make you feel like you took peyote then started thumbing through Tinder. The deranged-kitsch introductory credits, nearly complete lack of true structure save for 10 minutes of rose distribution and hackneyed monologues about everlasting love evoke an environment that feels about as authentic as a Canal street handbag.
Everything about this competition-based reality show is an elaborate construction masterminded by wily producers who've been manipulating fame-seekers with nice abs for a decade and a half.
Through season-over-season trial and a mess of errors, they've found the formula for generating connections: combine classically good-looking contestants, competition driven by a desire to avoid getting shipped home, and a complete lack of things to do (no phones, no computers, no TV) other than drink, fight, and fixate on someone hot.
On the headlining Bachelor and Bachelorette franchises, contestants are given almost three months to fall irreparably in love and propose or be proposed to. For the spinoff Bachelor in Paradise, the timeline to lock down enough affection to score a free Neil Lane diamond is reduced to somewhere between two and three weeks.
None of it resembles real life in the slightest. Until it really, really does.
On last night's Bachelor in Paradise finale, two couples departed the show engaged, two more revealed they had gotten back together after breaking up during the season, and one contestant experienced everyone's worst nightmare: she was dumped, brutally and inexpertly, in front of a rapt studio filled with gawkers and millions of viewers at home.
Despite its inherently unrealistic environment, Bachelor in Paradise knows that falling in love exposes who you really are, and this (improbable as it sounds) has made it the Realest Show on Reality TV.
Take two lightning-rod contestants, Chris and Krystal. During their respective stints on the main franchises, both were cast as the textbook one-dimensional cartoon villain of the group, a fact that host Chris Harrison (the consummate professional) was careful to point out on Tuesday's finale.
When Bachelor in Paradise re-introduced us to Chris, his douchebag fumes were as noxious as they'd always been. He called himself "The Goose," picked petty fights with other guys and minced around wearing a headband that made him look like Ben Stiller in Dodgeball.
Similarly, despite insisting she'd changed since ex-Bachelor Arie's tumultuous season, Krystal waltzed into Paradise with the exact same baby voice and dippy interests that had already turned so many people against her. She's the type to burn sage to ward off bad vibes, which of course gave viewers, well, bad vibes.
"I don't think I've ever, like, kissed a blonde," was the brilliant pickup line Chris used on Krystal in the third episode. "Oh my god, you're like, flattering me so much right now!" she gushed.
When the camera cut to the studio audience during the aftershow, you could sense their hesitance to root for this pair: too much had already gone down. However happy he and Krystal were on the beach, Chris's proposal (a "you definitely think I'm saying we should break up but wait actually I'm NOT!" fake-out for the ages) couldn't have stuck.
But lo: behold the metamorphosis. Insufferable Chris, who was always quick to manipulate and eager to hook up with whoever happened to be nearest to him, had softened and matured almost beyond recognition.
Anyone who's ever felt soothed, cured or had their atoms rearranged by an all-consuming romance could relate to Chris's journey. In other words: real stuff. Krystal's shift in demeanor from self-absorbed to endearingly besotted was just as striking, and all of a sudden, two shallow individuals were forced to confront an unprecedented depth of feeling.
By the end, Chris was weeping. "I'm crying because not only am I happy, I'm just, like, so thankful that I have such an incredible woman who saw potential in me and really helped transform me in Paradise."
Crazy? Maybe, until you dig deeper. Bachelor in Paradise has already produced couples (like Jade and Tanner, and Carly and Evan) that have both gone on to get married and have kids, so the show's accelerationist method at least has produced romantic gold before.
Hell, Pete Davidson picked out an engagement ring for Ariana Grande the day they met, and they're so wildly obsessed with each other it's almost disgusting. Who's to say what works?
Chris and Krystal found their happy ending, but when love—jacked up to whatever insane speed—reveals your every insecurity and deposits you in uncharted territory, things don't always go so well.
Jenna and Jordan sailed into the finale (which was taped on August 28) seeming like blissful lovers, but yesterday morning, Bachelor spoiler maestro Reality Steve published evidence that Jenna had been texting someone reassurances that her feelings on the show were fake, while simultaneously promising Jordan she'd marry him.
"I told you yesterday and I keep telling you that this is all for my business," one message (which was verified to have come from her phone number) reads. "You know how much I need the money. Me and Jordan aren't together for real. I don't even like him let alone love him."
"If this whole thing sticks, and it's true, I will be hurt much more than the depths of romance. I will be hurt as a person and as a friend," Jordan, clearly stunned, told PEOPLE in a statement. "I know my Jenna, and I read those texts and in my heart, I know it's her."
From the moment he first saw Jenna, Jordan was blinded by the bright spotlight of the object of his affection. Love made him totally vulnerable, but rather than meet him halfway, Jenna used him. Almost all of us can drum up an example in our own lives to know this isn't just a reality TV trope; this stuff happens every day.
The uncomfortably close-to-home hyperreality of Bachelor in Paradise has never been more evident than when the audience lapsed into horrified silence as Kamil dumped long-suffering Annaliese in front of the cameras. "We literally booked an Airbnb for us yesterday to spend the week together," she protested, before darting offstage.
I cringed when Kevin and Astrid announced they're back together, in spite of his significant personal baggage. I've dated guys like that before—Astrid's being deployed as a life-sized Band-Aid.
I held my breath when Kendall went to Chicago to tell the one and only Grocery Store Joe she loved him despite their breakup, and he said he couldn't promise her his feelings would return. (Spoiler alert: they're back together, and Joe is going to be on the next season of Dancing With the Stars).
You simply can't find this breed of earnest messiness anywhere else on television—least of all, funnily enough, on The Bachelor and The Bachelorette. Yes, BiP is the slapdash spinoff that's marketed as light summer fluff, but it's wittier than a network sitcom, more distressing than the most saccharine melodrama (looking at you, This Is Us), and as addictive as the ex you'll never really get over.
The main franchise is deadly serious, and suffers for it. Bachelor in Paradise winks while it delivers its message, but delivers it all the same: without true love, your life might as well be worthless. Here, have a daiquiri!
Fretting over whether shows like this are "toxic" is besides the point. No matter what your personal philosophy, the human desire to be adored is powerful enough to topple empires, and our relationships are as wildly disparate as we are. But just when we think we've seen everything a love story has to offer, a couple of crazy narcissists go and reinvent the damn wheel.