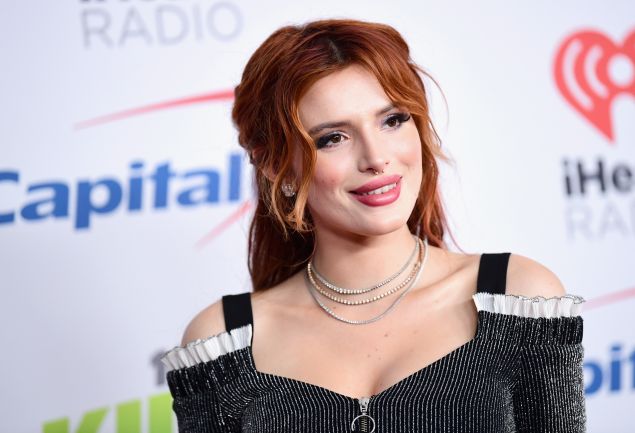 When it comes to breaking into Bella Thorne's Sherman Oaks home, the second time's a charm—at least for the burglars.
Two weeks ago, Thorne was reportedly targeted by intruders who attempted to break into her 4,500-square-foot house while she was home alone. They apparently broke a window, and upon hearing the noise Thorne opted to go outside to see what was going on.
Luckily for the former Disney actress, whose new film Assassination Nation hits cinemas this month, the would-be robbers were scared off. Thorne then called the police, but by the time they arrived the culprit was nowhere to be found.
But mere days later, the Filthy Fangs founder (yup) wasn't so lucky. As TMZ reports, late last Tuesday, burglars broke into Thorne's five-bedroom, five-and-a-half-bathroom San Fernando Valley home by shattering a window, and managed to steal approximately $150,000 worth of her personal belongings, including designer jewelry, clothing and bags.
Worse, the intruders used Thorne's own Chanel and Louis Vuitton luggage to carry off the stolen goods (tacky, but logical). Thorne was not at her house at the time, as the thieves broke in shortly after she left.
It is not yet clear if these two incidents are related, or if the house was specifically targeted because it belongs to Thorne. The burglars were caught on Thorne's video surveillance, but their faces were covered with bandanas.
Thorne has owned the house for two years; she paid just over $2 million for the residence back in September 2016, and proceeded to paint the exterior a shade we dubbed "Barney Purple." The interiors are an amalgam of Crayola hues, akin to the tones Thorne displayed in her new cosmetics pallet, and she let the world have a peek inside earlier this year, when she appeared in a mini-doc from Vogue and Vice.
Other rather unique features include a life-size Babadook in the entryway and Derik (or Derrick, or Derek, depending on the day) the Dinosaur.
Thorne, who shares the home with her sister, Dani, many cats and her dog, Tampon, also informed viewers that she was able to purchase the property in large part because of her social-media presence. She nets $65,000 for a single Instagram post, and between $10,000 and $20,000 for a Story or Snapchat.