In 1899, Sarah Bernhardt—paragon of stage glamour, the most idolized French actress of the late 19th and early 20th centuries—was at the height of her fame, yet yearning for more worlds to conquer. So, in a bold bit of fin-de-siècle non-traditional casting, she slid into breeches to play Hamlet. But she wanted cuts. Flubbing lines and flummoxed by motives, the star chafed at the melancholy Dane's verbose, evasive ways: "He hides in words, words and more words," she dourly observes in playwright Theresa Rebeck's play about the play. "It's the whole point I'm told. Who wants to see that?" I do wish Rebeck had taken her protagonist's utterances to heart in this energetic but scattershot period homage, Bernhardt/Hamlet. Brimming with ideas and saucy banter, it's lively but exhausting, manic and overstuffed, too much—possibly like the Divine Sarah was in life.
I can't help but wonder: Was the real Bernhardt, you know, any good? Was she an acting genius for all times, or a melodramatic ham with too much makeup and a gift for cheap, audience-pleasing gestures? Discerning critics like George Bernard Shaw and Max Beerbohm admired her effects, but also mocked her vain, flamboyant persona, preferring a more naturalistic approach. I'm not questioning Bernhardt's talent in order to perpetuate a tradition of (male) critics taking condescending potshots at her, but to underscore a fundamental truth in theater: fashions change. If Richard Burbage were to materialize at the Delacorte today and declaim a few lines from Othello, he might be laughed out of the park as a wooden, bombastic amateur.
The problem of theater's evolving standards is at the core of Rebeck's piece: Bernhardt (Janet McTeer) finds herself on the brink of the 20th century in romantic and professional crisis, trying to reinvent herself as an artist and a woman. Her last production flopped, and she's fed up with playing passive leads, like the elegant but diseased heroine of her oft-revived warhorse, La Dame aux Camélias. Her lover, the celebrated playwright Edmond Rostand (Jason Butler Harner) is torn between her and his long-suffering wife, Rosamond (Ito Aghayere). Bernhardt's grown son, Maurice (Nick Westrate) has a deeply ambivalent, parasitic relationship to his mother. How, within this whirlwind of showbiz and emotional upheaval, can Bernhardt pluck out the mystery of Hamlet? Or will Hamlet pluck it out of her?
Subscribe to Observer's Arts Newsletter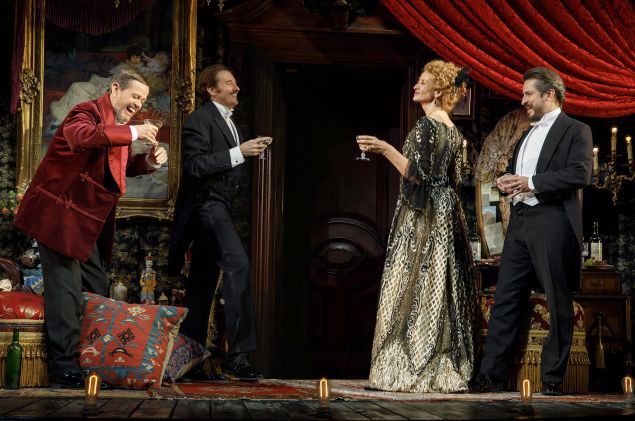 Rebeck has much on her agenda, too much: sexist imbalance in male/female roles; Bernhardt's painful family history (she never knew her father); the inherent gender blurring of theater; her stormy affair with Rostand; a running critique of Hamlet; and the joys and agonies of being a 19th-century actor-manager. One could imagine a more compact version of this material in 90 minutes of real-time at a rehearsal. Instead, Rebeck opts for a grand, multi-layered affair with lots of exposition, ginned-up histrionics, and florid speechifying. But there's not enough narrative to sustain two and a half hours of what is, essentially, the run-up to Bernhardt's next gig. Scene after scene blows by, delivering much verbiage—some of it witty and deft—but the drama itself hardly rolls forward.
For theater historians, one technical issue is bound to rankle. Rebeck doesn't address the fact that Bernhardt's Shakespeare was in French. The actors in this Roundabout Theatre Company production speak in English accents; when they rehearse Hamlet, they quote the original verse. Since this is an American play in English that makes sense, but some indication that the ensemble is discussing (or dissing) Shakespeare in translation would be welcome. The historical Bernhardt commissioned a 12-scene prose adaptation of Hamlet from Eugène Morand and Marcel Schwob, but we never hear it—in French or English. (One strand of the plot, Rebeck's nifty invention, is that Bernhardt first asked Rostand to adapt Hamlet.) When the legendary actor Constant Coquelin (Dylan Baker) counsels her to stick to the stresses of the Bard's iambic pentameter, it's nonsensical: English is a stress-timed language, but French is syllable-timed—each syllable gets (more or less) the same stress.
On the plus side, it's a bouncy, handsome production, and the actors a merry bunch. Director Mortitz von Steulpnagel presides over a deluxe design that includes picturesque, rotating sets by Beowulf Boritt, delectable costumes by Toni-Leslie James and gauzy, flattering lights by Bradley King. McTeer struts and frets to swashbuckling perfection in fluffy poet shirt, leather pants and fuck-thee boots. Not that McTeer needs anything to increase her tremendous personal charisma. That low, smoky voice, flashing eyes, and jubilant life force: McTeer carries much of the play on her lanky frame with infectious glee.
She and Harner have a nice, louche chemistry, and Matthew Saldivar is a wry pleasure as Alphonse Mucha, the Czech artist who designed Bernhardt's iconic Art Nouveau posters. There's a detail in his Hamlet poster, unfurled in the final scene, which I'm surprised escaped Rebeck's feminist gaze: the dagger in Hamlet's belt. In an unorthodox, awkward touch, the dagger is inverted, tip pointing upward, positioned before the prince's crotch. Is the weapon a penis substitute, Mucha's visual joke about his patroness's lack of manhood? Did Rebeck notice it, write about it? That's one bit I would not wish cut.