Bill Pullman has been acting professionally for more than 30 years, having racked up nearly 100 credits in film, television and theater. His career—which has included roles in parodies (Spaceballs), rom-coms (Sleepless in Seattle), action blockbusters (Independence Day) and westerns (Wyatt Earp)—could never be plotted neatly on an X or Y axis. He's always been curious, driven by his eclectic taste.
With a résumé that has bounced between the eccentric and the mainstream, the actor's latest project, The Sinner, settles somewhere in the middle. The "whydunnit" crime anthology series, which examines what motivates ordinary people to commit brutal crimes, has slowly become a critical win for the mid-metamorphosis USA Network as the cable channel leaves behind its Law & Order rerun history for something more attuned to the tastes of Peak TV audiences. In that vein, Pullman, who plays detective Harry Ambrose, is hoping the show can tie up its second season with an ending that's as shocking and satisfying as that of its first season.
Here, Pullman talks about Season 2's changes, turning Carrie Coon on to voodoo, and how he impressed Mel Brooks to land his role in Spaceballs.
What elements did you want to carry over from the first season of The Sinner into the second?
There was no game plan for how to do a second season, so there was a lot of talk of a whole other set of actors doing another story, like American Crime Story. We talked about whether Jessica [Biel, from Season 1] would come back, or if I'd start it and then she would come back—lots of different permutations. Once it was clear that Ambrose was going back to his hometown in New York state, the thought of a lot of characters meant that things might become unwieldy. But instead it gave the show a great energy, because Ambrose could turn in any direction and there was conflict. I thought that was important. This season also tracks women in a different way. Jessica led the way in the first season, but there are such strong women's parts now: Carrie Coon's character, Vera; Hannah Gross' Marin; Natalie Paul's Heather. At a certain point I thought it was too many characters, but they are all so distinctive and bring a different aspect to the story.
A big theme of Season 1 was shared trauma, connecting with someone else who'd been through something similar. What would you say is the central theme of Season 2?
The sense of having been at a critical juncture in your life and having collapsed at that moment, and then how do you own that or not? With the Marin character, you wonder what happened there and realize that she had a collapse that was really difficult to recover from. Vera had a collapse of her own personal authority, and Natalie had a collapse. Everybody's looking to own it and figure out how to recover.
What was it like working with Jessica Biel for the first season and Carrie Coon this time around?
They're real troupers. Going into these kinds of characters, you have some really incredible things to accomplish. I think of that scene Carrie has when she's alone with the rock. That could have gone in multiple directions. I wasn't there—I just remember reading it—but she had a lot of choices on how to do it, and I remember sending her a link to a movie about…Did you ever hear of Maya Deren? She was a documentarian who went into Haiti in the '50s and got initiated in the voodoo tribes there and made a piece of film [Divine Horsemen: The Living Gods of Haiti] and seemed to flee with some mystery. What happened to her down there? Carrie found a brilliant place to be, I think, in that scene.
You've had a ton of roles and traversed the entertainment world. What are you most recognized for?
I think I'm always recognized as an American. There's something about the characters I've played. Whether they're tortured, heroic, confused, troubled, all those things, it feels like there's some aspect, some fiber, of them that feels very American. I don't know what that is, but there is some larger connection to what the idea of the country is.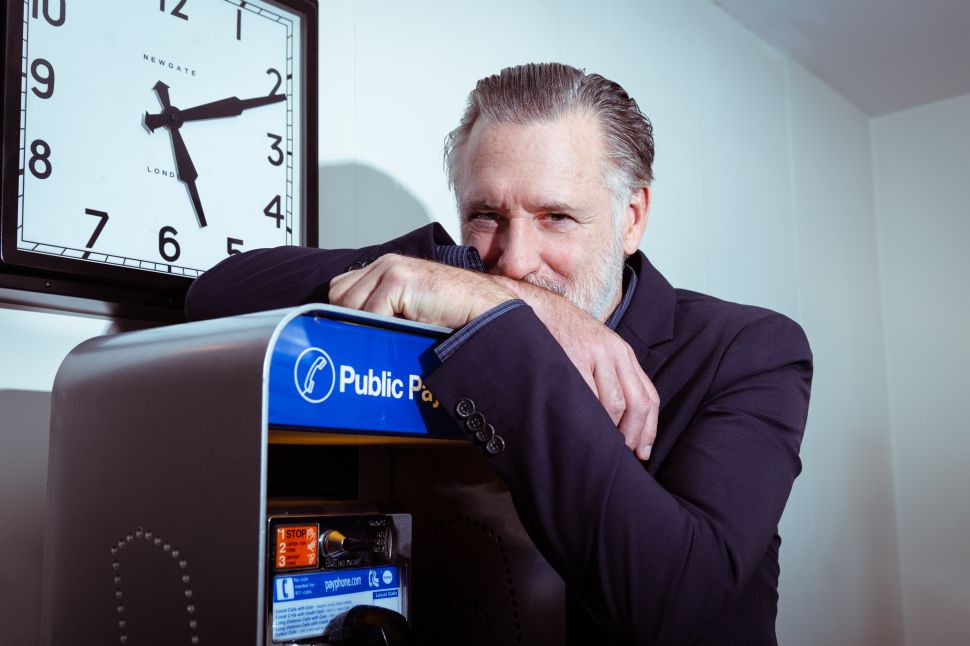 Spaceballs [from 1987] was only your second film ever. What was it like working with Mel Brooks that early in your career? 
I was very flattered that he took me up. He came to see a play I was in. It was a very obscure adaptation of a Biblical story about Barnabas, and we had a Norwegian director, and he did this avant-garde kind of rendering of it, and Mel and [his then-wife] Anne Bancroft came. I never auditioned for the movie—he just hired me.
Right on the spot?
Yeah.
That's unbelievable.
Well, he thought about it a lot. He saw me in the play. He said, "I tried to go for a Tom—Tom Hanks, Tom Cruise—and I got a Bill."
That's a very Brooksian answer. Last question: If you could have dinner with a film character, who would it be and why? 
I think Thomas E. Lawrence. He's a philosopher in some ways, and an adventurer. Lawrence of Arabia is a great movie.
The Season 2 finale of The Sinner airs September 19 at 10 p.m. EST on USA.
This interview has been edited and condensed.