If you are a frequent online shopper who also uses Facebook or Instagram regularly, chances are you've seen (or, in other words, been targeted with) a sponsored post for a company called Brandless somewhere between your friends' selfies and brunch photos.
Brandless is an online store that sells everyday household items, like toothbrushes, paper towel, spiral notebooks and a variety of snacks—all for $3 and, as the name suggests, brand-less.
At first glance, Brandless looks like an online dollar shop, or, to be precise, an online $3 shop. Indeed, most items on the e-commerce site seem like great deals: a bottle of lavender-scented hand soap for $3; same price for a porcelain dinner plate and even a jar of body butter. And yet, the appearance of these products signal that they are not typical dollar-shop items. All Brandless products wear carefully-designed, distinctive packaging characterized by matte solid-color backgrounds and minimalistic labeling, a style you are sure those affluent, wellness-minded urban-dwellers would fall for.
So, what is this company exactly? Who is it for? And what's wrong with regular "brands?" Is Brandless trying to built itself into a brand? And, if yes, does that make it a bad business idea that contradicts itself?
In order to address these burning questions, we spoke to the company's founder, investigated its financials and tested its products. Here's what we found.
Is $3 Too Good to Be True?
It depends on what you buy and what you compare it to.
A 1.7-ounce tube of night cream for $3 does sound like an insanely good deal (drug-store night cream starts at $6, and department-store options charge anywhere from $30 to $800), but two small boxes of facial tissues? You can probably find your ol' trusty Kleenex for roughly the same price or even cheaper at Walmart or Target.
Brandless currently offers about 300 products in four categories: food, household, beauty and stationary. The company won't disclose whether or not it has turned a profit yet. But Tina Sharkey, one of the company's two co-founders and CEO, said none of the items it sells costs more than $3 to make, although profit margins vary widely from category to category.
Can We Trust the Quality?
Established consumer brands are able to charge a premium not just because of their marketed value; a familiar brand name also means a guarantee of quality. And it's usually the latter that makes it difficult for new entrants to compete; it's the reason Brandless makes sure that quality is the first thing it communicates to buyers.
On all product packaging, Brandless only highlights two things: the name of the product and its quality attributes. For example, a box of cotton swabs is labeled as "cotton swabs, 100% organic cotton, chlorine free" and a bag of potato chips is labeled as "sweet potato tortilla chips, organic, gluten free, no artificial flavors."
As far as quality control, Brandless relies on a range of certifications from organizations such as the Forest Stewardship Council (FSC) for paper products and the Environmental Protection Agency (EPA) for cleaning supplies. Headquartered in San Francisco, the company also has a sourcing and quality control team based in Minneapolis, Minn., which is headed by Rachael Vegas, a former Target executive who led the effort behind Target's non-perishable grocery line.
Sharkey said most of Brandless' beauty and food items are made in America, while stationary products are sourced from Asia.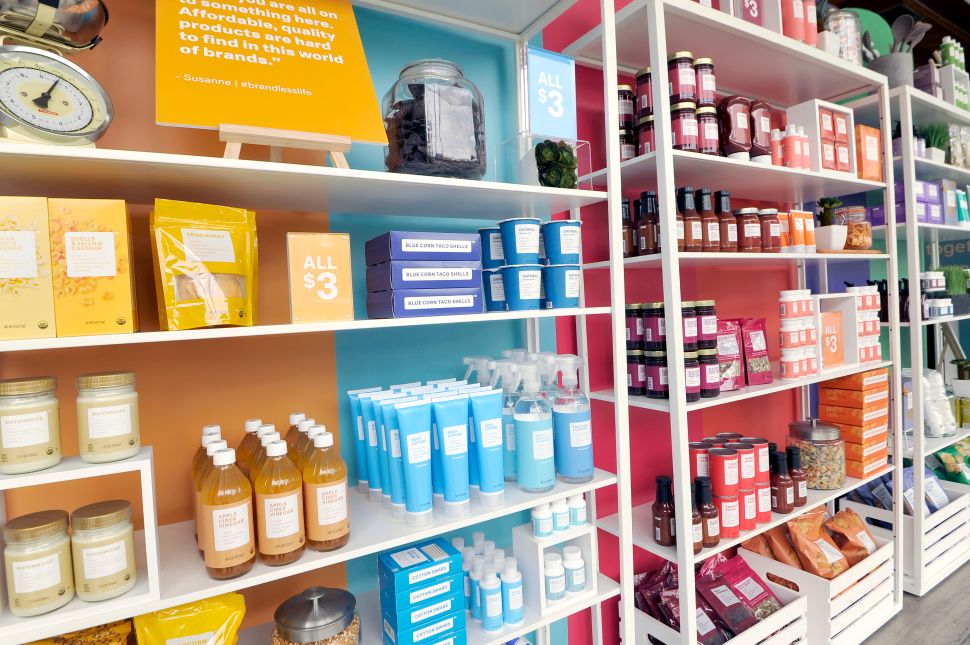 So, Is It a Modern Version of a Discount Shop?
Not really. Although affordability is an obvious appeal. Sharkey said Brandless is more about cultivating "community-driven values" than getting a bargain.
"When consumers shop for grocery and household essentials, they face an overwhelming number of choices in the market, but those choices often don't meet their core values," Sharkey told Observer. "When we look at products category-by-category, we think about: what's the best version of that category—for food, it's organic; for paper products, it's FSA-certified; and for cleaning supplies, it's EPA-safe—and also, how can we democratize access to it?"
"We started this company for people who share the belief that everyone can have a better version of everything. Many people have the impression that getting better costs more. But that's not true," she added.
Is Brandless a Brand?
Yes.
"We are not anti-brand; we are not generic; we are not no-brand. We are absolutely, unapologetically a brand," Sharkey declared. "We are re-imagining what a brand is. Brand is no longer what a company says about itself; it's what a friend tells a friend."
Stripping away logos and brand names from consumer goods isn't a new invention in retail. Japanese companies pioneered this concept decades ago and have built some of today's most internationally successful brands on top of it. For instance, MUJI, which means "no logo, high quality" in Japanese, started out in 1980 as a logo-free household goods retailer; today, it is an industry icon for minimalism style in clothing, stationary and furniture. Uniqlo tested the idea even earlier (in 1949) exclusively with clothing. Over the decades, the Japanese retailer has made its minimalistic, generic-looking clothes almost a fashion genre of its own.
Of course, Brandless founders are no strangers to these trailblazers.
"When we think of our muses, MUJI is a muse, because it's simple and curated," Sharkey said. "Uniqlo is also a muse, because it's fair-priced, high-quality, and incorporates a lot of technology in its products."
Who Thinks It's a Good Idea?
Since the website launched only a little over a year ago (on July 11, 2017), it's too early for a verdict. But the endorsements that Brandless has claimed so far are impressive. Its star-studded investor list includes names like Jerry Seinfeld, Steph Curry and Randi Zuckerberg (Mark Zuckerberg's sister), among others.
Last month, Brandless received a generous $240 million investment from SoftBank's famous Vision Fund. Despite the Vision Fund's broad exposure in the American tech scene, Brandless is only the $100 billion fund's second e-commerce investment in the U.S
Jeff Housenbold, a U.S. general partner of the Vision Fund, said Brandless' data focus and ability to generate buzz around ho-hum products were key selling points for SoftBank, he told Bloomberg in August when the funding round closed. 
Is It Just Me, or Is Brandless Everywhere?
While Brandless' products may be designed and manufactured on the basis of a "less-is-more" philosophy, its marketing strategy is certainly not. Like many consumer-facing startups these days, Brandless maintains an active exposure on all mainstream social media outlets, from Facebook and Instagram to Youtube and Pinterest.
In addition, the company runs a lifestyle blog under its online store, featuring hands-on content, like creative snack recipes, as well as discussions on larger issues, such as fair-trade coffee and why more people are adopting a plant-based diet.
Powerful endorsements are another key component. The $3 products are reviewed by not only regular customers, but also by YouTube influencers and celebrities. Jerry Seinfeld apparently is a fan of Brandless pretzel thins, while Gwyneth Paltrow's lifestyle blog, Goop, called Brandless' organic Gigli pasta "insanely delicious."