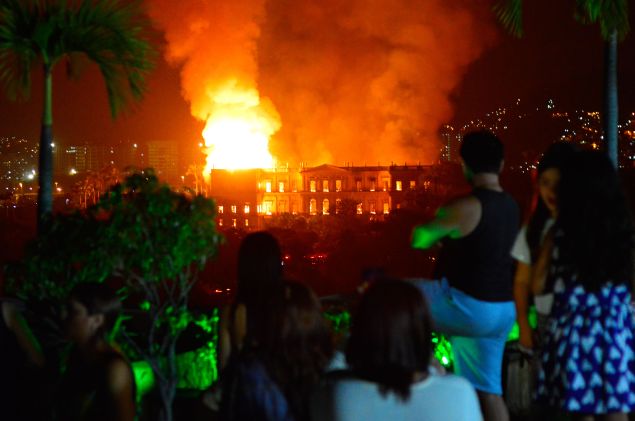 The cause of the overnight fire that laid waste to Brazil's National Museum on September 2 is still unknown, but the damage is as obvious as it is total. The majority of the institution's physical structure was consumed—it was a historically significant palace that formerly housed the Brazilian royal family—along with an estimated 20 million objects. The loss, as its tallied over the coming months and years, will be, in a word, incalculable.
Beyond the shock and sadness that has been expressed online and in news coverage, anger at the state the museum was allowed to fall into (in particular, its out-of-date fire system) has been expressed by many, with some calling it a metaphor for the mismanagement of Brazilian national assets at large. Many are already asking if and when the museum will be rebuilt, revealing only the frustrating truth that the collection, as it was, never can be. And what's more, it so far appears the institution did not have a full digital log of their holdings to serve to show what was lost—adding insult to the wound for many.
But it's that last issue that has prompted a group of people who are clearly the salt of (literally everything we know about) the earth to step up to the plate. Prior to the fire, Wikimedia Commons––a repository of public domain media which is uploaded, catalogued and curated by the same volunteer editors who write Wikipedia's articles––had a little over 200 images from the National Museum. Most of those were uploaded in 2015 by a user whose username is Dornicke. Now, they have thousands.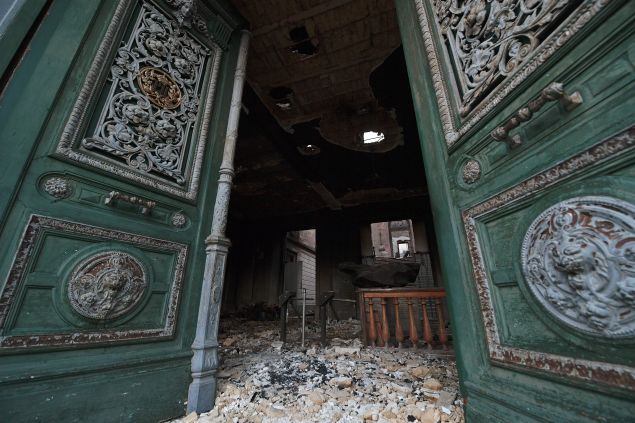 Following the fire, Dornicke corralled some editors in the Portuguese-language edition of Wikipedia to act. They drafted a call for anyone with media from the museum to upload those to the Commons, alongside instructions on how to do so. Since posting the announcement on September 4, photos have been flooding in. New users are joining in droves to offer what they have, which has resulted in between 2,400 and 3,000 new images as of September 6.
João Alexandre Peschanski, a professor in the School of Journalism at the Faculdade Cásper Líbero in São Paolo, as well as a prolific volunteer Wikipedia editor, helped conceive and shepherd this initiative alongside Dornicke and other colleagues.
"I have been told that the National Museum has no digitized, high-quality images of the collection," said Peschanski. "We're still trying to confirm whether that's the case or not, but that was one factor leading myself and other editors to, sort of desperately, urge people to upload any image they have from their visits. We don't really have this kind of collection anywhere else in Brazil."
Beyond this effort, Peschanski is one of Wikipedia's Brazilian editors spearheading an ongoing project to urge galleries, libraries, archives and museums to digitize their collections and identity. He spends up to 40 hours each week, largely unpaid, pitching the process to Brazilian cultural heritage institutions, and collaborating with their staff to bring these plans to fruition. But the monetary burden of this process can make it difficult for low-funded or underfunded institutions outside of the United States and Europe to participate in these preservative initiatives.
When the Metropolitan Museum in New York digitized their collection (which was completed in 2017), the process was seamless. Peschanski, by contrast, is currently working to digitize the collections at the Paulista Museum in São Paolo while it is closed to renovate its building, which has an entire floor that is collapsing. When he worked with Brazil's Museum of Veterinary Anatomy, the only staff member was the director. Wikimedians like Peschanski stepped in to organize inventory, structure metadata and take images of collections, essentially doing the work of museum staff.
"What institutions take for granted in rich countries is normally lacking in the global south. I was not able to approach the National Museum prior to this tragedy and I feel very, very, very bad about it." says Peschanski.
And he, like so many others, is emotional about the loss. "I remember visiting there once with my mother, when I was very young. It was majestic. She was proud for us to be there. It was for Brazil what the Smithsonian is for the United States. But, it's important to have a record of what existed. Each contribution brings a new angle that we did not have before. If we don't do this right now, we might lose this knowledge forever."
The Wikipedia Foundation in San Francisco joined the effort to support their editor community in Brazil. The Foundation quickly posted an English-version of the Commons media solicitation across their social channels.
"We were really devastated to hear that so much human history was wiped out over the course of a single night," says Kui Kinyanjui, Vice President of Communications at the Wikimedia Foundation. "It's sad that we weren't able to get this content before the fire, but now we're trying to help the Wiki community in Brazil as they take the lead and work backwards to, in a way, retrieve what was lost."