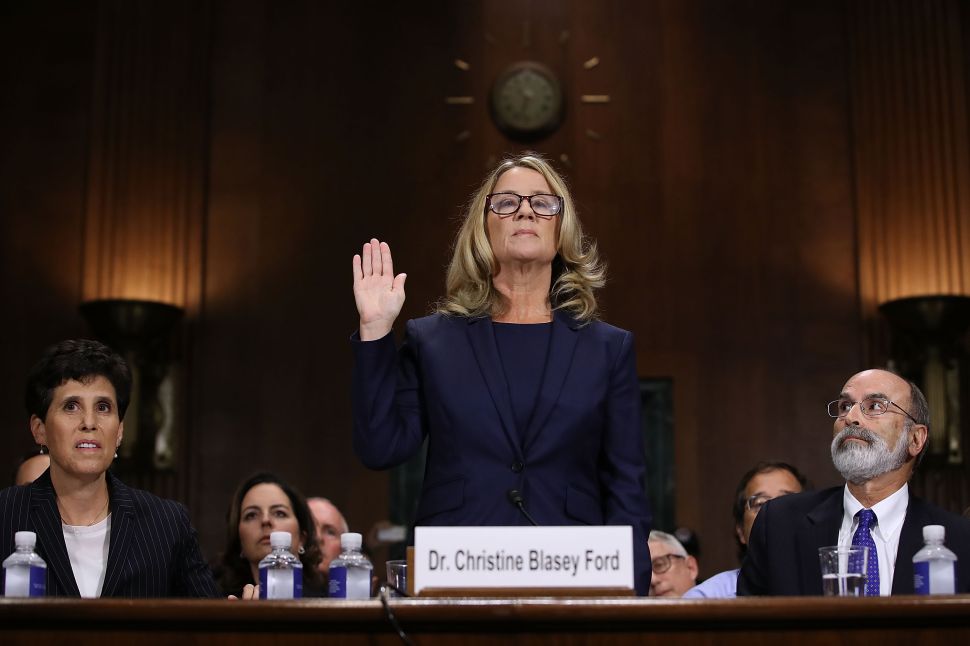 Brett Kavanaugh's accuser Christine Blasey Ford recounted her experiences with media stalking during her testimony before the Senate Judiciary Committee on Thursday.
Asked by lawmakers why she chose to come forward with her story, the Palo Alto professor told Congress that reporters flooded her home and workplace after her anonymous letter to Senator Dianne Feinstein (D-Calif.) began circulating.
"Once the press started reporting on the existence of the letter I had sent to Senator Feinstein I faced mounting pressure," said Ford. "Reporters appeared at my home and at my workplace demanding information about the letter in the presence of my graduate students. They called my bosses and co-workers and left me many messages making it very clear my name would be released to the media."
Subscribe to Observer's Daily Newsletter
Ford described a scene where one reporter showed up to her home and attempted to calm her dog down through the window.
The professor also called the media's narrative of her night where she was allegedly assaulted by Kavanaugh as a teenager incorrect.
"It was not really a party like the news has made it out to be," said Ford. "It was a gathering."
Ford's experiences with the media sparked debate online with reporters. New York Magazine's Irin Cameron wrote on Twitter that "Reporters tracking down Christine Blasey Ford at work and home were doing their job in an ordinary way, and yet when it comes to a sexual assault survivor, it's hard not to question whether ordinary is acceptable."
"At what point is the story more important than a survivor's trauma and well-being?" asked The Huffington Post's Alanna Vagianos.
The Washington Post's Dan Lamothe, meanwhile, tweeted that Ford's experiences left him "conflicted."
"When covering potential trauma, one thing we learn is sensitivity. Not everyone gets that memo," added the reporter.