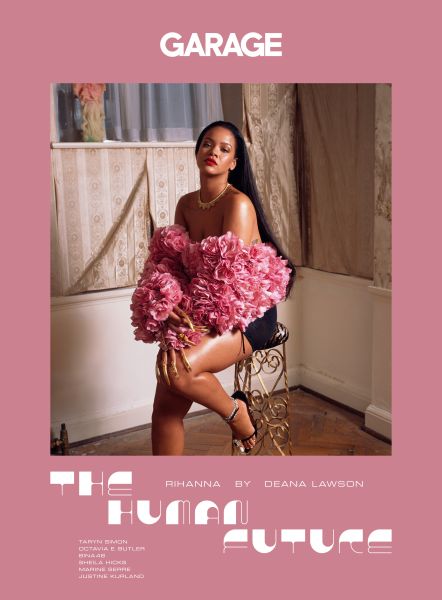 Artist Deana Lawson has made a name for herself for the quiet intimacy with which she depicts her predominantly black subjects. By visiting local hair salons, corner stores, restaurants and nightclubs, Lawson finds people who set different standards of beauty. In their carefully staged homes, she shoots them posed like one might see in a snap taken by a lover, friend or family member, so that her hyper-saturated images look like photos one might find on anyone's nightstand. They are banal, beautiful and screaming in celebration of the value in everyday black lives and experiences.
Lawson shone at the 2017 Whitney Biennial and her first solo show opened earlier this year at Sikkema Jenkins. Now, in the newest issue of Garage magazine, Deana Lawson has turned her focus to a cultural icon.
Her images of Rihanna, which debuted on the RiRi's Instagram account today, are something of a departure for the photographer—they're far from remnants of the cluttered middle-class life she documented across South Africa, New York and North Carolina. But in other ways they fit organically into Lawson's body of work, while also prompting double takes of Rihanna as we've rarely seen her. These are empathetic images. Especially in light of the Juergen Teller shoot of Rihanna for Vogue Paris, which went viral for appearing to rip off the work of Mickalene Thomas, Lawson casts her differently—bold, unguarded and human, with personal details of her life scattered through.
The cover image features Rihanna in Dolce & Gabbana briefs, a pair of Y/Project stilettos, a necklace from Tiffany's and a rose bolero from the 1960s—a vintage twist from stylist Carlos Nazario. Lawson doesn't insert herself too obviously into these photographs, but her touch is present in the patterned couch, in the carefully arranged childhood photos of Rihanna in the bookshelf.
In an interview with the legendary filmmaker Arthur Jafa, also in the issue, Lawson discusses her process for finding people to photograph. One time, she ran up to a woman who got off on the same stop as her on the A train. "There are moments when my rhythm of time ruptures," Lawson tells Jafa. "I've learned that these moments must be linked to my intuition."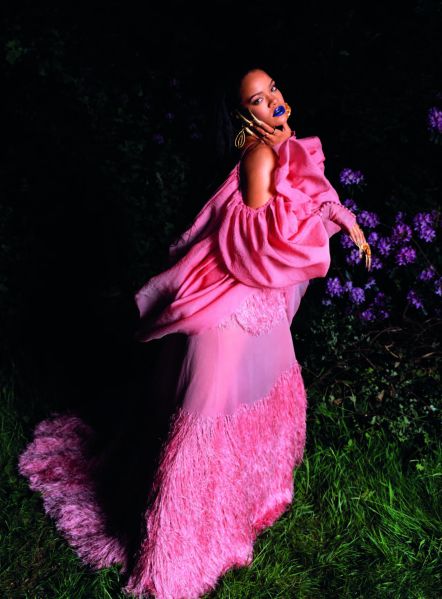 "I had the opportunity to meet Deana last year during a studio visit in the run-up to the Whitney Biennial," Mark Guiducci, editor in chief of Garage magazine, told Observer. "I'll never forget the way she spoke about her subjects, with such respect and quiet reverence. I didn't expect her to be up for shooting fashion, but she agreed right away. I'd guess Rihanna had something to do with it.
What's more, every artist who picked up a camera for this issue of Garage is a woman, among them Justine Kurland, Taryn Simon and Nadine Ijewere. Garage is surely not the first (and hopefully not the last) publication to make this conscious choice, but what is a novelty is that portraying subjects through a female gaze wasn't simply the selling point of the issue.Rather, behind every image is an artist trying to get across a very specific message about where humanity stands right now.
"We saw artists and fashion designers alike grappling with future technologies and materials, and observed that a lot of them seem to be questioning (and advocating for) the role of humans in that future," Guiducci said. "So while we have a number of robots and CGI models in the issue (Bina48 and Lil Miquela among them) we were equally interested in the relevance of real, live people. The new work Taryn Simon made, for instance, examines how what happens to the body physiologically during a cold-water plunge also happens during the moments of birth and sudden death—what could be more human than that? As for the cover, Deana Lawson photographed Rihanna using medium- and large-format cameras, using a handcrafted tradition to create images that will primarily be viewed digitally."  
The hand-made, corporeal process of making a piece of work—as readers will see in the textiles of Sheila Hicks, the ceramics of Ann Agee and the sculptures of Francesca DiMattio—permeates throughout the issue and interweaves beautifully with features on robots and science fiction, all together affirming the importance of diversity and empathy in humanity as we face a nebulous, technological future.