This month, on September 17, The Metropolitan Museum of Art will open its Delacroix exhibition, the first comprehensive retrospective dedicated to the French artist ever held in North America. As a joint project with the Musée du Louvre, the exhibition, which includes more than 150 paintings, drawings, prints and manuscripts, already broke attendance records during its French run.
Dubbed the father of Modernism, or at least one of the first modern masters, few artists have had the influence of Eugène Delacroix. And yet his name is not a household one, like many of the artists that idolized him. Delacriox's use of vivid color, concern for emotion and passionate brushwork influenced an entire generation of Romantic painters. It can even be argued that modernism would not have been, or been the same, without his work.
Widely regarded as the leader of the Romantic Movement in 19th century France, the French writer Alexandre Dumas wrote, "The genius of Delacroix is not debatable, it is not demonstrable, it is something one feels."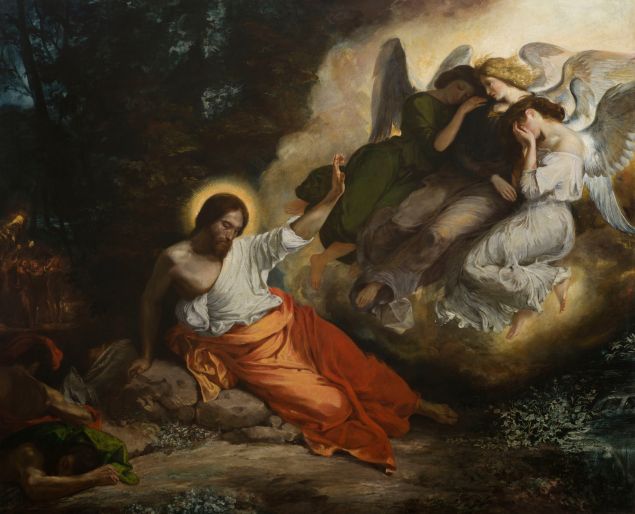 And yet many have tried to prove his great impact. Last year, The National Gallery in London attempted to do just that by showcasing Delacriox's work alongside notable artists he inspired (Manet, Gauguin and Van Gogh to name a few). Mixed reviews of the exhibition showed that proving influence is often an arduous task.
With the Met exhibition sure to be one of the season's highlights, and maybe even record-breaking in this iteration too, we attempt to trace a few of the ways his life, his death (in 1663) and his work changed the course of art and culture as we know it. It's worth noting that, like Dumas explained, some of these can only be "demonstrable" with a pinch of feeling. After all, emotion was what Delacriox was the master at capturing.
Delacriox and Modernism
It's an indisputable fact that modern art began in France. It's only when you start to talk specifics of "who" and "when" that the views get more divided. While it would be impossible to claim that the Modern art movement wouldn't have happened without Delacriox, his influence on Impressionist, Post-Impressionist and Modern art's most celebrated pioneers is undeniable.
Van Gogh came across Delacriox's Christ on the Sea of Galilee at an auction in 1886, afterwards stating that Delacroix "speaks in a symbolic language through color itself." Cézanne also complimented his color palette, noting later in his career that, "Delacroix's palette is still the most beautiful in France…We all paint in his language."
A master colorist, Delacroix's sometimes subtle influence can be traced by specific elements of some of the greatest impressionist and modernist painters. His use of emptiness was something entirely new to 19th century art, and his expressiveness, abstract shapes and emotive colors can be seen in the works of Matisse, Van Gogh, Kandinsky, Gauguin and more.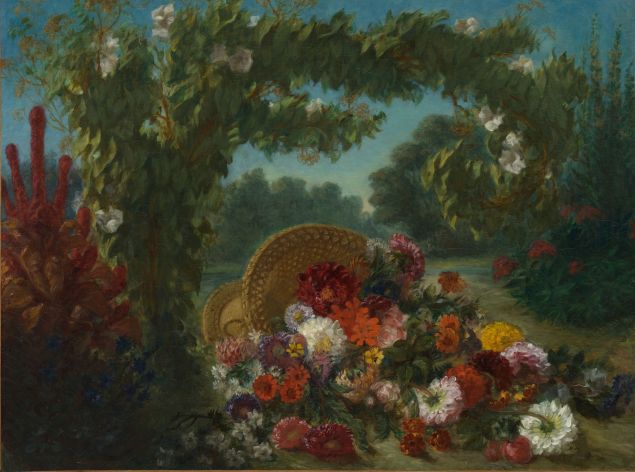 This kind of influence secures Delacroix place as, if not the definite father of modernism, at least its very persuasive, cool uncle. From there, tracing influence becomes a little more difficult. It's best to just then assume that without Impressionism unfolding as it did, Modernism may have differed also, along with Postmodernism, and so it goes on. With this thought process, it's easy to see how Delacroix's influence stretched beyond his time into the modern art world today.
Leading Liberty, Les Misérables and Coldplay
It would be almost impossible to talk about Delacroix and not mention the painting that many regard as his masterpiece, and one of the most iconic pictures in art, Liberty Leading the People. His depiction of Liberty leading Parisians over the barricades in the July Revolution of 1830 is said to have inspired Victor Hugo's novel Les Misérables and is credited with inspiring Bartholdi's Statue of Liberty, a gift from France. More recently, it was used on the cover of the 2008 Coldplay album, Viva la Vida.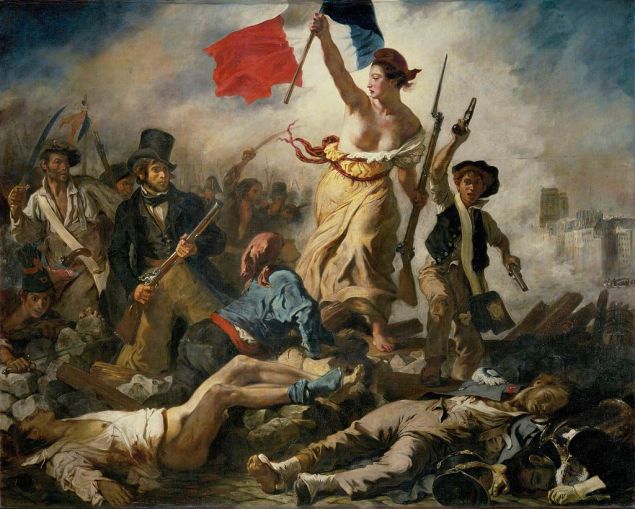 As the definitive image of the French revolution, this work is still viewed as a celebration of the triumph "popular will." While it's not a depiction of a scene in a historical event, the painting rather focuses on what a revolution feels like from within, giving it a universal quality that made it an important predecessor to works such as Picasso's Guernica. Notably, the work was vandalized in 2013 while on loan to the Louvre-Lens. It's reported that a woman wrote "AE911" near the bottom of the canvas, a cipher associated with a September 11 conspiracy theory. The piece was restored fully.
The First Artistic "Rockstar"
While Delacroix's artistic talents and techniques were enough to warrant a cult-like following, his personality was as much of an inspiration to many artists. BBC Arts dubbed him "the first artistic rockstar," but this is just one in a line of great mantles the artist has been bequeathed with over the years. He had the reputation of being a bohemian, but was meticulous in his craft. He never married or had children and was often consumed by his art, emotions and imagination to the point of illness.
With this, he gained a Bowie-like status, with not only fellow artists idolizing him but art critics and fellow writers also. One in particular, French poet and art critic Charles Baudelaire, began to worship him as the peerless "leader of the modern school." In his review of the 1845 Salon exhibition he stated: "M Delacroix is decidedly the most original painter of ancient or modern times. That is how things are, and what is the good of protesting?" He also described him personally as "a volcano artfully concealed behind a bouquet of flowers."
After Baudelaire died in 1863, this elusive status was only further cemented. French artists paid homage to him with numerous depictions, including Fantin-Latour's Hommage à Delacroix and Cézanne's The Apotheosis of Delacroix. His journal left behind an exploration of artistic practice that would be analyzed for years to come.
Delacroix's combined works and rockstar-like status all shaped and influenced the development of modern art. Paving the way for his successors, the exact measure of his influence is a unmeasurable. It is instead best to be considered with a pinch of Dumas' advice, being "something one feels."
If you do get a chance to go to The Met's Delacroix exhibition, keep this "feeling" in the back of your mind. The last thing he wrote was, of course, very fittingly: "The first merit of a painting is to be a feast for the eye." This particular collections of "feasts" will run from September 17 to January 6.