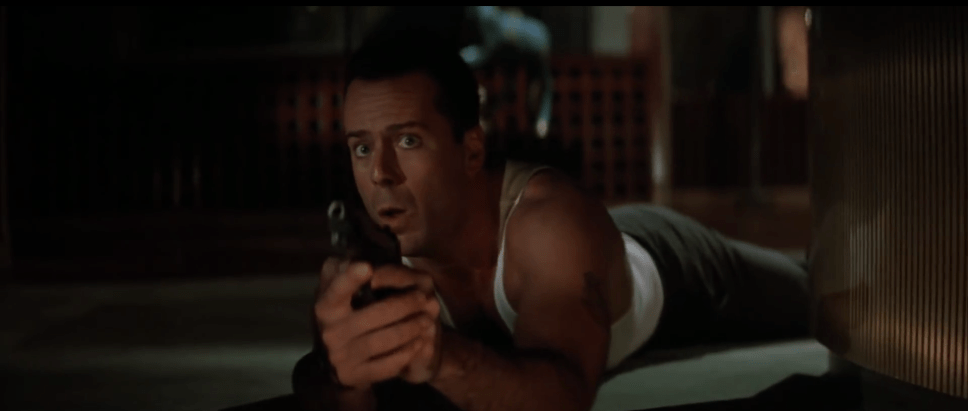 For years, many of us have been thinking that 1988's Die Hard, one of the greatest action movies to grace the silver screen, was John McClane's origin story—you know, his beginning as a badass everyman hero. But now 20th Century Fox is officially moving forward with both a prequel and a sequel for the Die Hard protagonist made famous by Bruce Willis. And it's all happening in one movie. Huh?
Word of a straight-up prequel called Die Hard: Year One began floating around in 2015, but now its seems the next installment in the franchise will instead toggle between story lines tracking Willis' McClane as a 60-year-old and a younger version of the character in his 20s (let's start fancasting). Producer Lorenzo di Bonaventura confirmed the news in an interview with Empire, saying: "You can tell our intention by the fact that the title page we handed in says McClane." Live Free or Die Hard director Len Wiseman will return to oversee a script written by The Conjuring's Chad Hayes and Carey Hayes.
On the surface, this doesn't make a ton of sense. The franchise has long passed its sell-by date, and given the legacy of the first film, it doesn't really lend itself to a prequel origin story. Audiences already saw in scintillating detail how McClane became a fearless cop when he took down Alan Rickman's Hans Gruber. Unless he was working under a secret identity before that, how could his 20s have been as eventful?
"We want you to get invested in John McClane more than ever before," Di Bonaventura said. "We are gonna explore John McClane in his 20s. But just as prominent is the 60-year-old version."
Wiseman's Live Free or Die Hard took in a healthy $383 million worldwide back in 2007, including $134 million domestic. But 2013's A Good Day to Die Hard, directed by John Moore and co-starring Jai Courtney as John McClane's son, just barely crossed $300 million globally while scoring a franchise-low $67 million in North America. Neither film was met with much critical praise.
Meanwhile, there's been speculation that the R-rated action of the Die Hard franchise could be rejiggered as a Hulu project once Disney's acquisition of Fox becomes official and it takes a controlling stake in the streaming platform. However, no television reboot has been confirmed.