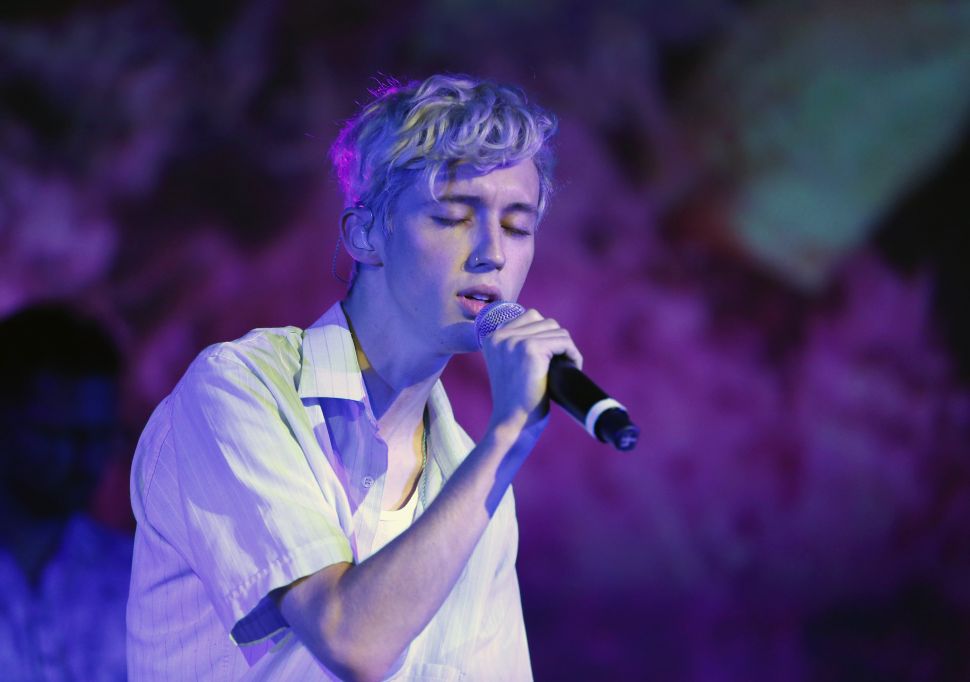 In one of those rare instances of pure pop-culture synergy, Eminem dropped a surprise album, Kamikaze, on Friday, the same day as the planned release of Bloom, the sophomore album by pop star Troye Sivan.
Sivan is an openly gay 22-year-old singer whose songs reckon with the complexities of queer desire, while Eminem has been spewing racist, sexist and homophobic epithets in his lyrics throughout his career, including on Kamikaze. In "Fall," a song off the new LP, Eminem calls rapper Tyler, the Creator a "faggot."
The two records are wildly different, but reactions to them illustrate just how much the pop universe has evolved over the past 20 years. Sivan's is the stronger effort—Bloom has garnered "universal acclaim"—and that's mainly due to the fresh perspective, daring imagery and heartfelt honesty he brings to his music.
Sivan's beautiful visuals are naturalistic and strange, as though he were foraging his way through a forest planted hundreds of years in the future. His vocals are by turns coaxing and shy, frequently evoking the feeling of being on the verge of a crush. And make no mistake, the album brings the bangers. Standouts include "My My My!," "Lucky Strike" (with the memorable line "And my boy like a queen / Unlike one you've ever seen / He knows how to love me better") and the title track, which had tongues wagging over its apparent subject matter when it was released in May—though Sivan has denied it, it seems to refer to anal sex between two men. "He claims the song is '100 percent about flowers,' as if he expects us to believe he's not using that imagery like a gay Georgia O'Keeffe," wrote Sasha Geffen for Pitchfork.
In today's hyper-politicized landscape, savvy pop musicians are aligning themselves with progressive messaging to appeal to liberal and left-leaning listeners, but Sivan's unabashed declarations of same-sex lust and love and his innovative aesthetics set him apart from many mainstream acts, Eminem especially. Even if Bloom doesn't end up charting astronomically (it's currently No. 4 on iTunes in the U.S.), it feels like a pivotal achievement for an early-career pop artist.
Eminem, on the other hand, is facing middling reviews and backlash in response to his hateful lyrical content. In contrast to Sivan's passionate, club-ready love songs, Eminem's rapid-fire homophobic insults hit the ear like a hail of bullets. Little on his new LP scans as original—not the tired trap beats, the cadence of his furious voice or the predictable slurs. He's plagiarizing his past self, like he's been doing for years.
Of course, Eminem has always invited controversy; negative reactions to his material are integral to his brand. After the relative failure of his first album, Eminem used his 1999 follow-up to introduce an unhinged alter ego who could essentially say or do anything, no matter how insulting, deplorable or profane. While wearing the mask of Slim Shady, Eminem was able to verbalize and act out fantasies of violence and abusive rhetoric that tapped deep into the hellish id of his subconscious. No doubt, many of Eminem's fans are still devoted to him because of the power, bravery and catharsis they associate with that artistic choice.
The stylistic excellence of The Slim Shady LP launched Eminem's career, but his willingness to offend just about everyone seemed to cement him as a star for life. Eminem was the most hated man in America by concerned parents and advocates for equality, but his music was flying off the shelves. It quickly became clear that if he wanted to keep listeners coming back for more, performing as Slim Shady was the way to do it.
But the tenor of the vitriol in response to Eminem in 2018 shows that the behavior that earned him his reputation is increasingly seen as a deal breaker. The world has changed around Eminem, and it seems he has lost the ability to adapt.
When asked in a 2013 Rolling Stone interview about his continual use of "faggot," Eminem replied, "Not saying it's wrong or it's right, but at this point in my career—man, I say so much shit that's tongue-in-cheek. I poke fun at other people, myself."
Eminem believes his lyrics are harmless, but one has to wonder if that's true. According to a "Crisis of Hate" report released by the National Coalition of Anti-Violence Programs, 2017 was the deadliest year for LGBTQ people in the United States since the organization began tracking data on anti-LGBTQ homicides 20 years ago. Within the span of 12 months, 52 people were reportedly murdered because of their sexual orientation. Anti-queer violence is on the rise, and homophobic language in popular music legitimizes this phenomenon. The Trump presidency has also brought with it increased anti-immigrant sentiment, overt racism and hatred of anyone who falls under the classification of "other."
And this is what makes Troye Sivan's meteoric rise to fame so remarkable. His unabashed queerness feels like a riposte to Eminem's fury-filled retrograde rap.
Sivan got his start on YouTube, which is also the platform he used to announce that he was gay to his followers in 2013 (he's been out to his family since 2010). As a star who's been honest about his sexual orientation since the start of his music career, Sivan is in a very small category—in the pop world, he's a pioneer.
In contrast, Eminem seems, at best, like he's stuck in place or, at worst, like a hopeless bigot. Some of his fans are still willing to laugh with him and enable his poisonous ideas, as his continued chart dominance proves, but when it comes to relevance, his days may be numbered. The fact that Sivan can be both unflinchingly candid about his sexual orientation and create a persona and presence that remains hugely popular is a sign of progress. He represents the future, but the future might be a lot closer than we realize.