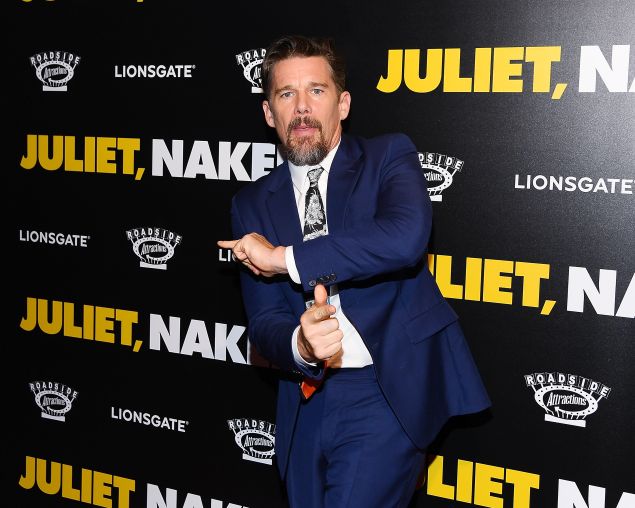 Never has our tortured connection with Ethan Hawke been so apparent than these pasts two weeks, when we relived our labored 30-year-relationship with the actor in a scant 48 hours.
Just as the world (and in particular, The New York Times) was starting to offer up the praise it has done everything to avoid giving him (notice he never makes those lists of great Gen X actors), the actor did something to bring us back to our comfortable and reliable state of hating him, a phenomenon that traces back, as far as we can tell, to the fall of 1994, a scant five years removed from his dewy-eyed turn in Dead Poets Society. That was when his much-copied facial hair had found itself holding down a spot on GQ's annual overrated list; at the same time, his penchant for mismatched thrift store finds placed him on that year's People magazine "Worst Dressed."
But this time, it was different from before, back when he caused fits of fury for the six-figure advance on his novel or for attempting contemporary reinterpretations of Shakespeare and Dickens. Those we could move on from. No, this was much worse.
Last Saturday, we learned that the actor had the temerity to call out Logan and other superhero films, and he did so in the most Ethan Hawke-ish way possible. ("It's not Bresson. It's not Bergman. But they talk about it like it is.")
The inhabitants of the digital media world, staunchly defending the place of superhero movies next to jazz and democracy as the only relevant American cultural contributions, were not having it. Even entities like the AV Club couldn't help but give the actor a hallway wedgie for his highfalutin opinions.
Not only was Hawke coming off as pretentious, but he also seemed as out of touch as George Bush Sr. did when he didn't know the price of a gallon of milk.
But let's not lose sight of what is really behind the latest flare-up in the 34-year history of the unofficial national pastime known as "Hating Ethan Hawke."
This latest strain has taken on a new virulence for an interesting reason. At a time when many Gen Xers are stumbling around in the gig economy trying to figure out what hit them, Hawke is having the single most accomplished year of his storied, yet muddled, career. And it's one of the best years (and months) that any actor-director has had, pretty much ever, with the recent and upcoming releases of two movies he is starring in—Paul Schrader's First Reformed and Jesse Peretz's Juliet, Naked—and one he cowrote and directed, the remarkable biopic Blaze.
For many of us who grew up watching him and are now struggling to rediscover our own relevance, that—and not his questioning of the canonization of James Mangold's apocalyptic Wolverine movie—is his real sin.
Shaking off Hollywood's preferred means of second act relevance (the reinvention) Hawke has chosen a trickier and more dangerous route to his greatest year ever, as the Times thoroughly profiled. Now, across three singular films, he has embraced all the things that have historically made him so frustrating, and fortified our conflicted relationship with him.
In First Reformed, Hawke—who, in over three decades of interviews, has shown a propensity for low self-esteem worthy of an acne-riddled middle schooler—plays a reverend so crippled with self-doubt that it's literally eating him from within. In one of his most physically contained and quietly effective performances, Hawke keeps his taut, weathered face still, allowing his internal strife to pour out into a private journal that serves as the film's narration.
It was a clever move by Schrader. Much of the talk in First Reformed in fact reads as a variation of the same conversation the actor has been having on-screen and in the press: how can I live an authentic life and still live within the bounds of people's expectations?
And herein also lies another reason why Hawke has been so thoroughly disparaged. His greatest attribute as a performer has always been his ability to converse effectively and honestly. It's a humble quality compared to, say, Tom Cruise's plane jumping or Brad Pitt's dream date good looks. The conversational quality of his acting has given his catalog of performances a sheen of "he's not doing anything" or "anyone can do that." Which is to say, while we have accepted most movie stars as something more than us, that has never been the case with Hawke.
Of course, as with everything to do with hating Ethan Hawke, he is, at least in part, to blame.
Unlike most actors, who by virtue of maintaining their mystique have to put themselves above the plebeians who watch their films, Hawke has never pretended to not suffer abject bouts of very human pettiness. Early in his career, he was overcome with jealousy at the success and critical accolades achieved by River Phoenix, with whom he shared a screen debut in Joe Dante's 1985 film Explorers. (Even back then, Hawke blamed himself for that film's tepid box office.)
"[River] would send me into fits of envy," Hawke told Details in 1996. "Unadmirable fits of envy."
In the same interview (years later, Details would forever seal him in Gen X amber when they put him on the cover of their 2002 retrospective on the '90s) he would offer up these Hawke-ian gems: "The truth is, I haven't given a very good performance yet…I've shown some talent," and "I was so disgusted with myself for being famous."
This second point, his ongoing wrestling match with the mechanical octopus of fame, would become a lifelong obsession. It would come to a head in 2001, the year the actor saved his career (when the '90s ended, he was unable even to get auditions for big Hollywood movies) by supporting Denzel Washington on his way to an Oscar for Training Day and nabbing a nomination himself. Meanwhile his personal life, and his tabloid-fodder marriage to Uma Thurman, was unraveling.
In a similarly impressive supporting turn in Juliet, Naked—the throwback romantic comedy that is fast becoming one of the summer's most criminally underappreciated releases—Hawke was finally able to grapple with the concept of fame and iconography in his work, where previously he had primarily done it through his press appearances.
In Jesse Peretez's adaptation of Nick Hornby's novel of the same name, Hawke gives a performance that feels spiritually linked to Troy Dyer, the coffeehouse employee and lead singer of the band Hey That's My Bike he played in 1995's Reality Bites, the film and part that put hating Ethan Hawke into overdrive.
As Juliet's Tucker Crowe, a singer-songwriter who is unable to come to terms with his legacy as a seminal early '90s mope rocker, Hawke gives the most bracingly honest performance in a non-Richard Linklater directed film. The scenes where he flirts back and forth with Rose Byrne over email, accessing an easy intimacy over great distance that's unattainable by her live-in boyfriend (Chris O'Dowd), shows Hawke at the height of the conversational prowess he has spent his career refining.
In the stumbling and humane way he portrays his character's earnest attempts to raise his son—after failing to have anything to do with his four older children—Hawke solidifies his post Boyhood place as cinema's patron saint to divorced fathers of a certain age. It's strange for many that person who is both a child of divorce and a divorced father himself would want to accentuate that aspect of his life, but Hawke has a penchant for starting uncomfortable conversations and reminding people of unfortunate realities. (Remember that Jesse missed the plane and left his wife in favor of Celine in Before Sunset at exact same time that Hawke and Thurman were splitting up.) Even as a protagonist, rarely are his characters easily likable. No, again due to his search for something more realistic, they are flawed and complex.
Hawke's contributions to the content of the films in which he stars (especially for Linklater) have been well documented. He has been nominated for an Oscar for writing Before Sunset and Before Midnight, alongside Linklater and costar Julie Delpy, and was prepared to finish Boyhood on behalf of Linklater if the director was unable. Still, little prepared us for what he has pulled off with Blaze.
After all, Hawke's directing career began less than fortuitously, kicking off with an iconic and now dated Lisa Loeb video before rather quickly cratering into vanity projects—2001's shambling ensemble mess Chelsea Walls and 2006's The Hottest State, his unfortunate adaptation of his own novel.
He was able to finally find his voice as a non-fiction filmmaker with Seymour: An Introduction, the 2014 documentary that captures the philosophic bearing of Seymour Horowitz, a piano teacher and New York City neighbor who chose scholarship and a one bedroom apartment over fame as a concert pianist.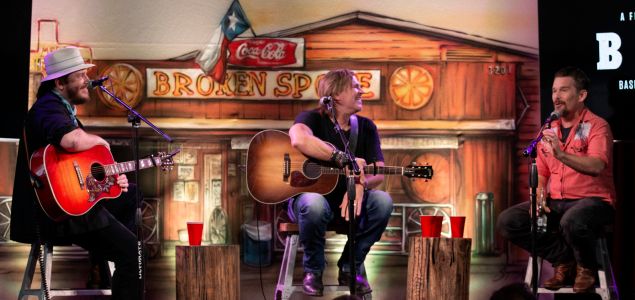 In many ways, Blaze feels like a companion piece to Seymour; perhaps it's the second of a forthcoming trilogy about obscure musical geniuses. In telling the story of Blaze Foley—a drunk Snuffleupagus of a Texas singer-songwriter whose own disinterest in fame sealed his anonymity long before he died an untimely death—Hawke resists the easy take. He doesn't try to sell you on Foley's genius (though in the hands of first-time actor Ben Dickey, that certainly comes across), nor does he try to spin some sort of barstool myth; in fact he righteously avoids making grand someone who went through life in a jacket made of duct tape.
Instead Hawke, who cowrote the film with Foley's wife Sybil Rosen based on her memoir, tells Blaze's story through the relationships in his life, whether they are with his wife (Alia Shawkat) or a little girl selling flowers in a parking lot he stumbles through. Hawke shows the depth of influence of his artistic life partner, Richard Linklater, in both the intellectual rigor of the film's rambling conversations and the constant curiosity of his camera, which floats like a feather around the action.
But what makes the film so good is how intensely it crystallizes all of the searching, doubts and questioning that has marked Hawke's career both on-screen and off, and made him a singular and (as evidenced by #Hawkegate) polarizing figure. Though he barely appears in it—he plays a radio DJ who is as oblivious as the rest of us to Blaze's legacy—it is as marked by his obsessions and sensibility as any film he has ever made.
Across these three very different films, he has (as he always does) laid bare his doubts and faults, and pressed to the fore his tireless—and for many of both his fans and detractors, tiresome—quest for "authenticity." It's that same quest and constant questioning of what is worthwhile that lead to the Logan fracas.
In other words, his greatest crime this year is in fully embracing that which we have always criticized him for, and doing so with more artistic assurance and vision than he has ever shown before. In their own Ethan Hawke-ish way, these films might be every bit as extraordinary as achievements by the likes of Bresson or Bergman. And that achievement, no matter how great these films are themselves, might still serve as fodder for the public not to like him. Why do we love to hate Ethan Hawke? It used to be because of his choices, now it's because those choices turned out to have paid off.