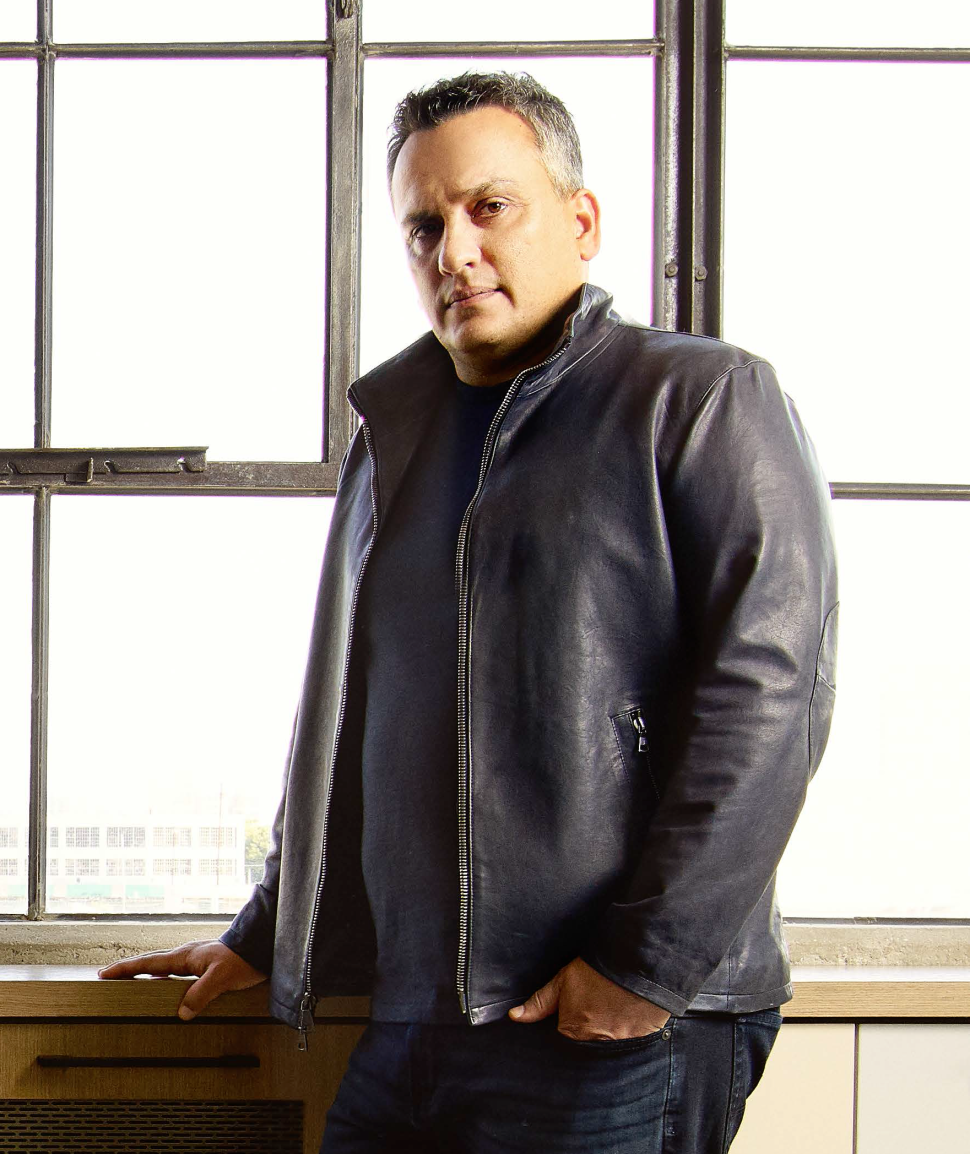 Just before 6 p.m. last Saturday, Joe Russo, the 47-year-old film and television director, was leaning against the wide, concrete bar of his latest project, in the Arts District of Los Angeles, directing a tall man with a goatee playing DJ on an iPad. "Justice, do you know them?" asked Russo, who wore a plaid shirt, untucked, and a nylon jacket. The man shook his head. "They're a French band, basically the better version of Daft Punk." Russo requested more obscure Beatles tracks, some Blue Oyster Cult, and a raising of the volume in the bathrooms. "Knowing that there's some spoken word stuff that comes on, I think it should be louder than quieter, you know?" He turned his head back towards the bathrooms. "I think it's too quiet in there."
Russo had flown in the previous night from the Atlanta set of his latest film, the untitled sequel to Avengers: Infinity War, and was set to fly back out again at 5 a.m. For Joe and his brother, Anthony, who co-direct all their films together, time has been money since 2014, when they were plucked from the relative obscurity of TV comedy to direct Captain America: The Winter Soldier. It marked the start of an unprecedented $4-billion box-office run for the pair, with Captain America: Civil War in 2016 and this year's Avengers: Infinity War, the highest-grossing superhero movie of all time.  
The brothers are less than a year apart in age and do everything together, but Simone, a restaurant that opened to the public this week, is Joe's first solo project. Long a seeker of off-the-beaten path food and cocktails, he got infatuated with the idea of owning his own restaurant three years ago. "Everyone tried to talk me out of it," he said of his industry friends, many of whom—Scarlett Johansson, Don Cheadle, Chris Evans and Marisa Tomei, to name a few—are here tonight to celebrate with him.
"When he told me he was doing this, I said, 'Good thing you're doing well in your day job,'" said Iron Man director Jon Favreau, who's dabbled in restaurants himself. "It takes a long time to get it right and for it to start to make sense financially, so you'd better be passionate about it. Joe has a tremendous amount of passion for food."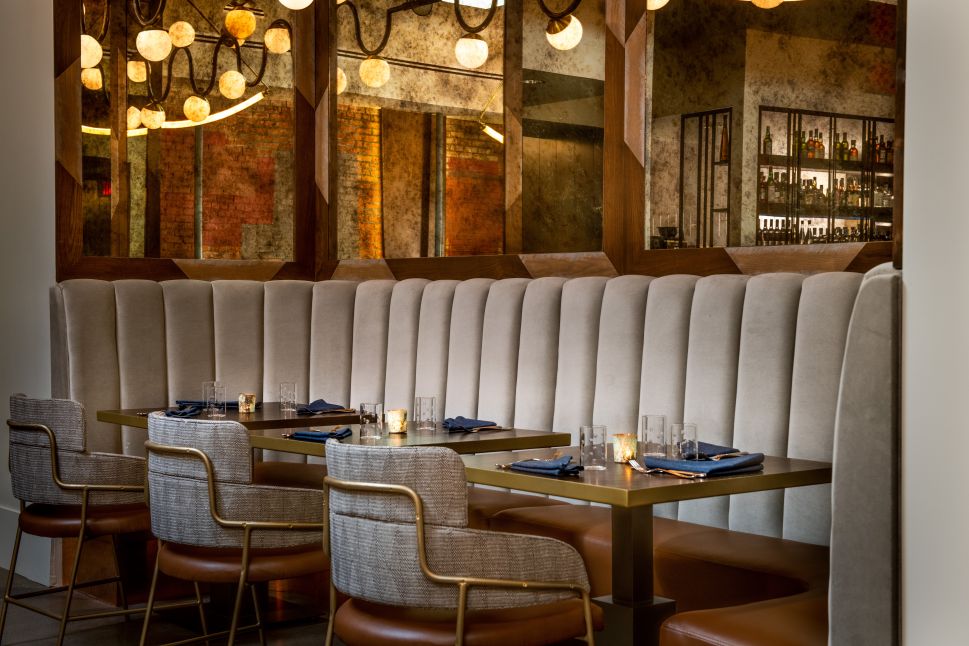 There's passion in evidence at Simone, which has a raucous bar helmed by Iain McPherson, a lauded Edinburgh mixologist, and a more reverential chef's table overseen by Jessica Largey, a James Beard Award winner who was previously the chef de cuisine of the three Michelin star restaurant Manresa, in northern California. (She came up with the restaurant's name, an homage to one of her favorite singers, Nina Simone.) Plush furnishings in the main dining room invite guests to get cozy and stay a while. "That's another thing I was super picky about, comfortable chairs," said Russo, who talks with his hands, which necessitates a certain amount of space. "These were tested and tested and tested, especially the armrests. I really hate when I get a chair without an armrest."
"I want people to stay here. It's why I spent, like, a year curating playlists," explained Russo of what has become his labor of love. "It's, ultimately, What's your goal? Is it fiscal or is it something else? Personal fulfillment?"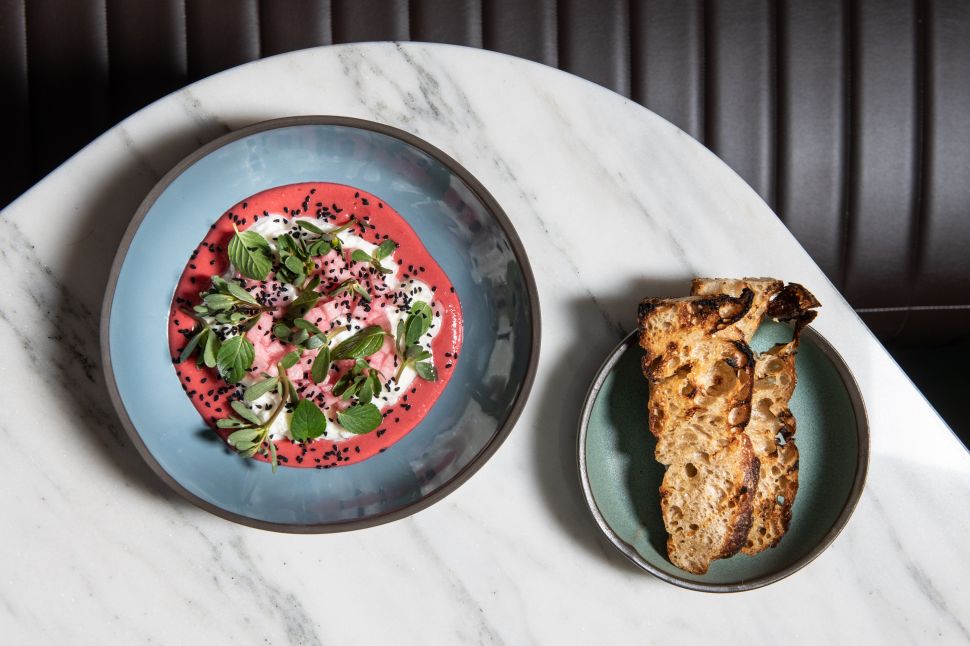 It's no accident that Simone is right nearby Russo's two production offices, amid the warehouses of downtown Los Angeles, miles and many minutes of bumper-to-bumper traffic away from the nearest brigade of velvet ropes. It isn't Planet Hollywood or one of those places owned by the Vanderpumps, and the design leans more modern homey than over the top—burnished mirrors that bounce light around the bar, murals by the contemporary artist Ryan McCann, concave swooshes of golden light that hang from the ceiling like Alexander Calder mobiles. Russo wanted everything to be approachable and easy, like the bathroom wallpaper, which features cartoon avocados holding flutes of champagne and beets in boxing gloves. "In China, they have a lot of round tables with a lazy Susan in the middle," said Russo, pushing his palm against a flat gold disk at the center of a table for twelve. "I find that those are traditionally the most accessible dinners." He frowned down at the disc. "We have to polish that up."
Taking center stage is produce-centric California fare like charred squash with nectarine and macadamia salsa, pole beans with purple tomatillo and urfa chili. "I converted him to a vegetable lover," said Largey, shortly before her kitchen flooded with guests. "Which was very, very, difficult," Russo chimed in. "After 47 years of red meat. To date, she's made the best salad I've ever had in my life."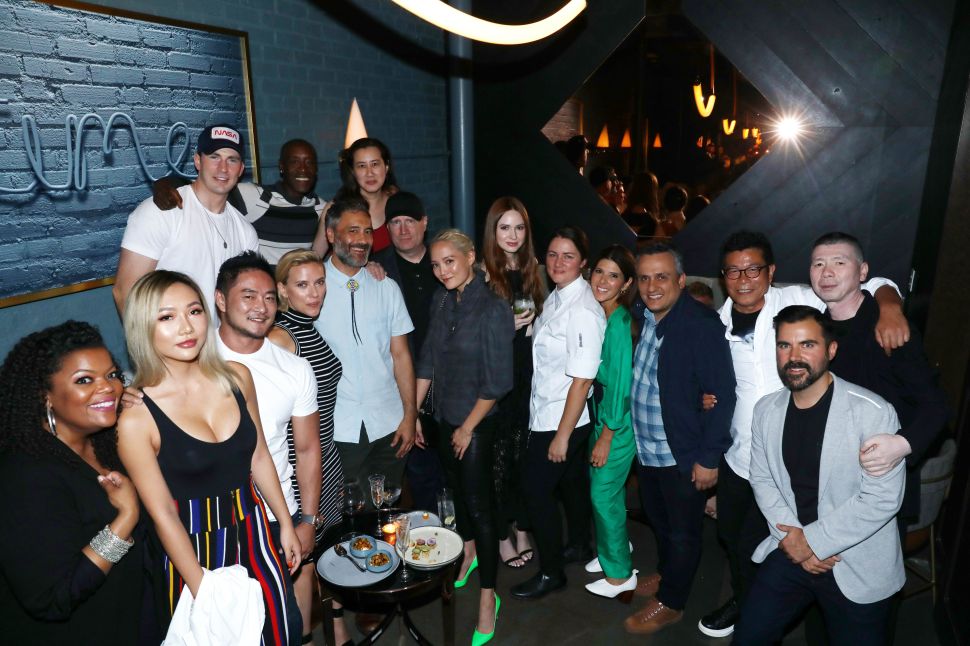 Russo's love affair with food began in a Cleveland duplex, where he and Anthony grew up surrounded by their Italian-American extended family. (Their Nonna lived downstairs, and on Sundays, the whole Russo clan would pack into her kitchen for meatballs.) The Russo brothers also bonded over arthouse films by Federico Fellini, Michelangelo Antonioni and François Truffaut. By the '90s, they had left the duplex to pursue graduate degrees at Case Western University—Joe in acting, Anthony in law—and heard that Robert Rodriguez lit up the 1993 Sundance film festival with a movie that cost $7,000 to make.
"I was starting to suspect that I didn't want to be an actor and Anthony was starting to suspect that he didn't want to be a lawyer," recalled Russo. They used student loans and credit cards to finance their 1997 debut, Pieces, and got the film into Slamdance, the artier sister of Sundance, where it charmed Steven Soderbergh. "It was a nonlinear genre parody, very riotous in structure, only a guy like Soderbergh would like a movie like that," he explained. They moved to Hollywood soon after, but establishing their niche in the industry took years. "We were a 20-year overnight success story," joked Russo. Soderbergh acted as a kind of mentor, and they took a cue from his career, which he revived in the late '90s by turning from low budget, ill-received indie films like Kafka to more commercially viable fare like Erin Brockovich and Ocean's Eleven.
"We started to draft off of his experience, shifting into commercial filmmaking," said Russo. After the limited box-office returns of their 2002 feature, Welcome to Collinwood, a remake of the Oscar-nominated 1958 Italian film I Soliti Ignoti, they hit populist paydirt in 2006 with You, Me, and Dupree, starring Owen Wilson, Kate Hudson and Matt Dillon, which earned $130 million at the box office. "Soderbergh really taught us how to find what's emotional and personal to you, as a filmmaker, and figure out a way to translate that in a popular narrative," he reflected. They seized the opportunity to direct the pilot of Arrested Development, basing its offbeat aesthetic on the 1992 French mockumentary Man Bites Dog. "That was a unique opportunity to tell an absurdist story with a lot of capital behind it," said Russo. "Nobody would've given us the money to make Arrested Development as a movie, but that was the amount of money Fox had to do season one of the show."
Work enabled the brothers to travel the world, and Russo to expand his palate. In Prague, he'd hunker down at U Fleků, a bar that "serves pork chops on the back patio for, like, a dollar and the barkeep walks around with trays filled with traditional czech liquor," he said. "It's all communal seating. It's an amazing way to meet people, and everybody has a blast because you're a couple shots in halfway through your pork chop."
He befriended Simone's barman while helping his daughter get settled at St. Andrew's University in Scotland, where she attended college. "I did some research to find out what the best restaurants and bars were, at the top of the list was Panda and Sons," recalled Russo. "It was a basement speakeasy that had a really illustrative menu telling a whole story about a family of pandas who owned a barbershop that was converted into a cocktail bar, a lot of drinks were named after artists, and on top of that, they were the best drinks I'd ever had in my life. Everytime I went back to see my daughter, I'd stop there just to say hi to Iain."
Around the same time, Russo and his brother were directing episodes of Community, including a Star Wars-spoof episode that got them on an industry shortlist of promising directors that eventually made its way to Kevin Feige, the president of Marvel Studios. "It worked out well that we came in for the second half of this run of Avengers," Russo said, "because we like deconstructing and picking things apart. The thing that makes the genre compelling is when you find a new way to make audiences interpret it."
Which is kind of what happened when Russo's Hollywood friends poured into Simone, crowding into the kitchen for vegetables that had been given the star treatment. (Absent: Anthony Russo, charged with holding down the fort on the Avengers set back in Atlanta.) There were tiny blush tomatoes anointed with dollops of miso tahini, hollowed out Persian cucumbers stuffed with lentil hummus. Only one dish contained a conventional protein: a strip of Abalone atop a piece of baguette, and even the fish benefitted from a smear of avocado. "This is the place I've been waiting for," said Favreau, posted up by a refrigerator stuffed with jars of fermenting pickles and kimchi (Largey calls it "the stinky fridge"). "I can't wait to cook here. Chef and Joe said I could do that with them. One of the dark nights, we'll get to work."
Flanking Favreau—and the passed hors d'oeuvres—was actress Yvette Nicole Brown, part of a gaggle of Community alums on hand for the evening, including Gillian Jacobs and Joel McHale. (Favreau had been showing her a video on his iPhone). "I'm just going to stay here all night as stuff comes out," said Brown.
Brown recalled Russo bringing meat and cheese delicacies to the set of Community. "One time, he brought in a really big sausage and I just feel, for heart health, we all need to watch out for big sausages, but he brought it in and we all enjoyed it."
In the main dining room, Russo sipped a mole cocktail muddled by McPherson, while several Avengers kicked back on couches with backs that looked like giant lady fingers. By 8 p.m., the din had reached a level that all but drowned out the music. Russo, raising his glass to cheers yet another well wisher, seemed just fine with that.