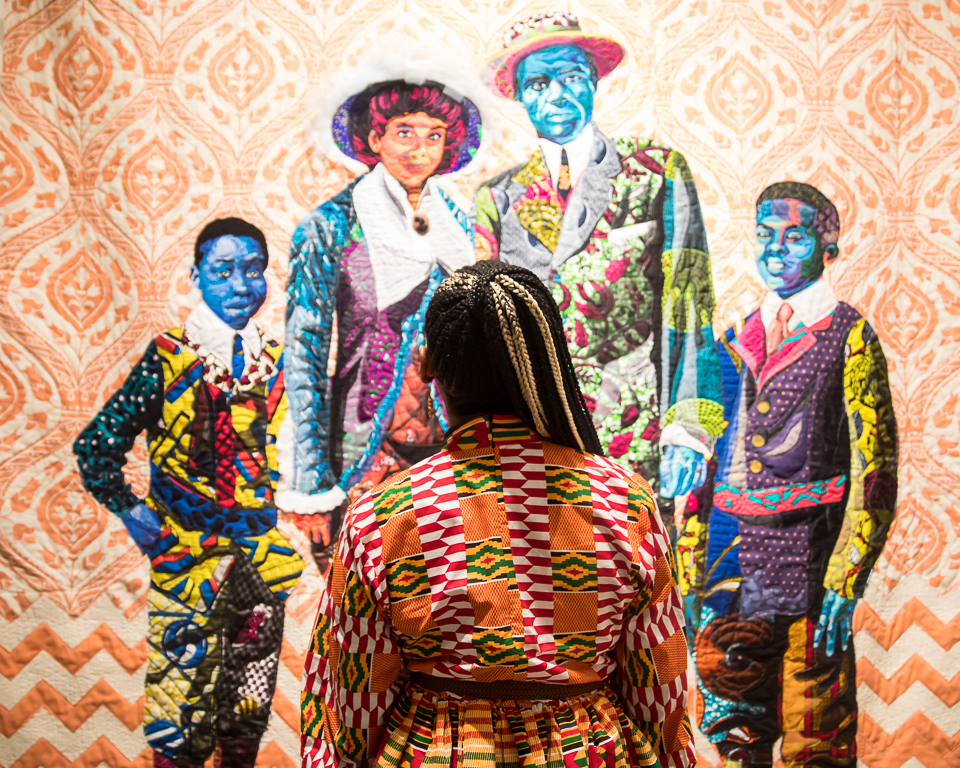 EXPO CHICAGO returns to the Windy City this weekend, offering its biggest, most eclectic selection of work to date. Representing more than 135 galleries from 27 countries, the massive, three-day event will also include special exhibits with nonprofit organizations like Downtown for Democracy and Human Rights Watch as well as a "/Dialogues" series featuring discussions centered around issues currently facing the art world, such as "AfriCOBRA: Chicago in the Age of Black Power." Whether you're looking to splurge on a new piece or just shift your perspectives, the globe-spanning fair is the perfect opportunity to reacquaint yourself with the standard-bearers and discover some fresh voices.
Subscribe to Observer's Arts Newsletter
Here are this year's major highlights.
Postcommodity, Repellent Fence, 2015. IN/SITU, curated by Pablo León de la Barra (Curator at Large, Latin America, Solomon R. Guggenheim Museum).

Courtesy of Bockley Gallery, Minneapolis and EXPO CHICAGO.
IN/SITU's Countless Surprises
For this year's EXPO, curator Pablo León de la Barra pulled together a group of artists whose pieces are installed alongside gallery booths for an exhibition within the art fair. At first, the effort seems forced, but it actually reveals plenty of twists and turns. León de la Barra, who is also the Solomon R. Guggenheim Museum's curator at large, has managed to deliver some salient commentary on migration, activism and otherness through work from artists like Judy Chicago, Sam Durant, Carmen Argote and Oscar Murillo.
Carmen Argote, My father's side of home, 2014. IN/SITU, curated by Pablo León de la Barra (Curator at Large, Latin America, Solomon R. Guggenheim Museum).

Courtesy of Instituto de Visión (Bogota, Colombia) and EXPO CHICAGO.
Entering the fair space, guests are greeted with a piece by Mexican artist Bosco Sodi that creates the image of a barrier—the artist assembled it himself as part of a performative action for his piece muro (2018). The humble brick wall immediately calls to mind border politics as well as the division between what could be perceived as an elitist art fair and the outside world. Several light boxes by Durant, accompanied by phrases like "Am I Next?" and "Speak the Truth Even if Your Voice Shakes," also politicize the space. Ever the provocateur, Murillo likes to challenge established systems, and this time he's created a new work especially for EXPO. Collective Conscious (2018) alludes to the proletariat worker as a mechanical being, both consuming and being consumed by capitalism. His intervention is at the heart of EXPO this year, on display in the very middle of the space.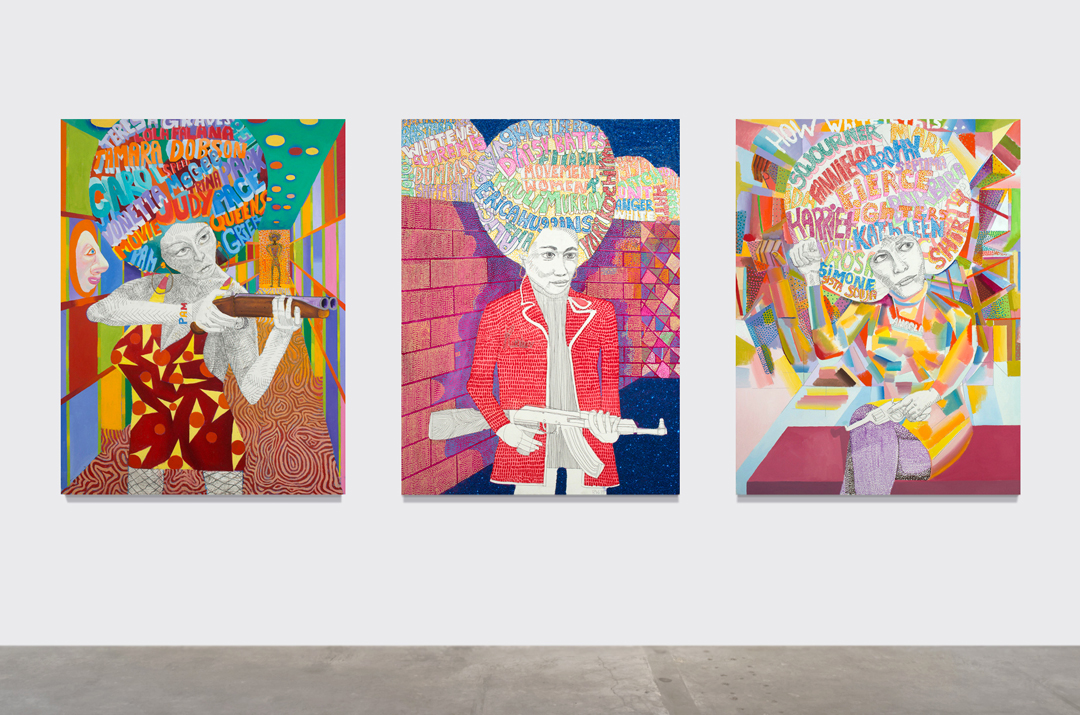 New Voices Roar
Justine Ludwig curated EXPO's "exposure" section, which is made up of galleries that have been around for eight years or less—an impressive accomplishment considering most galleries don't make it past five years. The participating spaces have put together solo or two-person shows spotlighting exciting newcomers. This section of the fair is where collectors can find good deals, and maybe take a gamble on some artists still making a name for themselves.
The Luis De Jesus Los Angeles gallery has a particularly strong booth with work by painter Peter Williams, and Derek Eller Gallery boasts wonderful drawings by Chicago legend Karl Wirsum. But our favorite comes from the young Detroit gallery Library Street Collective. Its booth is whimsical and weird, but it also represents the clear and steady vision of the collective's exhibition program; even in an EXPO packed full of superstar artists, it feels ahead of the curve. A new painting by Thrush Holmes, Suck It (2018), embodies the contradictory nature of the gallery's artists—their output is punk but also pristine, political but also populist. Of course, Library Street Collective can afford to be playful with money-making anchor artists like Adam Parker Smith and Mark Flood on its roster.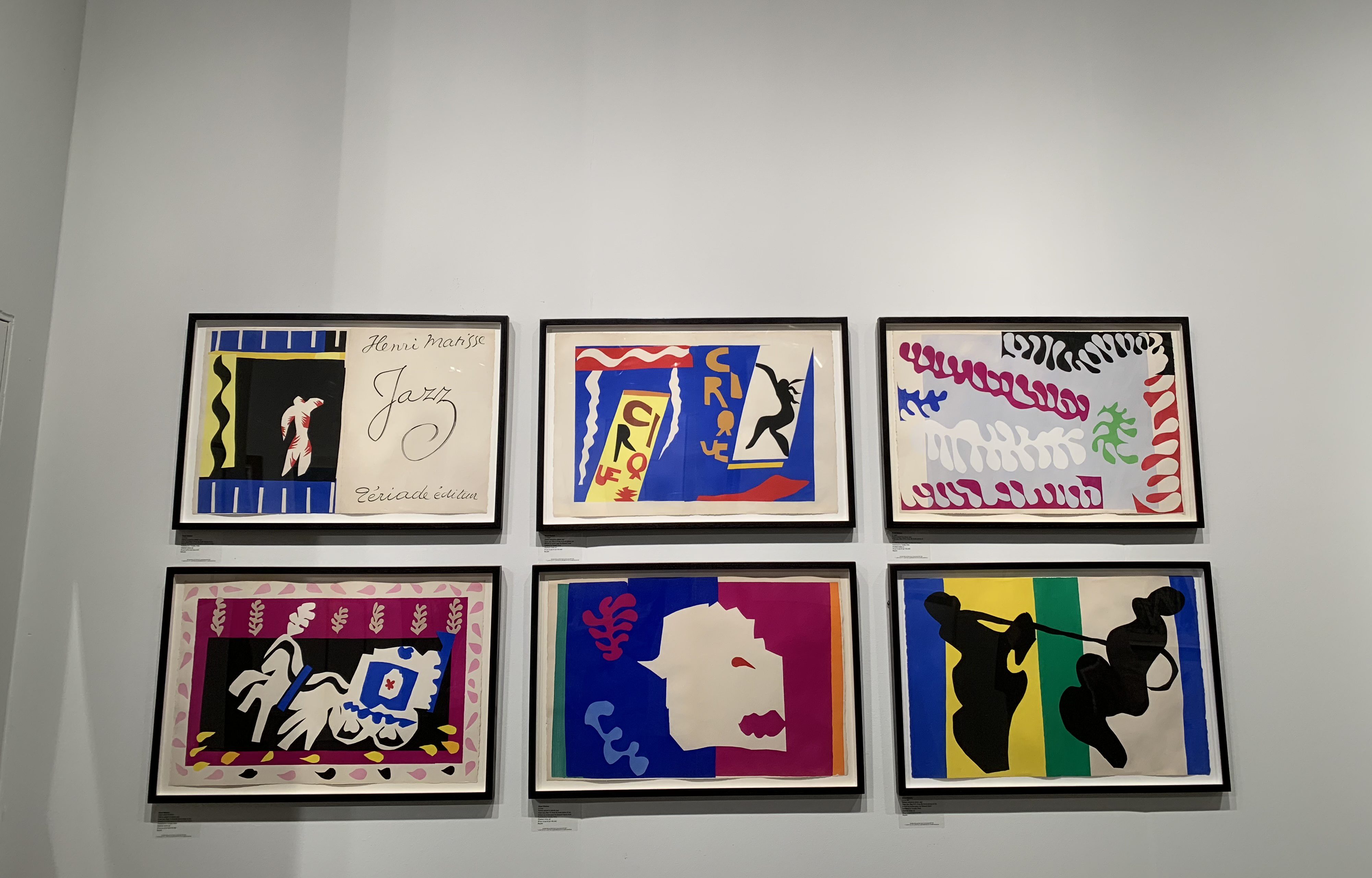 Classics Continue to Resonate
Prints and editions also make a strong appearance at this year's EXPO. An extraordinary suite from Henri Matisse's cut-out series at the Sims Reed Gallery booth is enough to take your breath away. The London outfit is also showing rare editions by Man Ray and David Hockney. Elsewhere, look for work by Derrick Adams, Rubén Ortiz Torres, Morgan Blair, Hank Willis Thomas, Maja Djordjevic and Esmaa Mohamoud. It's impossible to name everything worth checking out—all the more reason to go see it for yourself before the fair ends September 30.
EXPO CHICAGO takes place at Navy Pier, 600 E. Grand Ave. It is open 11 a.m. to 7 p.m CDT on September 28 and 29 and 11 a.m. to 6 p.m. CDT on September 30.