Expo Chicago has quickly become one of the leading contemporary art fairs in the U.S., attracting top-notch galleries that would easily be at home at Frieze or the Armory. But for your visit to the windy city, don't confine your cultural plans to within the Navy Pier. There may be thousands of artworks to see there from September 27 through 30, but the fair's complex is only the beginning of what Chicago has to offer during its most art-filled few days of the year. To take full advantage, dive into the city itself, where you will discover a wealth of satellite and side programing, involving locals and international stars alike. Here's what we're looking forward to leading up to the weekend.
Expo Chicago has joined the ranks of major art fairs offering extensive collateral programming like lectures, round table discussions and screenings, ensuring that you absolutely can't see everything on view. But Chicago's is so good we'll forgive them for inflicting inevitable FOMO. This year, the fair will welcome international curator and our favorite art provocateur, Hans Ulrich Obrist, to undertake a marathon of interviews on Saturday, September 29.
For the first U.S. version of Obrist's interview project, he will speak on stage with some of Chicago's most influential creatives, like Theaster Gates, who has been an instrumental artist and activist in a city marred by social divides and gun violence. But Obrist will also interview architects, writers, poets and directors, such as Louise Bernard, who will helm the forthcoming museum at the Obama Presidential Center, which is slated to be opened in 2020 on Chicago's south side.
Vivian Suter, who was born in Argentina in 1949, has only recently been discovered by the international art market but has since enjoyed a nearly mystical aura. For 30 years she painted undisturbed at her home in the Guatemalan rainforest, over 100 miles from Guatemala city, where her unstretched abstract canvases were inspired by the solitude of the surrounding thicket. She was one of Documenta 14's breakout stars, which gained her a lot of international attention—as much for her incredible history as for her sculptural play with layered paintings. An immersive suite of Suter's work is on view at the Art Institute of Chicago through January 2019, offering a rare opportunity to step out of the busy city and imagine oneself in Suter's shoes.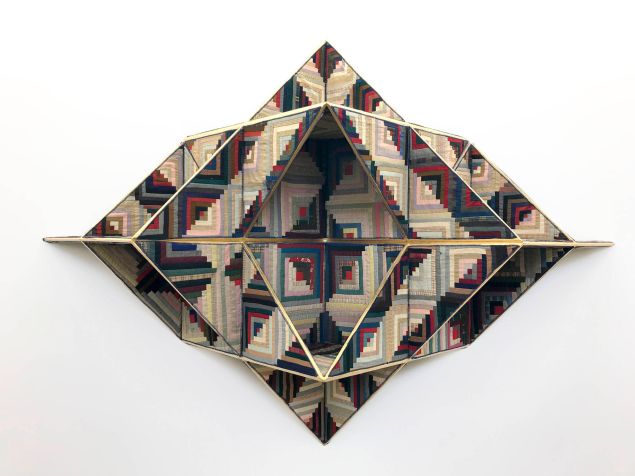 Though he will likely have a work or two on display in the Expo Chicago pavilion, it's worth making your way to Monique Meloche to see Sanford Biggers' solo show at the gallery's newly expanded location. The name might ring a bell—a work by Biggers at the 2015 Art Basel Miami Beach spawned a flurry of articles for its (possibly) inadvertent reference to the killing of black men by police officers. The work, Laocoön, which depicted a gigantic, 30-foot long sculpture of Fat Albert lying face down and breathing laboriously, was said to evoke the image of Eric Garner, who died after being tackled and put into a choke hold by a group of police officers in Staten Island. Was Biggers trying to be funny or deadly serious? Some activists saw the work as an apt poetic protest within the mega fair in Miami, but others thought the reference was inappropriate or out of context. The play between humor and poignant political commentary is the fine line that this artist walks, and what makes his work always worth the trip.
David Hockney, "Time and More, Space and More…" at Richard Gray Gallery
The famous modernist painter of L.A. swimming pool scenes has not slowed down, despite being in his 80s. His newest solo show at Chicago's Richard Gray Gallery is surprising in how far removed it seems from the Hockney that we know so well from late 20th century art history books. So what does he have to say now? Like his famous pool paintings, Hockney isn't about making big conceptual statements, but rather focusing on what is perhaps overlooked in the every day. Hockney's new works, which include four enormous video installations, call to mind the familiar atmosphere of melancholy that accompanies the first cool breezes of fall, signaling the gradual decline in temperatures. Something all too relatable to Chicago audiences as they enjoy the last hot days of September.