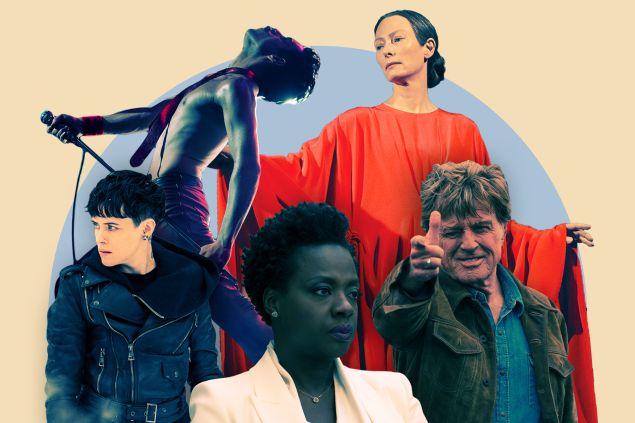 Welcome to Observer's 2018 Fall Arts & Entertainment Preview, your comprehensive guide to the best of the season. We've combed through cultural offerings from across the country to bring you our picks for the events worth leaving home for, and the releases you should be staying in for. Moviegoers should also check out our lists of must-watch TV and must-watch Netflix releases.
With fall comes guarantees: shorter days, chillier nights and good movies. Audiences can expect a handful of high-profile blockbusters that eventually give way to potential Oscars contenders—a mix of heartthrobs, robots, tearjerkers and costume-heavy period dramas. With September upon us and an exciting release schedule on the horizon, we've pulled together a handy guide to help you navigate the crowded cluster of bankable biggies and prestige pics. From the soul-wrenching Beautiful Boy to the fizzy, magical Fantastic Beasts: The Crimes of Grindelwald, here are the films we're most excited for this season.
BATTLE OF THE BOYS
White Boy Rick (September 14)
Gifted French filmmaker Yann Demange ('71) directs Matthew McConaughey and Richie Merritt in the unbelievable true story of a blue-collar father (McConaughey) and his teenage son, Rick (Merritt), who became an undercover police informant and a drug dealer at the tender age of 15 (we were still watching Batman cartoons at that age). Opulence, crime, drugs and money—what could go wrong?
Beautiful Boy (October 12)
In his ongoing quest to bolster Kleenex stock through audience tears, Timothée Chalamet stars in this heartbreaking and inspiring story about a family coping with addiction over many years. Based on the father-son memoir from David and Nic Sheff and co-starring Steve Carell, Beautiful Boy is an emotional tale of survival and recovery that should be very awards-friendly.
Boy Erased (November 2)
Not to be outdone as the rising actor to beat, Oscar nominee Lucas Hedges will give Chalamet a run for his money as Jared, the son of a Baptist pastor who is outed to his parents (Nicole Kidman and Russell Crowe) at 19. Faced with a choice of being exiled from his family or attending a conversion-therapy program, he will struggle to find himself while questioning his very identity in this drama based on Garrard Conley's 2016 memoir of the same name.
STARS TESTING OUT ACCENTS
Venom (October 5)
Beloved Brit Tom Hardy tries on what sounds like a hodgepodge Long Island accent (despite the movie being set in San Francisco) to tackle Eddie Brock, a reporter who fuses with the alien symbiote known as Venom. The violent antihero is one of the Spider-Man universe's most popular characters, but with no web-head in sight, will Venom be enough to entertain casual moviegoers? Here's hoping.
Bohemian Rhapsody (November 2)
American actor Rami Malek (Mr. Robot) bears a striking resemblance to Queen's English frontman, Freddie Mercury, but no one could ever capture the star's singular style and multi-octave range. Still, this musical biopic has generated a ton of interest despite its behind-the-scenes drama. As long as that sweet mustache gets plenty of screen time, we're golden.
The Girl in the Spider's Web (November 9)
The Girl in the Spider's Web has a lot going for it, namely the über-talented British darling Claire Foy (The Crown). But because it doesn't boast the same creative team as 2011's The Girl With the Dragon Tattoo—directed by David Fincher and starring the Oscar-nominated Rooney Mara—some fans might give it the cold shoulder. Still, a powerful Swedish chick punishing evil men is a strong selling point given our current climate.
On the Basis of Sex (December 25)
In which English-born Academy Award nominee Felicity Jones portrays a living American hero: Ruth Bader Ginsburg. The film tells the true story of her and her husband (Armie Hammer) as they bring a groundbreaking case before the U.S. Court of Appeals and overturn a century of gender discrimination. Also important: It will allow us to compare Jones' take on RBG to Kate McKinnon's impression on SNL. Win-win.
PRESTIGE PICS YOU MAY NOT HAVE HEARD OF
The Old Man and the Gun (September 28)
It's Robert Redford's final acting appearance before he retires. If that's not incentive enough, here's the deal: The Old Man and the Gun tells the true story of Forrest Tucker (Redford), who escaped prison at the tender age of 70 and subsequently engaged in an enchanting string of bank heists. We all wish our grandpa was as cool as this guy.
Bad Times at the El Royale (October 12)
Why see it? Because writer-director Drew Goddard (The Cabin in the Woods, The Martian) has worked on some of your favorite films of the last few years and offers a signature flare. Plus, the cast is just bonkers good: Jeff Bridges, Chris Hemsworth, Jon Hamm, Dakota Johnson and Tony winner Cynthia Erivo. We dare you to say this doesn't look like a helluva good time.
Can You Ever Forgive Me? (October 19)
Melissa McCarthy hasn't sniffed the Oscars since 2011's Bridesmaids, but Can You Ever Forgive Me?—in which she plays the notorious real-life Lee Israel, a prominent author who was later busted for forgery and theft—may give her a strong shot at victory. The Academy loves when a comedian turns in a Serious Performance™.
Serenity (October 19)
https://www.youtube.com/watch?v=SbrOMrjhyvI
We have no idea what's going on in this trailer, what kind of movie Serenity wants to be or what exactly the story is. But we're intrigued nonetheless. Hollywood rarely goes for adult thrillers anymore, and one led by Anne Hathaway and Matthew McConaughey is certainly appealing. It helps that Peaky Blinders creator Steven Knight wrote and directed it. If nothing else, Serenity should be unique.
Suspiria (November 2)
Director Luca Guadagnino follows up his fantastic Call Me by Your Name with a remake of Dario Argento's 1977 cult classic. A surprising choice, yes, but the film—which trails aspiring dancer Susie (Dakota Johnson) as she joins a dance company in Berlin that houses demonic forces and an endless supply of the color red—arrives as the horror genre is enjoying a critical and commercial renaissance in Hollywood.
Roma (December 14)
Alfonso Cuarón went big with 2014's survival space drama Gravity, and won an Academy Award for Best Director for it. Now, he's homing in on a smaller and more intimate picture with Roma, which chronicles a year in the life of a middle-class family in Mexico City in the early 1970s. Industry whispers describe Roma as a beautifully shot and affecting portrait of life from another perspective, which explains why Netflix (NFLX) is considering a bigger theatrical rollout.

Welcome to Marwen (December 21)
Oscar-winning filmmaker Robert Zemeckis hasn't had a real hit in a while, but considering he's the brains behind Back to the Future and Forrest Gump, we're willing to give him the benefit of the doubt (that's what Marty McFly would do). Welcome to Marwen is based on the true story of Mark Hogancamp, who was left with brain damage and severe memory loss after a vicious attack but coped by recreating a 1/6-scale WWII-era Belgian town populated with dolls. While its plot is very specific, it could be a wondrous, experimental game-changer that puts the director back on our radar.
THE BLOCKBUSTERS: SEQUELS AND MASH-UPS EDITION
Halloween (October 19)
Original scream queen Jamie Lee Curtis returns to the franchise that made her a star. Luckily, Universal has chosen to ignore every sequel after Halloween II in order to cleanse the convoluted Michael Myers timeline. While we assume the ageless killer always walks to avoid hurting himself by running with a knife, tracking projections have audiences sprinting to theaters for what is sure to be a massive opening weekend haul.
Overlord (November 9)
Despite early rumors, the J.J. Abrams–produced World War II sci-fi drama is NOT a Cloverfield movie. That makes it the rare non–Christopher Nolan original blockbuster, and its potential success would be healthy for Hollywood. Plus, given the recent reemergence of neo-Nazis, it might also be cathartic to watch zombified fascists get destroyed by plucky American soldiers.
Fantastic Beasts: The Crimes of Grindelwald (November 16)
The more the Fantastic Beasts series embraces Harry Potter, the better off it will be. The 2015 movie was far too disconnected and slapstick-y for some hardcore Potter heads. The Crimes of Grindelwald, however, looks to be a bit darker and will introduce a young Dumbledore (Jude Law) and other excitingly familiar elements that link back to the main saga. That should be a win for fans.
Mary Poppins Returns (December 19)
Mary Poppins Returns is a sequel more than 50 years in the making and sees Emily Blunt and Lin-Manuel Miranda take over for Julie Andrews and Dick Van Dyke. The underappreciated Blunt is hot coming off the blistering success of A Quiet Place, and early word suggests Miranda is a real scene-stealer. If only we could get Andrews and Dyke involved—then we'd officially create the shared Mary Poppins cinematic universe that fans are dying for.
Aquaman (December 21)
Aquaman looks like an underwater mash-up of Lord of the Rings and Blade Runner. It's energetic and vibrant, and the action and aesthetic look amazing (we'll ignore the questionable humor and dialogue for now). This is a massively important blockbuster for DC Films that will have far-reaching implications for the studio based on its success or failure.
Bumblebee (December 21)
Think E.T. meets Transformers. Then throw in a splash of the always delightful Hailee Steinfeld and a fun 1980s setting, and you got a recipe for success. And it doesn't hurt that early reactions peg Bumblebee as the best of the Christmas blockbusters this year.
WE WANT OSCARS. NO, REALLY. GIVE US OSCARS.
A Star Is Born (October 5)
Not only will A Star Is Born be an Oscars favorite next year, but the trailer alone should be submitted to the Best Short Film category. Bradley Cooper's directorial debut may be an oft-recycled Hollywood title, but he and Lady Gaga are sure to generate a storm of renewed enthusiasm. With apologies to [squints] Goosebumps 2: Haunted Halloween, this is our most anticipated fall film.
First Man (October 12)
Young director Damien Chazelle has enjoyed a meteoric rise. His first two features, Whiplash and La La Land, each competed for Best Picture. Stepping out of his musical comfort zone, First Man follows Neil Armstrong (Ryan Gosling) in the riveting story of NASA's mission to land on the moon (sadly, there will be no outer-space jazz numbers). Should First Man live up to the lofty hype, Chazelle will have cemented his wunderkind status.
Widows (November 16)
All you need to know is the jaw-dropping cast: Viola Davis, Michelle Rodriguez, Elizabeth Debicki, Carrie Coon, Cynthia Erivo, Liam Neeson, Colin Farrell, Robert Duvall, Daniel Kaluuya, Lukas Haas and Brian Tyree Henry. Widows is also directed by Oscar-winning filmmaker Steve McQueen (12 Years a Slave). If all those enticing names don't hook you, you may very well be dead inside.
If Beale Street Could Talk (November 30)
Moonlight was one of the best films of the young 21st century. Naturally, expectations are high for director Barry Jenkins' follow-up, and it promises to be a culturally rich and emotional experience. The film follows a woman in Harlem who desperately scrambles to prove her fiancé innocent of a crime while carrying their first child.
Mary, Queen of Scots (December 7)
Saoirse Ronan and Margot Robbie have four Oscar nominations between them. Put them together in a historical royal drama—written by House of Cards creator Beau Willimon—about powerful friends turned heated rivals and you have all the makings of a prestige player. Or at least a frilly spectacle your uncultured Tinder date will sleep through.