New York Fashion Week has drawn to a close, and we've started to draw some conclusions, one of which is that sleazecore is here to stay, at least if a recent trip to Dover Street Market is any indication.
The creation of Comme des Garçons mastermind Rei Kawakubo (in collaboration with her husband, Adrian Joffe), DSM is an eight-story department store that's packed to the gills with garments from the fall collections of several of the world's most coveted designers. It's a perfect place to spot the trends that will dominate city streets and Instagram feeds in the coming months.
And yes, one of those trends is sleazecore, now with layers added to accommodate the sinking temperatures. The look has most famously been adopted by Justin Bieber, but many other celebs have been experimenting with this attitude as well, including Pete Davidson, Jonah Hill and Kristen Stewart. 
In a nutshell, sleazecore is a hybrid of pro-skater style and an L.A. weed dealer's everyday uniform. In fact, sleazebag chic practically screams California—the neon hues and loud prints feel refreshingly optimistic and wistful as the leaves start to drop here in the East. They may be changing colors outside your window, but your shirt is permanently stuck in summer!
Frankly, we weren't sure that sleazecore would survive past August—until we saw Prada's Fall Ready-to-Wear collection in person. The clashing colors, hot-rod flames and contrasting patterns are either horrifying or inspired, depending on your tastes. We think this expert-level look should only to be attempted by the very brave, but that doesn't necessarily make these items bad.
On the contrary, these are the kinds of colors that could inspire even the most reserved wallflower to vape in a staff meeting while blasting "Paint It Black" from a Beats by Dre Pill+ speaker, a vibe we should all aspire to as the oceans boil and the mountains erode.
But we're really just trying to accurately and objectively report on which trends you'll soon be seeing everywhere, and make no mistake: This is one of them. Get into it or get over it.
Don't believe us? Well, get a load of these novelty skull caps made by Telfar and tell us that high-end designers aren't aggressively pushing ironic-Juul-teen-with-disposable-income-and-a-summer-home-in-Cancun vibes. You can't, because that's exactly what's happening.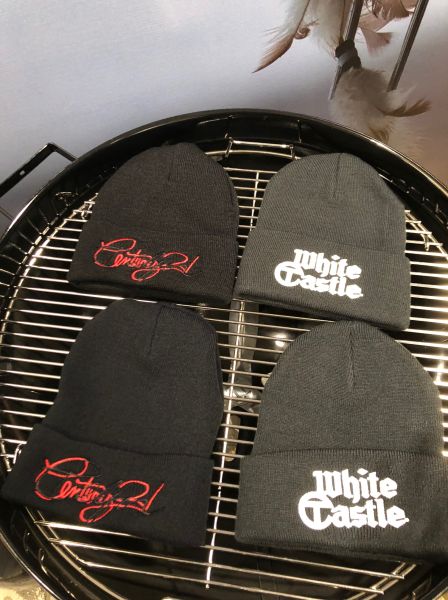 Prada and Telfar are pretty straightforward in their execution of sleazecore style. Prada's bright colors and Nascar-reminiscent flames bring Guy Fieri, the emperor of lowbrow and disgustingly fatty beef chili, to mind.
The Century 21 and White Castle hats are really just as corny in their heavy-handed brand references. People who smoke a lot of weed go to White Castle, do you get it???
But the dirtbag tidal wave doesn't stop at the shores of stoner neon. There are also variations on the trend that can be a little harder to spot if you don't know what exactly you're looking for.
Just as the case was with normcore, which spawned sub-trends like Health Goth, sleazecore has many different subsets and iterations which can all be traced back to its scuzzy, violently hued nexus point.
For example, this fall, Eckhaus Latta and Vetements are showing garments which we're choosing to categorize as Bongstalgia. Observe: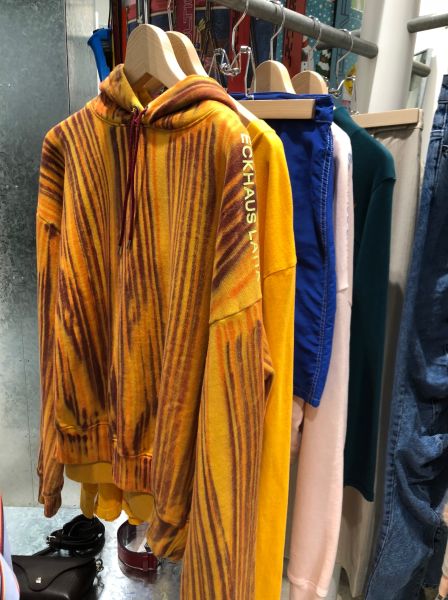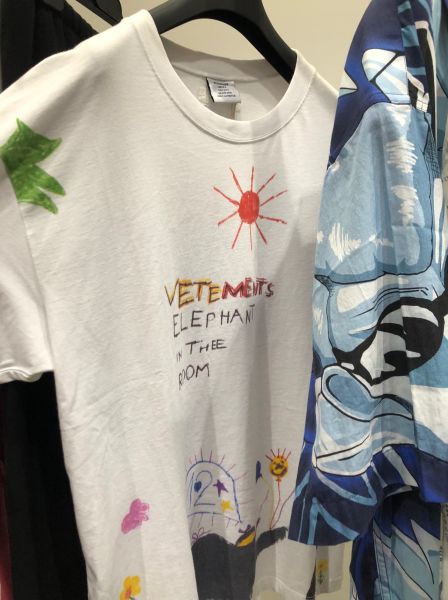 Bongstalgia isn't precisely sleazecore, but it's a direct descendant of sleazecore designs, which feature precise, bold patterns, like flames and animals.
Bongstalgia is defined by trippy, nostalgic callbacks like children's book Halloween patterns, toddler-like scrawl, and mustard yellow and orange stripes and swirls that clearly suggest they were inspired by jack-o'-lanterns and tie-dye. Bongstalgia is sort of like sleazecore's kid sister.
The Eckhaus Latta sweatshirt pictured above is the clearest example of the ways in which you'll see bombastic sleazecore trickle down (up?) into slightly more wearable outfits. The bright colors are there, but the silhouette is much less aggressive than the type of boxy Hawaiian shirt that Sleazecore King Justin Bieber might wear. It's cheeky, sure, but it's also laid-back; it evokes confidence without being ostentatious. Bongstalgia could include anything on the spectrum, from pajamas to sloppy T-shirts to baggy outerwear; the common thread of these items is the intensely lazy energy and wistfulness they emit.
Under capitalism, constant efficiency and a certain volume of labor are required. We squeeze ourselves into flattering tops and trudge to the office, applying makeup on the subway so as to look polished. Sleazecore and Bongstalgia are a rejection of this societal contract. These aesthetics serve as shorthand for negligence, recklessness, boredom, mischief and youth. "Go ahead," that clashing striped Prada shirt whispers. "Microdose with the interns and get lost on Staten Island in 90-degree weather on a Tuesday. Who cares!"
Now, for the final piece of evidence: the soon-to-be-ruling Lords of Sleazecore: Balenciaga "Triple S" sneakers.
Are these shoes ugly? Yep. Do they seem uncomfortable? Absolutely. Will you see everyone buying similar pairs until you're so sick of them your eyes bleed? You bet!
"Running in the shoes at the YMCA, my mile time was six minutes slower than average, which is only to suggest, the Triple S is not a sneaker," wrote Jamie Lauren Keiles at SSENSE. "Though the shoe is piled high with so much sneakerness, it doesn't seem to care that its traits came to exist as a product of the search for more agility and comfort."
This remark may be the most apt distillation of the Sleazecore Movement. As a style, it's completely exhausting to the eye and the soul; hot pink flames may seem novel at the moment, but within a couple of weeks we might be begging the cosmos to bring back neutral gray ankle boots.
Sleazecore prioritizes "sneakerness" over a functional sneaker, and opts for studied "casualness" instead of actually dressing casually. In other words, prepare to be tuckered out, because this aesthetic only looks easy.