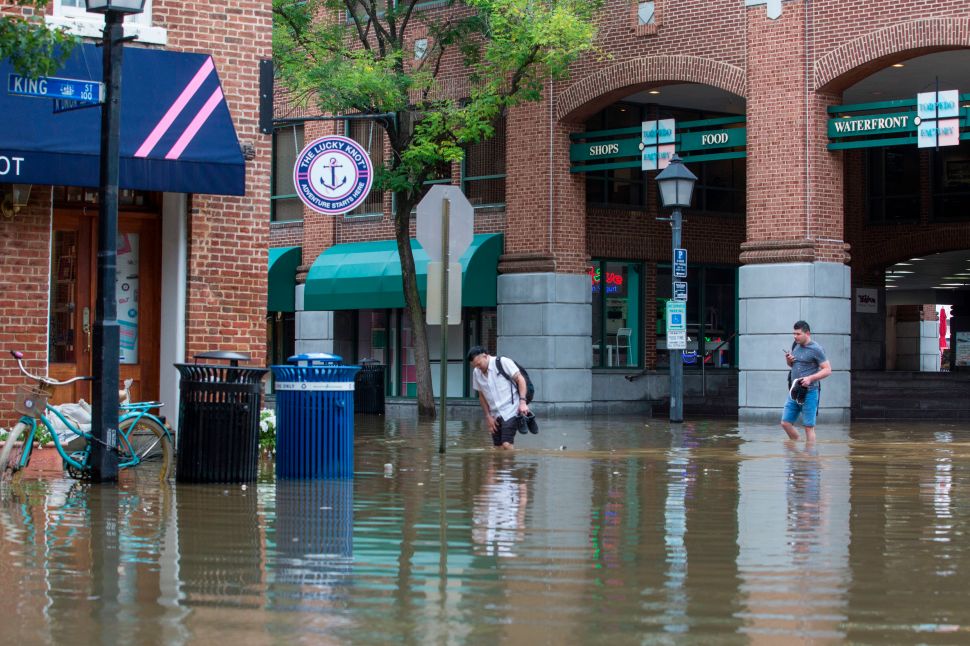 Hurricane Florence is set to pound the Carolinas with rain and wind over the next few days. And while it looks like most residents are heeding the serious warnings from meteorologists, even this storm isn't safe from a flood of fake news and life-threatening hoaxes.
Some of the online chatter seems relatively innocent. For example, many keen-eyed observers noticed that Florence's path was somewhat phallic in nature.
National Hurricane Updates—a Facebook page with over 250,000 followers—was the worst culprit. It received a lot of lowbrow commentary after posting this image.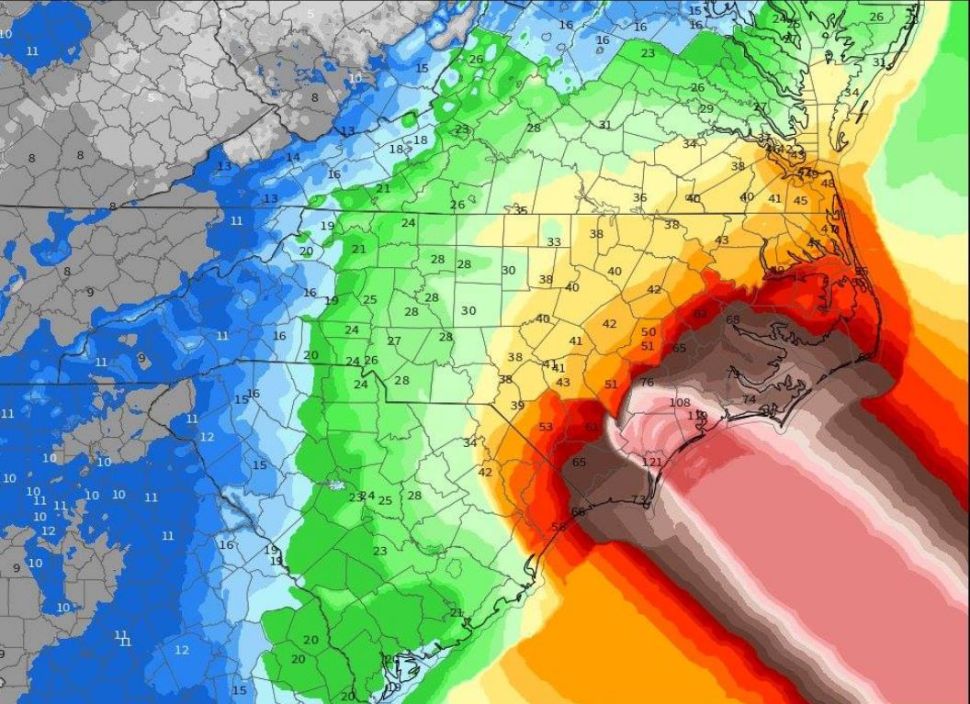 "It takes a massive hurricane and a national weather service's poorly designed graphics to unite the smartasses [sic] of America," one person commented. "This is what the internet was created for."
Maybe so, but these images can also be easily corrupted. For example, another photo making the rounds on social media claimed Florence contained an animal threat.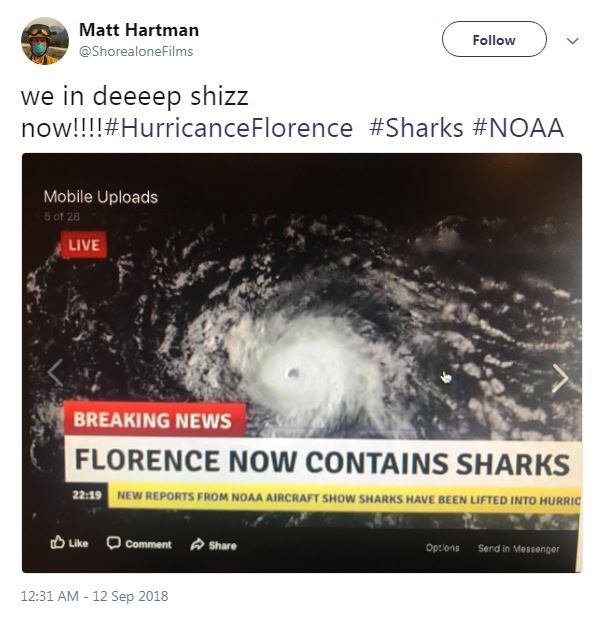 The post was deleted this morning after dozens of retweets and Sharknado jokes. But one reader took it seriously, pleading "Please tell me this is fake!"
Obviously, fake news can inspire legitimate fear—and journalists are urging their colleagues to remember that.
Chris Vaccaro, a spokesman for the National Weather Service, told Observer that such hoaxes have become more common in recent years.
"One of the pitfalls of social media is that anybody with a graphics program can come up with their own forecast," he said. "People take matters into their own hands and distort the truth, which just leads to fearmongering."
"The danger for citizens is that they worry about potential impacts that may not actually be present," Tyler Fricker, a graduate student in Florida State University's Department of Geography who focuses on storms and climate, added. "Then, we have to work overtime to fight off these fake forecasts."
In light of this, Vaccaro said people in Florence's path should take a "buyer beware" approach to news.
That's easier said than done, especially when it comes to another, even more dangerous hoax: the idea that people can stop Florence (or any hurricane) by shooting at it.
This rumor started spreading last year during Hurricane Irma (along with another bogus theory about nuking storms). But this year, the gun gossip has gained more credence: over 30,000 people have joined a Facebook group for hurricane shooters.
"Get your guns and your umbrellas….and join people from all along the East Coast in scaring away Hurricane Florence to protect our country from this foreign invader," the social media invite reads.
Organizer Ryan Stumpf does make it clear at the end of the post that his event is a joke.
"Do not actually discharge firearms into the air," he writes. "You could kill someone and you cannot frighten a hurricane. I can't believe I actually have to write this."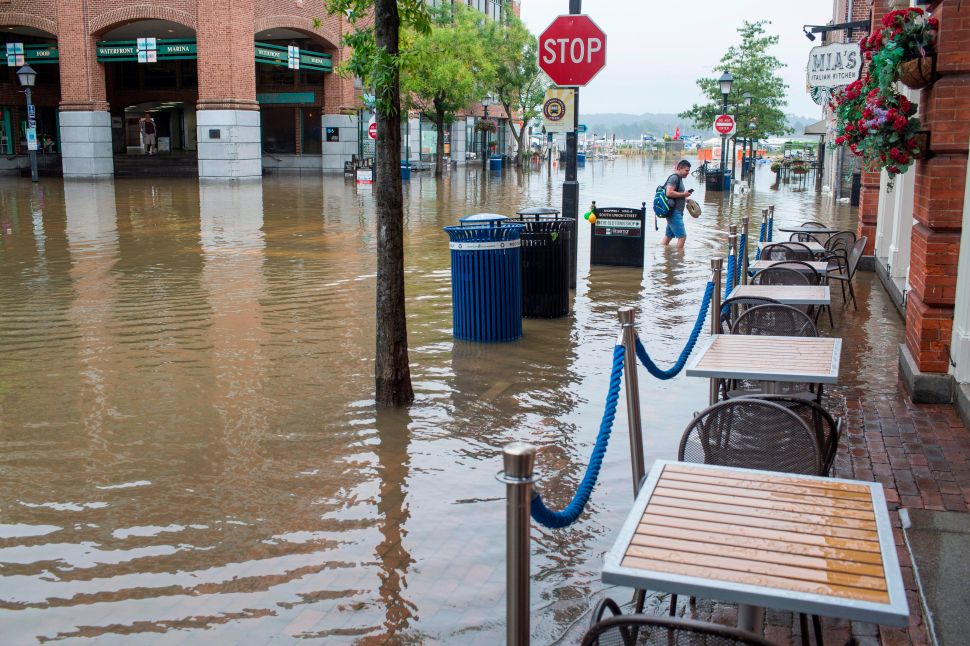 The thing is, he didn't have to write that—or anything at all. It's clear the event was created just for a cheap laugh, with no thought as to whether anyone would actually believe it. "It only takes one person to shoot into the air for problems to occur," Fricker said.
Stumpf did not respond to an Observer request for comment.
Arguably the most deceitful Florence-related fake news is political, however. Some commentators are claiming the hurricane is a hoax from "the left." Rush Limbaugh went on a protracted rant about this during his radio show yesterday.
"The forecast and the destruction and the potential doom and gloom is all to heighten the belief in climate change," he said.
Other members of the media rebuked Limbaugh for this—Brian Stelter tweeted, "Shame on him." And weather experts echoed their concern.
"That's nuts," Fricker said. "The impacts here are going to be severe, so this goes way beyond politics."
"Hurricane Florence is a very real threat," Vaccaro added.
And monster storms are one thing people love to get real information about. Hurricanes Harvey, Irma, Jose and Maria were among the most searched items on Google last year.
Anyone attempting to spread fake news about Florence should heed the advice of Miami Herald journalist Martin Merzer. His number one tip to reporters covering storms was four simple words: "Don't be an idiot."