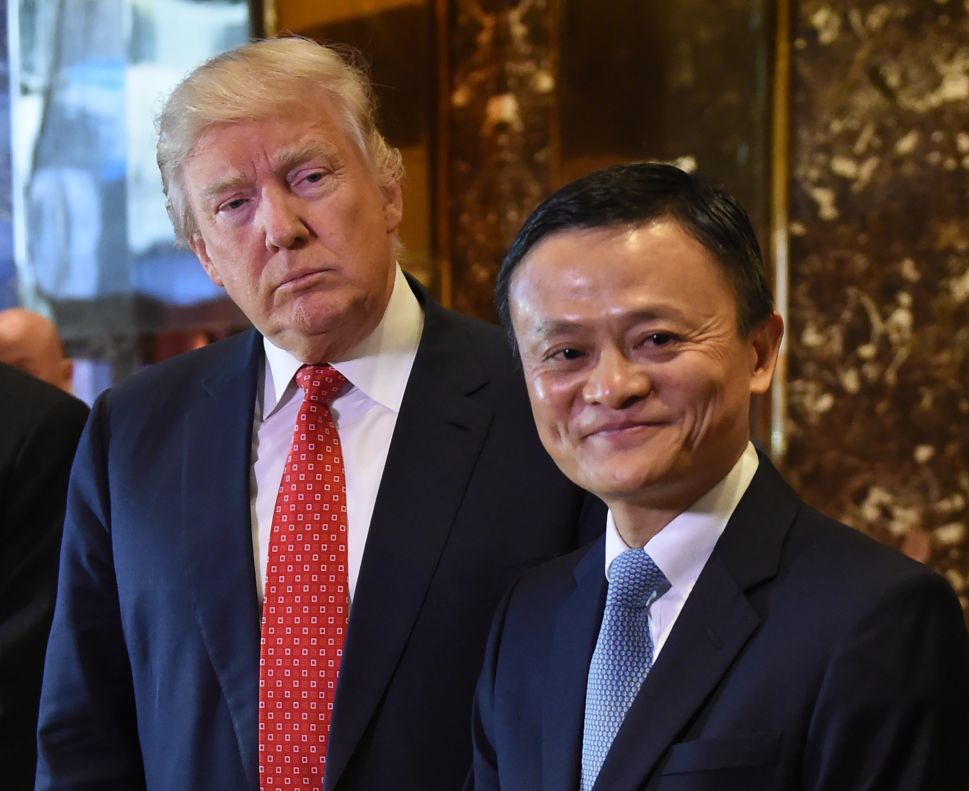 President Trump's escalating trade tension with China has cost him his friendship with China's wealthiest man, Alibaba founder Jack Ma.
On Wednesday, two days after the White House slapped fresh tariffs on $200 billion worth of Chinese imports, Ma told China's state media that he would no longer carry out a promise he made to Trump last year to create one million American jobs.
"The promise was made on the premise of friendly U.S.-China partnership and rational trade relations," the e-commerce billionaire said in an interview with Xinhua News. "That premise no longer exists today, so our promise cannot be fulfilled."
Ma acknowledged that trade relations between China and the U.S. need improve, but said trade terms "should not be used as a weapon for war, but a promoter for peace."
In January 2017, Ma met with the newly elected president at Trump Tower and walked out of the meeting with a grandiose promise: to help Trump create one million American jobs over the next five years.
"Jack and I are going to do some great things," Trump told reporters after the meeting.
It's not unusual for Ma to drop bold statements like this, but upon closer inspection, his pledge doesn't even seem that feasible in the first place.
According to White House officials with knowledge of the meeting, here's how Ma's plan would have worked: Alibaba, the largest e-commerce site in Asia, would create incentives for small businesses and farmers in the U.S., particularly in the Midwest, to sell to consumers in China and other Asian markets. Ma reasoned that this expanded market would, in turn, boost entrepreneurship in the U.S., encouraging about one million Americans to join Alibaba as merchants.
At the time, the pledge sounded perfectly in line with Trump's campaign promise to bring jobs back to the U.S. The problem, though, is that such job creation can only happen on the premise of open trade.
According to the Commerce Department's estimate, to create one million small-business jobs like Ma envisioned, it would translate into $200 billion of new American exports to China every year. That's more than the total amount of goods ($188 billion) the U.S. already ships to China.
That level of export growth takes time—even with zero tariffs. And, given the Chinese government's current stance on U.S. exports (China imposed tariffs on $60 billion of American goods this week in response to Trump's latest tariffs), it will certainly take longer than five years, if not forever, for Ma's promise to materialize anyway.
"It's pretty obvious that Ma's original pledge was political theatrics, not a serious promise," Arthur Kroeber, a partner at the Beijing consultancy Gavekal Dragonomics, told The Washington Post, regarding Ma's pledge retraction. "It was part of a Chinese effort to butter up Trump early in his tenure."
By now, even Ma's outlook on U.S.-China trade relations has gone bleak.
At Alibaba's annual investor conference on Tuesday, Ma predicted that the trade tensions could last far beyond Trump's presidency. "It could last 20 years and ends in a mess," he said.