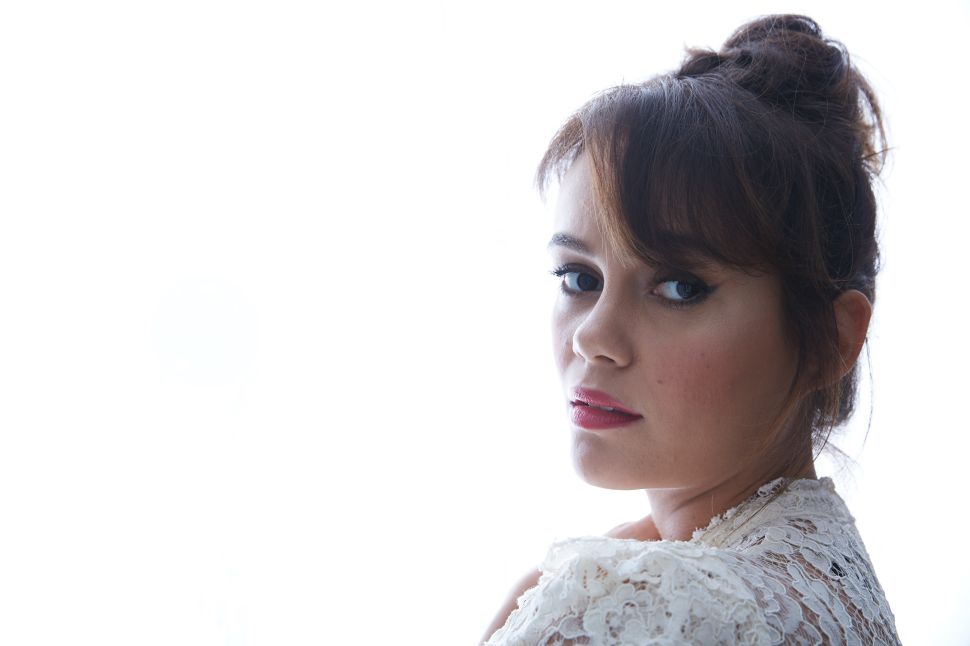 Amazon is betting big on Jack Ryan—to the tune of $64 million for Season 1 and who knows how much for an already ordered second season. But as any card player worth their salt would tell you, when you take a risk, you need an ace in the hole. On Jack Ryan, that ace is Dina Shihabi's Hani, a very compelling supporting character who helps personalize the series' conflicts for the audience. Hani is the wife of main antagonist Suleiman (Ali Suliman), but her loyalties lie first and foremost with her children. It's not an easy role to pull off.
Shihabi is the first Saudi woman to be accepted to both The Juilliard School and the graduate acting program at New York University's Tisch School of the Arts, and now the 28-year-old newcomer is part of a high-profile project meant to generate a cultural conversation. To her, it's a great opportunity, but it's also a chance for Hollywood to push more inclusive stories and stars to the center stage.
What initially drew you to performing?
I grew up loving movies. I'd come home every day from school and my parents had no real restrictions on what kind of movies I would watch. So I watched The Sound of Music, Jurassic Park, Memento. I couldn't get enough. I was very obsessed with how it all worked, and I watched these movies over and over. But I was born in Saudi Arabia and raised in Dubai, where a career in entertainment wasn't really a choice on the menu. I liked it before I knew about the industry. Then when I was 11, I got taken to a dance class sort of reluctantly and I ended up falling in love with it—the freedom, the energy, the music.
Which do you prefer: dancing or acting?
I've chosen acting, but for some reason I've never felt like I had to choose. They feel the same to me. I dance from the same place I act from, and that's desperately wanting to express myself. I guess I chose acting, but it never felt like a conscious choice.
Do you ever feel as if there's pressure on you to represent all Saudi actresses? Like what you do reflects on others in similar positions?
Yeah, totally. I think when you aren't just an American or white American actor, you do get some of that responsibility because of a lack of representation. It's less for me because I know other Arab and Saudi actresses—it's something of a natural thing. But because there aren't many of us, I'm kind of representing. We desperately need more opportunities, so then there wouldn't be pressure on one person to represent a whole culture. It's impossible for one person—they're never going to make everyone happy, and it does the culture a disservice. I am from Saudi Arabia, but people from Saudi Arabia wouldn't always make the same choices as me or look the same. I feel really proud and honored that I get to be a face for what people aren't used to seeing. If I excite some young version of me to follow their dreams, that is the biggest win of all.
Let's say you were elected President of Hollywood. What changes would you institute?
I would make a huge push for stories told by people around the world. I would place a huge importance on actually developing scripts from people in Saudi Arabia, the United Emirates, the Middle East, all over—and giving people on the ground the chance to tell stories we haven't seen and getting more authentic voices in the mix. We don't have the same platforms and educational services in those parts of the world. I had to come to America to learn what I needed to become an actor. I want to build a bridge to the Arab world to create and foster talent from different regions. They don't know how, or don't know how to get to the next step.
Jack Ryan is obviously a big name thanks to Tom Clancy's books and the movies. But what would viewers be surprised to know about the show?
I think they'd be surprised to know that as much as it is Jack Ryan's story, we do spend a lot of time with the characters in the Arab world. We get to look at a different perspective and life over there. We see how Suleiman becomes the man he does. My character and her kids—usually in TV shows, Arab women are presented as victims. Here we have a powerful woman, which is a powerful thing. One of the heroes is an Arab woman.
What was it like to work with John Krasinski?
He is the most kind, generous, lovely, hilarious, supportive person to work with. He's a great leader, and I always felt so taken care of by him. He's such a good partner, both when we were in scenes together and times when he was off camera—always 100 percent there. He gives you everything you need when you're working with him. He's just a good dude.
This interview has been edited and condensed.