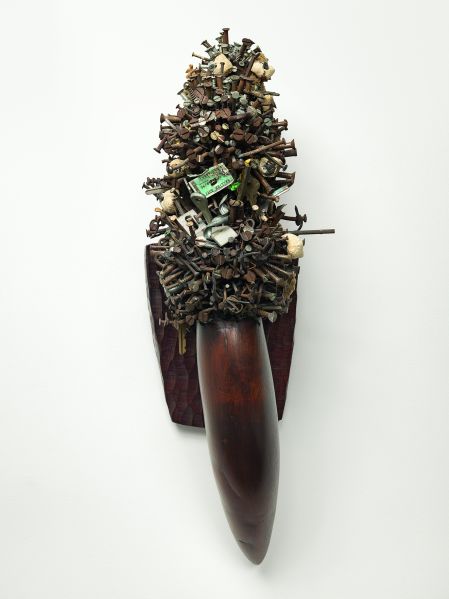 When the Met Breuer opened two years ago, I had some misgivings about the whole plan. I'd seen enough biennials, art fairs and sprawling museum group shows to sour me on the idea that the cure for too much contemporary art might be more of it. "Unfinished Thoughts," the Breuer's inaugural exhibition, didn't do much to dispel these misgivings. Showcasing nearly 200 borrowed and collection works in an effort to look at the clichéd subject of when an artwork could be considered "finished," it got a pass from the press, but an overall fail from me. It was the kind of conservative, out-of-touch programming I feared a giant institution like the Met couldn't help but produce.
Viewing "Odyssey: Jack Whitten Sculpture, 1963–2017" at the Met Breuer last week reminded me it's time to fess up. I was wrong and I can't remember the last time it felt so good. The exhibition is the latest success in a line of programming that uses the diversity of the Met's collection as inspiration for equally diverse shows. From the tour de force retrospective of African-American artist Kerry James Marshall to the massive, eye-dazzling installation made of golden filament thread by Brazilian artist Lygia Pape, Odyssey may well be the culmination of their efforts thus far. It gives exposure to Whitten's sculptural masterpieces—which, up until this exhibition, were shown only twice in his lifetime (both in Crete)—and uses the collection to deepen the audience's understanding of Whitten's historical influences, which include African, Minoan and Cycladic art.
As a whole, the show feels a little like walking into a brutalist cave for relics. It's lit brightly enough, but the harshness of the Breuer building's grey stone floors and gridded cement ceilings seems uniquely suited for showing off sculptures that have a similarly restricted palette. (The contemporary art exhibitions of the Whitney always felt a bit misplaced in that building.) Here, the mixture of paintings and sculptures on pedestals and vitrines has the distinct feel of history and scholarship that has made the Met world renowned.
The show's curators Kelly Baum (The Met Breuer) and Katy Siegel (Baltimore Museum of Art) explain in wall text near the entry of the show that with his early carvings Whitten was simply focused on learning the craft. You'd never know that by looking at them. While Jug Head I and II (1965), a hand-carved set of heads patinated with black shoe polish, exhibit a brutish chiseling of form, they're balanced perfectly through Whitten's use of smooth and patterned surfaces. Nearby, we see the jovial ceramic head from the Met's collection that inspired the work—South Carolina pottery made by enslaved Africans and African-Americans. Mostly, it's the form Whitten borrows—the faces are entirely his own. But the update, which was made only a year after the Civil Rights Act was signed into law in 1965, references a history far from forgotten.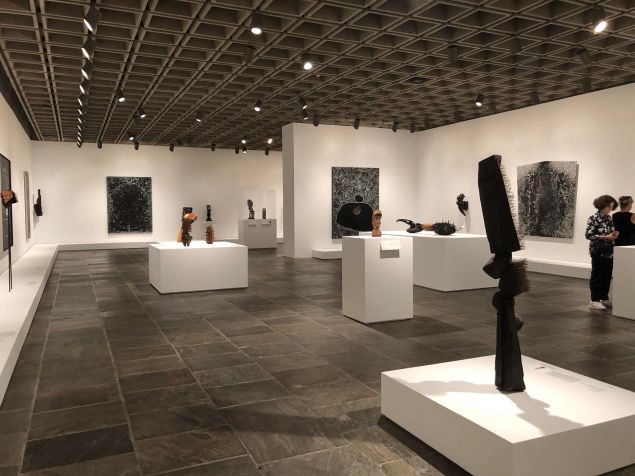 These pairings are not alone. Many in the large collection of works made in the 1960s and '70s were inspired by African art, and here are shown interspersed with holdings from the Met's collection. They also reveal Whitten's involvement in the exhibition's organization before his death in early 2018—without the artist's input it would be impossible to know which sculptures he drew specific inspiration from and why. Like many African Americans during that time, Whitten was interested in reclaiming that past.
But Whitten was inspired by those around him as well. He made many totem sculptures and acrylic mosaic paintings inspired by cultural figures such as Ralph Ellison, John Lennon and Malcolm X. Whitten's pieces act as monuments, but add a layer of depth to the work these figures contributed. For example, the acrylic mosaic Black Monolith II (for Ralph Ellison) succinctly visualizes the larger narrative about the black experience in Ellison's 1953 novel Invisible Man, by creating a glistening American sky that seems to close in around an unidentified figure. Just as in the novel, Whitten's nameless depiction has no identity, but for being black.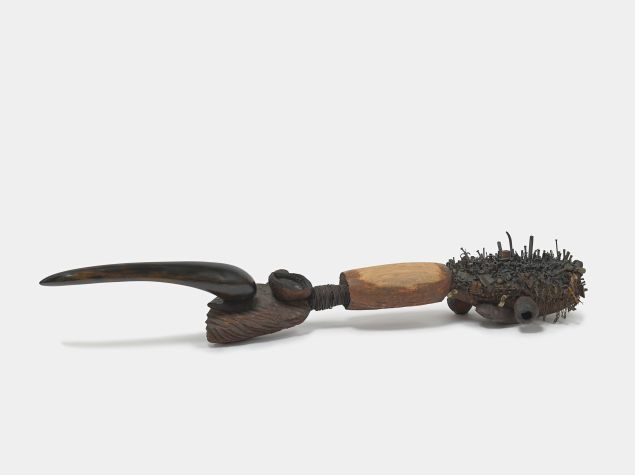 Like many of Whitten's heroes, even when the artist's sculptures reveal despair, it is their resilience and strength that come to the fore. Homage to Malcolm, a fallen totem of the assassinated human rights activist Malcolm X, uses a head made from nails and a bottom made in the shape of sickle to communicate power and protection.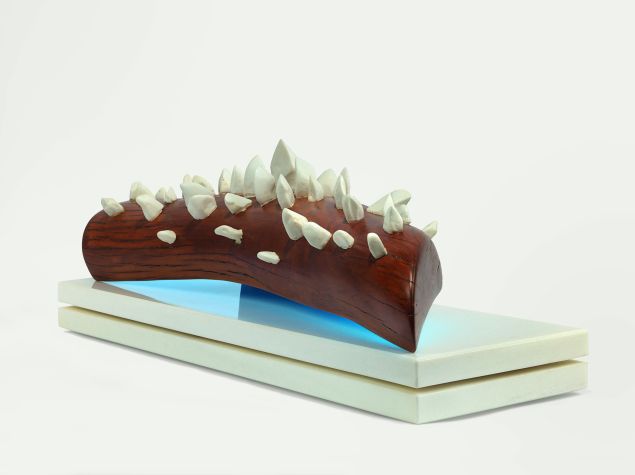 Beyond the powerful activism implicit in all Whitten's work, perhaps what's most extraordinary is his supreme craftsmanship. Whitten's command of texture is what Ken Price is to color, or Charlene Von Heyl is to pattern. There's simply no one better. This is especially evident in later works such as Shark Bait, 2016, in which he embeds pieces of Naxos marble into perfectly shellacked Mulberry wood, and Quantum Man, 2016, a vacuum cleaner-shaped sculpture wherein a marble blade splits a totem of bone and computer parts. The material balance almost vibrates with visual harmony.
Considering the level of skill and intellect of what's on display here, it seems near unfathomable that this work is only now getting the attention it deserves. Except, of course, that it's not actually that unfathomable at all. If the firing of MoCA Chief Curator Helen Molesworth earlier this year demonstrated anything, it's that museum boards are not ready to see the status quo challenged. Study after study cites the ongoing failure of museums to address the problem of equalizing racial representation within our institutions.
But the Whitten show has the feel of a seismic shift. It's not an outlier in the Met Breuer's contemporary art program—it's the heart of it. Absorbing that revelation as I walked through the show felt so enormous and so resoundingly positive, that I left feeling elated. Finally, change I could actually see.
"Odyssey: Jack Whitten Sculpture, 1963–2017" is open through December 2.