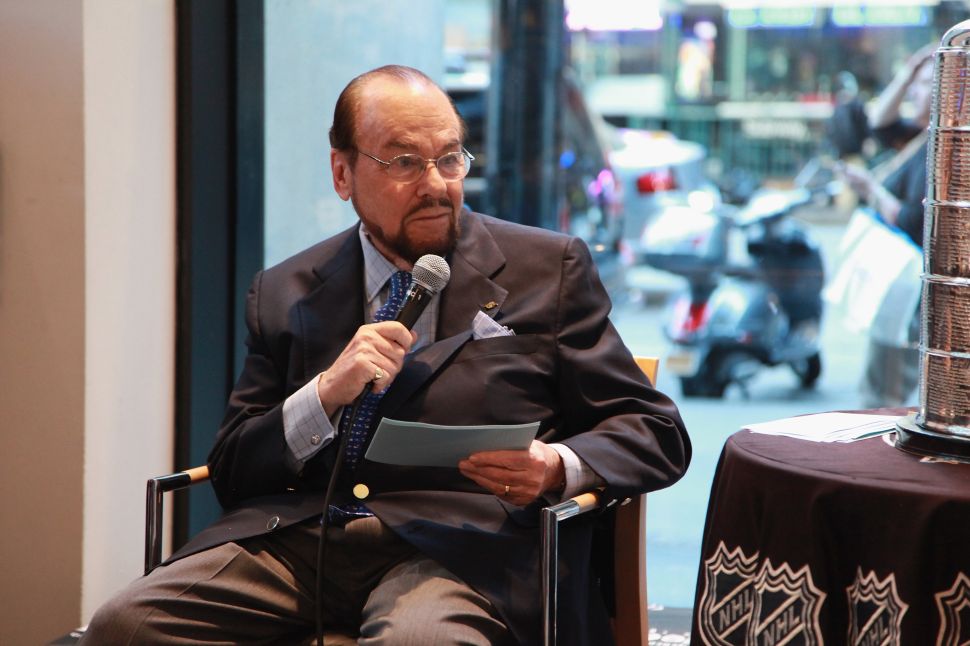 This week marked the end of a television era, as James Lipton announced that he was retiring as host of Inside the Actors Studio. The 92-year-old has hosted the show since 1994, interviewing over 250 Hollywood heavyweights.
Subscribe to Observer's Entertainment Newsletter
Lipton developed the show as a craft seminar for students of The Actors Studio Drama School at Pace University, where he was dean. His interviews famously included the Pivot questionnaire, a list of 10 personality queries such as "What turns you on," "What is your favorite curse word" and "If heaven exists, what would you like to hear God say when you arrive at the pearly gates?"
No ordinary TV host, Lipton took a journalistic approach to his job. He spent two weeks preparing for every interview, watching every film and TV show in which a guest appeared. The actual interviews lasted four to five hours (edited down for television). And Lipton arrived at every taping with his trademark blue index cards, ready to interrogate guests.
Thanks to his exhaustive research, Lipton often got actors to discuss topics they would normally avoid—and he sometimes uncovered biographical details even the guests didn't know about. But like the best interviewers, Lipton also knew when to step back and let the guests do the talking.
Here's a look at some of his most jaw-dropping moments (with video where available).
Jack Lemmon
The legend appeared on Lipton's show in 1998. While discussing the film Days of Wine and Roses, Lipton mentioned a scene where his character admits he's an alcoholic.
What happens next isn't on YouTube, but even as just a transcript, it's still one of the most powerful moments in the show's history.
Lemmon: "Which I am, incidentally."
Lipton: "Who?"
Lemmon: "Me."
Lipton: "Are you talking as Clay [Lemmon's character] now or as Jack Lemmon?"
Lemmon: "No, as Jack Lemmon. I'm an alcoholic."
Lipton sat there in stunned silence. Lemmon's wife Felicia later told the host that he had never told this secret to anyone but her.
Bradley Cooper
https://www.youtube.com/watch?v=UsTsbdDTSVs
Lipton often said that his happiest day as host would come when a graduate of the Actors Studio came back to teach current students. That finally happened in 2011, when Cooper appeared on the show. Both Cooper and Lipton were in tears from the moment the interview started.
The emotional hour included a look back at Cooper's student days, including his graduate thesis on The Elephant Man (a role he later played on Broadway). Cooper sobbed frequently when discussing his mentors, including Lipton and Robert De Niro (his future costar).
"I'm a loud crier," Cooper said. "It's ugly, so I apologize."
But there were some lighthearted moments as well. When Lipton asked the "pearly gates" question, Cooper responded "You motherfucking cocksucker."
Amy Adams
Adams' 2014 interview came three weeks after Philip Seymour Hoffman's death, and in the most emotional part of the interview, Lipton simply, but effectively, asked her to share memories of him (they co-starred in three films).
"He was beautiful," Adams said. "He had this unique ability to see people, to really see them—not look through them."
Ironically, Hoffman appeared on Actors Studio in 2000, early in his career.
Robin Williams
https://www.youtube.com/watch?v=OTo3_kgs_s8
This five-hour 2001 interview is full of jewels, from a look at the introverted Robin Williams (yes, there was such a thing) to the comic's struggles with personal demons.
But the highlight came when Lipton asked Williams this question, perhaps the best he ever asked any actor: "For those of us who have not been blessed with your gift, how do you explain the mental reflexes that you deploy—and are deploying tonight—with such awesome speed? Are you thinking faster than the rest of us? What the hell is going on?"
Williams proceeded to do a seven-minute riff with an audience member's scarf that counts as one of his funniest routines ever. And it would never have happened without Lipton's incisive questioning.
Dave Chappelle
https://www.youtube.com/watch?v=iTzLJe5FJUg
The comedian appeared on Actors Studio in 2006, pegged to the release of Dave Chappelle's Block Party. But all anyone wanted to hear about was why Chappelle walked away from a $50 million Comedy Central contract, abandoned the third season of Chappelle's Show and absconded to South Africa.
But he came to Lipton's couch ready to take no prisoners.
"I'm dropping dimes tonight," Chappelle said. "I've had a long year, Mr. Lipton."
To his credit, Lipton just asked simple questions and let Chappelle talk. For example, the comic chafed against rumors that he'd "gone crazy."
"The worst thing to call somebody is crazy," Chappelle said. "It's dismissive—'I don't understand this person, so they're crazy.' That's bullshit. People are not crazy, they're strong people. Maybe their environment is a little sick."
The Chappelle episode also included Lipton's favorite guest quote of the show's entire run: "You can't get un-famous, but you can get infamous."
James Lipton
For the 200th episode of Actors Studio in 2008, Lipton himself was the guest and Chappelle asked the questions. Lipton said in the questionnaire segment that his favorite curse is "Jesus Christ" and (coincidentally) that he's an atheist.
But the most tabloid-ready aspect of the interview came when Lipton revealed that he had been a pimp in 1950s Paris. He actually became friends with one of the girls and worked with her in the French underworld.
"I did a roaring business," Lipton said. "I was going through my rites of passage. It was a great year of my life."
You won't find that on a blue card.