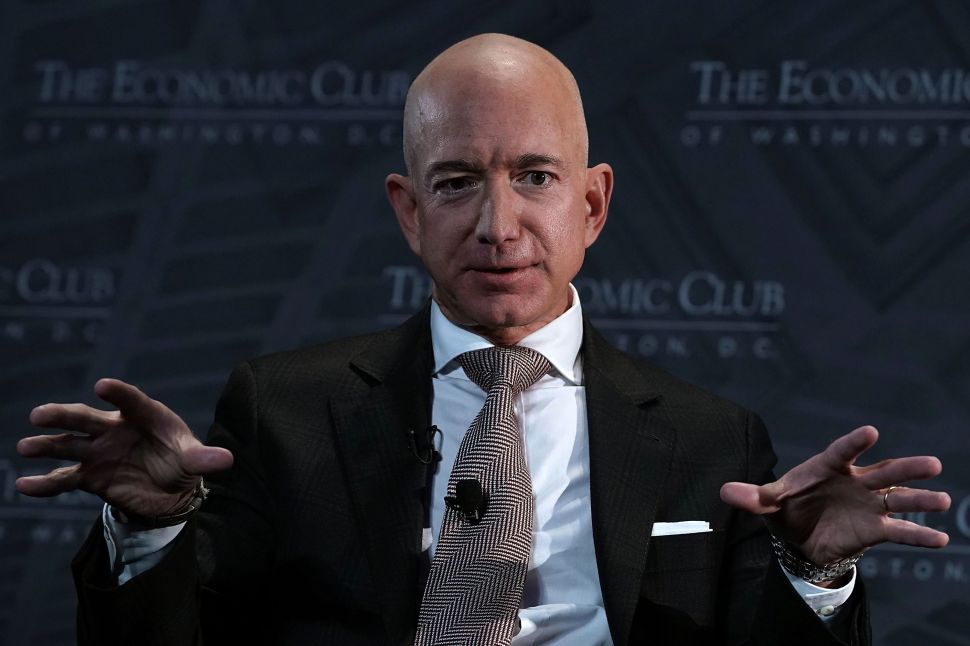 Earlier this month, Amazon became the second company in human history to cross a market value of $1 trillion—right after Apple managed to pull off the feat in August. But, unlike Apple's famously workaholic boss Tim Cook, who starts sending out work emails at 4 a.m. and routinely runs five-hour meetings, Amazon's founder and CEO Jeff Bezos does not believe in such a lifestyle.
On the contrary, Bezos keeps an incredible work-life balance that only exists in every employee's dream. He gets eight hours of sleep every day; eats breakfast at home with his kids; starts work around 10 a.m.; and checks out by 5 p.m.
"I go to bed early; I get up early; I like to putter in the morning," usually reading the newspaper while drinking a cup of coffee, he told an audience of about 1,400 at an event hosted by the Economic Club of Washington in Washington, D.C. last Thursday.
As such, "I think better; I have more energy; my mood is better," Bezos continued. His point? It's not the amount of work a CEO gets done that matters, but the quality of the work. "If I have three good decisions a day, that's enough," he explained. "They should just be as high quality as I can make them."
Indeed, Bezos' work philosophy makes a lot of sense and would be great advice to follow. Yet, sadly, none of his approaches are likely transferrable to his own employees.
In recent years, Amazon has suffered the reputation as one of the world's most bruising workplaces.
In 2015, The New York Times reported that employees at Amazon were routinely asked to work overtime, expected to check work emails past midnight and were often found crying at their desks. Amazon disputed many of the claims at the time. But earlier this year, a set of British newspapers revealed that Amazon's warehouse workers in the U.K. were required to process 300 packages an hour; some staffers worked so intensely that they had to pee in bottles to save restroom time.
And that work culture is part of Amazon's founding values that Bezos is determined to preserve.
Bezos has told shareholders publicly that "it's not easy to work" at Amazon. "When I interview people I tell them, 'You can work long, hard, or smart, but at Amazon.com you can't choose two out of three,'" Bezos wrote in Amazon's first annual shareholder letter in 1997, which he has been republishing every year.
"It's not easy to work here," Bezos wrote. "But we are working to build something important, something that matters to our customers, something that we can all tell our grandchildren about."
He has even incorporated this value into his philanthropy efforts. Hours before the Thursday event, Bezos announced that he and his wife, novelist MacKenzie Bezos, would donate $2 billion to a new nonprofit called Day One Fund to help improve preschool education and homelessness.
Bezos picked the name "Day One" as a reminder for himself, and those who work for him, that Amazon started small and should always have that "day one mentality" of a startup.
"Even though Amazon is a big company, I want it to have the heart and spirit of a small one," Bezos said.