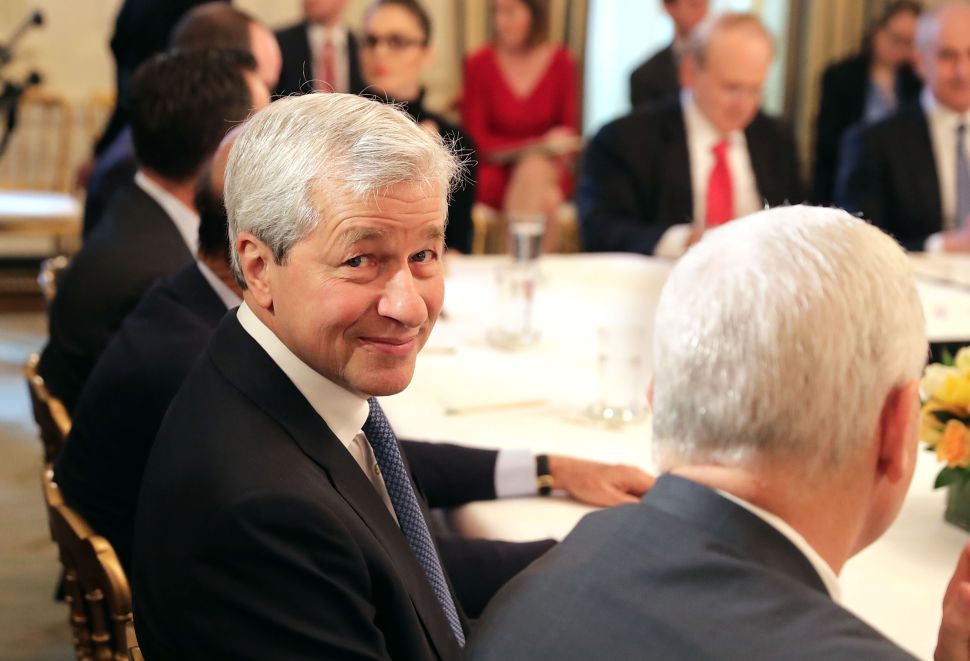 JPMorgan CEO Jamie Dimon thinks he could defeat Trump easily in a presidential election. But he doesn't think he'll actually run, because he couldn't "beat the liberal side of the Democratic Party" and his wife wouldn't let him.
"I think I could beat Trump," Dimon said during a company event on Wednesday morning. "Because I'm as tough as he is, I'm smarter than he is. I would be fine. He could punch me all he wants, it wouldn't work with me. I'd fight right back."
Within minutes, his comments went viral on social media—so fast that the CEO had to come forward to clarify.
"I should not have said it. I'm not running for president," Dimon said in a statement about an hour after the original comments. "I wouldn't make a good politician. I get frustrated because I want all sides to come together to help solve big problems."
But his earlier reasoning on beating Trump makes perfect sense.
"I've said this before Trump was elected, 'You're not going to get a wealthy New Yorker elected president.' Boy, I was dead wrong," he said. "And by the way, this wealthy New Yorker [pointing to himself] actually earned his money. It wasn't a gift from Daddy… I don't think the American public looks at Trump as part of the elite. They look at him as the upstart who punched the elite in the nose every day."
Dimon is a prominent figure on Wall Street known for being outspoken about policy and macro-economic issues. In April of this year, he expressed frustration with Trump's immigration policies in an open letter to JPMorgan shareholders, saying that the current policies would "fail us in numerous ways" unless America reverts "to some core principles."
At Wednesday's event, Dimon announced that JPMorgan, the largest bank in the country, would spent $500 million on a new philanthropic initiative to boost economic growth in American cities. As an example for the private sector, the program is expected to attract $1 billion in outside capital, the bank said.