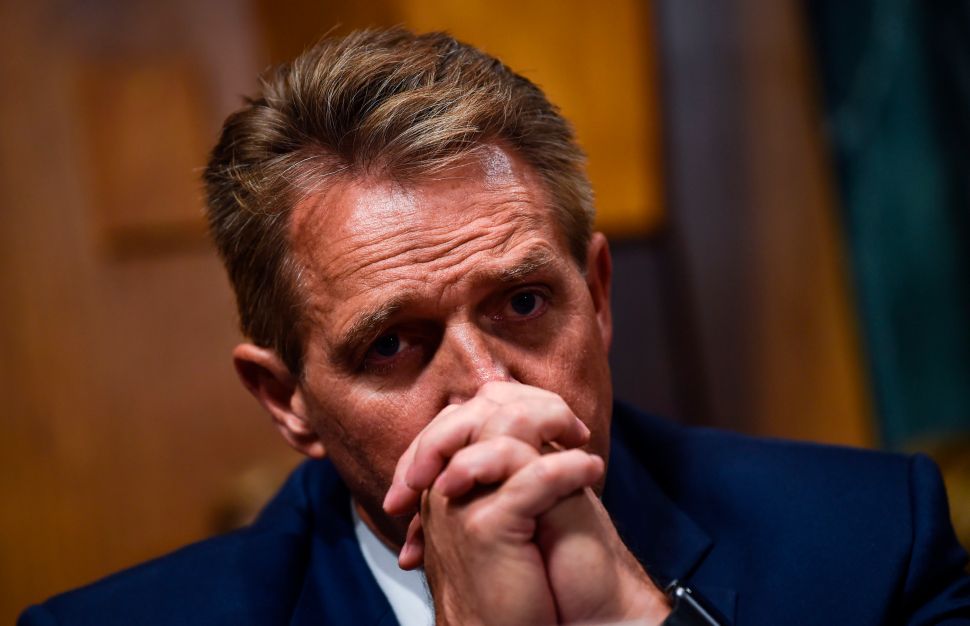 After calling for a one-week FBI investigation into Brett Kavanaugh's allegations, Senator Jeff Flake (R-Ariz.) voted along party lines to move the Supreme Court nominee through the Senate Judiciary Committee and onto the Senate floor.
As Senator Corey Booker (D-N.J.) lauded Christine Blasey Ford's bravery ahead of the 1:30 p.m. vote to confirm Kavanaugh, Flake met privately with Democratic senators on the sidelines.
"Jeff can force it if he wants," Senator Dianne Feinstein (D-Calif.) told the Senate Judiciary committee's chairman Chuck Grassley (R-IA) on a hot mic, in what many interpreted as reference to a potential FBI investigation.
When the committee convened after recess, Flake voted for Kavanaugh on the contingency that the bureau investigate Ford's allegations of sexual misconduct. Although Senate Majority Leader Mitch McConnell (R-KY) is not required to comply with this demand, he may need to in order to secure Flake's vote on the Senate floor.
"I have been speaking with a number of people from the other side," said the Arizona senator during the committee vote. "I think it would be proper to delay the floor vote for up to, but not more than one week in order to let the FBI do an investigation…"
"I will vote to advance the bill to the floor with that understanding," he finished.
Flake released a statement earlier in the morning announcing his support for Kavanaugh—after former President George W. Bush launched a campaign the night prior to garner Republican votes. However, the senator was confronted by protestors before the committee reconvened. Activists against sexual assault wedged themselves between the doors of the elevator Flake found himself in, demanding he vote against the nominee.
"You're telling all women that they should just stay quiet because if you tell them what happened to them, you're going to ignore them," cried out one of the protestors. "You're telling all women in America that they don't matter."
Your move McConnell…