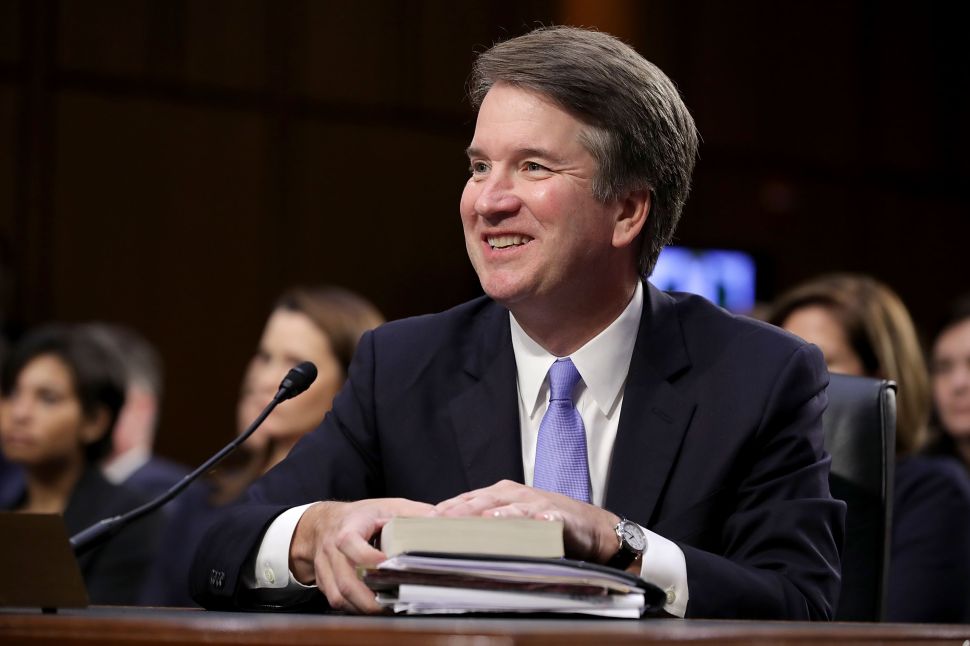 Memo to the Daily Caller: when you try to make jokes, they'll inevitably come back to bite you.
This morning, attorney Michael Avenatti released a sworn declaration from Julie Swetnick, the third woman to accuse Supreme Court nominee Brett Kavanaugh of sexual assault. Swetnick, who's worked for several government agencies, wrote that she met Kavanaugh and his friend Mark Judge at a series of house parties when they were all in high school.
According to Swetnick, Kavanaugh drank excessively and engaged in "abusive and physically aggressive behavior toward girls," including fondling, grabbing, grinding and "not taking 'no' for an answer." Swetnick also claims that she was gang raped by Kavanaugh, Judge and other classmates.
Subscribe to Observer's Politics Newsletter
All of these allegations are disturbing, but one in particular should give the Daily Caller a sense of déjà vu. Swetnick claimed that Kavanaugh and Judge spiked the punch at house parties with drugs or grain alcohol "to cause girls to lose their inhibitions and their ability to say 'no.'"
Swetnick is actually the second Kavanaugh classmate to mention spiking drinks. One person quoted in Ronan Farrow and Jane Mayer's New Yorker exposé from last weekend said it was common for frat boys to "get a female student blind drunk" on "jungle juice"—grain alcohol mixed with Hawaiian Punch.
But before either of these stories came out, the Daily Caller had actually already connected Kavanaugh with jungle juice. The problem is, the site did it as a joke.
The Daily Caller has been on the defensive about Kavanaugh ever since his nomination was announced, countering negative stories with equal parts satire and propaganda. So when Washington Post reporter Philip Rucker noted that Kavanaugh's fraternity had marched across campus waving a flag woven from women's underwear, the Daily Caller was ready with a retort.
It's clear the Daily Caller meant this in jest, and didn't realize jungle juice would actually become part of the news cycle in the coming week. But the site's ill-timed zinger still rippled across social media after Swetnick's story came out, showing that such jokes sometimes come true in the worst possible way.
This isn't the first instance where an ill-timed story came back to haunt the Daily Caller. In January 2017, the site posted a video montage of cars plowing through "liberal" protesters and urged readers to "study the technique." Fox News shared the compilation, which was scored to the Ludacris song "Move Bitch (Get Out the Way)."
But after Heather Heyer was killed in Charlottesville, both Fox and the Daily Caller deleted the story, admitting it was "inappropriate."
Whether these viral posts were just poorly timed jokes or actual suggestions to harm people, they're enough to make any news site look bad. And given the Daily Caller's many issues, it would do well to avoid such viral screw-ups in the future.