Keith Richards finally got a bit of satisfaction at 1 Fifth Avenue, but it wasn't quite what he wanted.
The Rolling Stones guitarist did, at long last, finalize the sale of his Greenwich Village duplex, but it looks like he ended up settling for a bit less than he'd hoped for—in fact, it appears that he and his wife, Patti Hansen, are taking a loss on the palatial New York home, which they bought in February 2014 for $10.5 million.
Richards and Hansen first listed the unit in March 2016 for $12.23 million, but didn't find a whole lot of prospective buyers crying, "Gimme shelter." The rock legend's luxe penthouse lingered on the market, before reappearing with a chopped $12 million price tag in October 2017, and a redesign from stager Cheryl Eisen.
That still didn't do the trick, and the price tag was lowered to a touch below $11 million a month later. Finally, in March this year, Richards and Hansen opted to bring it down to a relatively paltry $9.995 million, which translates to a financial loss.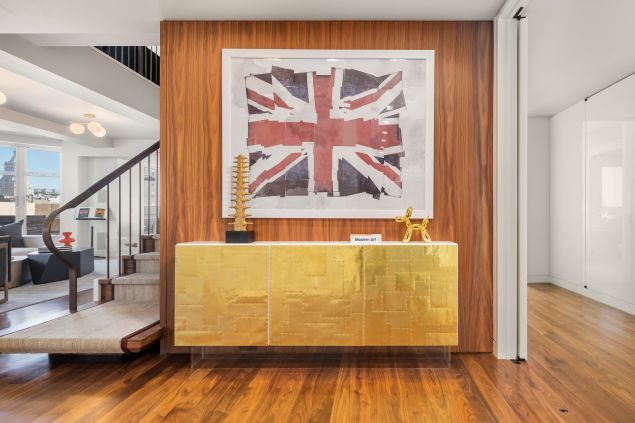 That steep discount, however, did manage to gather up some interest, and the three-bedroom, four-bathroom co-op went into contract in June. The sale was just finalized at the $9.995 million price tag, though Douglas Elliman, which is handling the listing, declined to comment or confirm the precise amount the new buyer paid.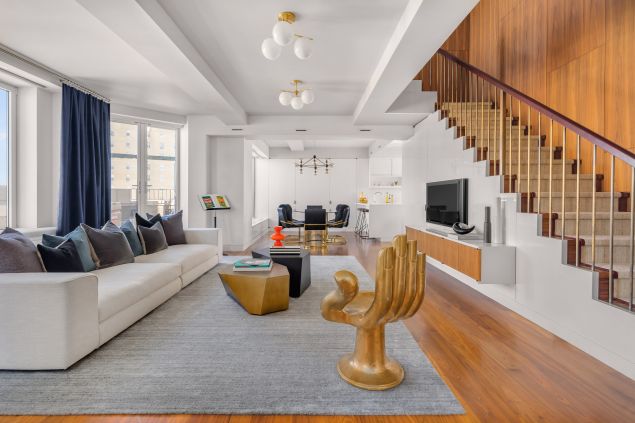 Richards didn't complete any major remodeling himself, but the apartment received an extensive renovation in 2011, shortly before he bought it.
The current decor includes Union Jack artwork hung in the entry above a golden console, velvet upholstered couches and chairs as well as plush fabrics and metallic accents throughout, courtesy of Eisen. There's also a staircase with a leather-wrapped bronze handrail that ascends to the upper level of the duplex.
The master suite features two walk-in closets and a bathroom with a glass-enclosed steam shower, soaking tub, double sink and wooden cabinetry. The home also has three private terraces, including one that is adjacent to the dining room for an alfresco eating situation, per the listing shared by Douglas Elliman brokers Adam Widener, John Gomes and Fredrik Eklund.
Even though Richards and Hansen are decamping from 1 Fifth Avenue, there's still a famous face who calls it home—and it doesn't seem like she'll be leaving anytime soon. Jessica Lange, who first bought a home in the building back in 2005, expanded her holdings in the co-op right as Richards' home went into contract. She paid $3.3 million for a two-bedroom, two-bathroom apartment directly above the residence she already owns, making way for a potential duplex of her own.