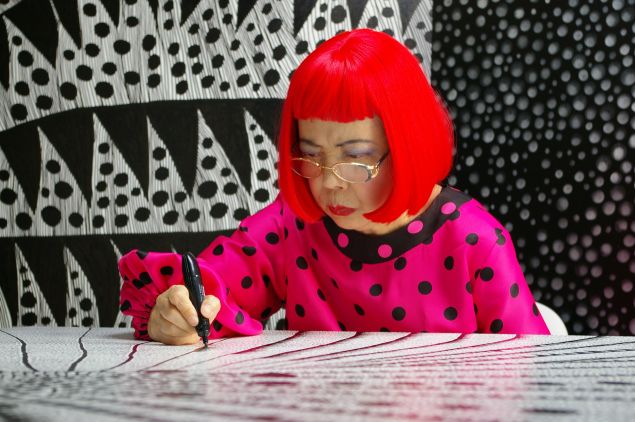 Yayoi Kusama has been making art since the 1950s, but it's only in the last few years that the Japanese artist's mirrored rooms, polka-dotted objects and unusual installations have found what could be described as a massive following, largely thanks to young people hungering for good Instagram backgrounds. As a result, a pink-wigged 89-year-old woman has become an unlikely flash point of pop culture enthusiasm. With her new documentary Kusama: Infinity, director Heather Lenz hopes to shed light on Kusama as a human being, laying out her tumultuous life and how it's affected her art.
Movies generally have a few years of production behind them at least, but the time that went into producing Kusama: Infinity is like comparing War and Peace to most average-sized books; Lenz started writing a script for a then-narrativized version of Kusama's life back in 2001, turning the concept into a documentary soon after. We spoke to Lenz about what took place to turn this into a 17-year journey and how she's handled Kusama's legacy.
What brought you to this project and how long has it been in the works?
I've been tracking Kusama's career since the early 1990s. My undergraduate degrees are in art history and fine arts. When I was first exposed to her work, there was only one catalog on her, which is hard to believe these days. I was instantly aware that her contributions to the American art world hadn't been properly understood or recognized. When I found out she was living in a psychiatric hospital, I also thought she was just someone who had a very complex life.
I started working on a script about Kusama while I pursued an MFA in film, in 2001. But the odds of coming straight out of school and getting to direct a big-budget period piece on a woman artist were not that great, especially as a female director. Because of that, and because she was still alive and able to tell her story in her own words, I decided I would make a documentary instead, never imagining that it would take so long.
I didn't realize it had been such a long road! What steps did you have to take? At what stage did you finally get to meet Kusama herself?
In 2004 I teamed up with my producing partner, Karen Johnson. We started shooting interviews with Kusama's peers and curators, people like that. We put together a pitch tape to apply for grants. It took a while, but back to back we got two different grants. One of them was from the Aurora Foundation, and involved travel to Japan.
When the head of the organization found out we didn't actually have Kusama's permission yet, she was quite surprised. But she took me under her wing—she's Japanese and had experience with production, and she went to Japan with me in 2007. She connected me with a tutor to learn basic conversational Japanese and different customs. The first time I interviewed Kusama herself was in 2007, and I did so again over the course of several years and several locations. Not only did I go back to Japan multiple times, but she also travels. We did interviews in New York and London as well.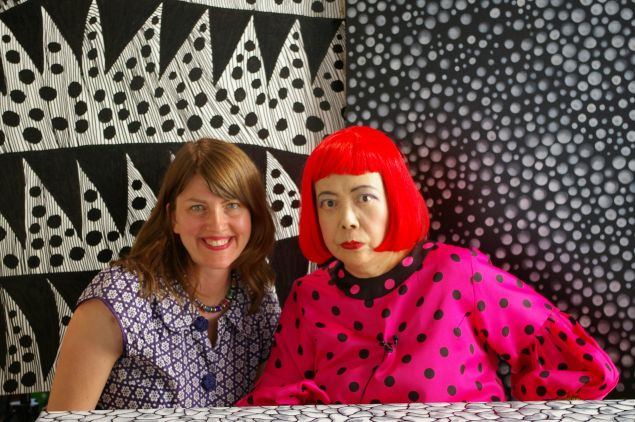 Did you find this a tough sell for potential backers? How much name recognition did Kusama have among them?
At the beginning, she was definitely not well-known. That's something Kusama fans these days do not understand, how it could have possibly taken so long or why there wasn't support. In the early days, she did not have name recognition. Even today, even though she is the top-selling living female artist in the world, if you go randomly ask ten people on the street if they know who she is, most of them won't. If it's a younger crowd, the kind of people on Instagram, you can explain that she's the artist behind the mirror rooms or the polka dot works. Then they'll know, but they might still not know her name. Even now, that's an issue.
One incident stands out to me. I pitched it to a woman who worked for a very powerful woman, and I thought she, the person I pitched, would be very into it. Instead she really questioned the fact that I was proposing to make a film about a non-American female. I didn't see it like that. I just saw her as a compelling person who had a really unusual life, and who figured out against all odds how to pursue her dreams. But gatekeepers have ideas about what kind of films can get made, and they have ideas about what components are key to success. But sometimes they're wrong and they miss it. They miss a gem right in front of them because they already have these ideas about what's going to be popular and what isn't. It's hard.
You faced a lot of setbacks along the way.
We were carrying all of this credit card debt, and even though we had been on a roll and felt optimistic that things were going to go well, there was a point when a lot of the organizations giving out funding either put that on hold or folded. Individuals who might have contributed before no longer had much appetite for that. We had to weather a dark time period.
There have been a lot of changes in the documentary landscape over this period. How did that impact the production?
While we've been making the film, there has been a shift in what's popular. I think that started with films like Man on Wire and Searching for Sugar Man getting a lot of attention. It was so astonishing—after everything we've been through, working to make this film and continually swimming upstream—that this year at Sundance there were all these films about strong women, in particular older women.
I've had a lot of people asking whether I waited and timed the release until this happened. Absolutely not. To work this long and hard on something, it's not what I expected. I thought by now I would have had an established career as a documentary filmmaker, not just working to make this one feature film. Finally the stars aligned, and the world was ready for the film I wanted to make.
How did the growth in Kusama's popularity in recent years affect the way you told her story in the film?
I had thought for a long time that the film's halfway point would be the '60s, and the ending would be in the 1990s, with her appearances at the 1966 and 1993 Venice Biennales as bookends. That shows her transition from trying to succeed within the gallery system to taking matters into her own hands—she's going to decide where she can show her art, and that's a trend that starts in the '60s. And then in the 1990s, she's asked to represent Japan in Venice, and she's the first woman artist to do so. It's a complete reversal of how she was treated in the 1960s. It's this triumphant moment.
But things kept evolving, and she became more and more popular. I could never in a million years have anticipated that she would become so successful while I was making the film. I thought I was actually going to help advance her career, which sounds so funny now.
In any case, it no longer made sense to end the film in the '90s, and instead to press forward. Kusama is a living artist and continues to do a lot of exciting things. I didn't want it to just end with the latest thing she's made and date the film. Instead I became interested in how she'd come to be accepted in her hometown of Matsumoto. For decades they had not understood her because she was so ahead of her time and was doing things that were so different from the expectations there. I felt that was a nice way to wrap the movie up, because it's a universally relatable thing.
Kusama: Infinity will begin screening in select theaters on September 7.