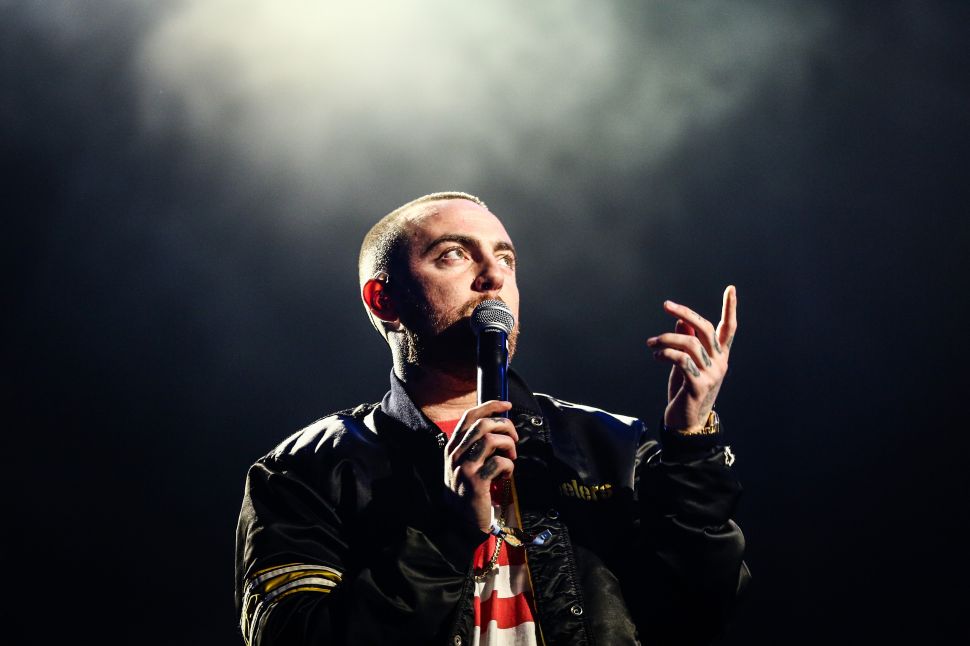 Hip Hop artist Mac Miller has passed away. He was 26.
Mac Miller Cause of Death
According to TMZ, Miller died Friday of an apparent overdose.
Per the outlet, authorities were alerted by a male who placed a 911 call which was believed to have come from the rapper's home. He was found Friday around noon at his San Fernando Valley residence and was pronounced dead at the scene.
Miller had sadly dealt with substance abuse issues in the past. Following his breakup with singer Ariana Grande, he was involved in an automobile accident while driving under the influence. He was later arrested and charged with DUI and hit-and-run.
Subscribe to Observer's Daily Newsletter
"I made a stupid mistake," he told Beats 1 host Zane Lowe in July. "I'm a human being. Like, [I] drove home drunk. But it was the best thing that could have happened. … I needed that. I needed to run into that light pole and literally, like, have the whole thing stop."
Earlier this year, Grande ended their relationship and reportedly cited his drug use as a contributing factor. She later tweeted "Pls take care of yourself," after Miller's arrest in May.
The young star spoke openly about his drug issues in a series of songs and interviews, including his 2014 mixtape Faces. Miller has previously admitted to being addicted to promethazine and codeine, which first began as he attempted to deal with the stress of fame during his Macadelic Tour in 2012.
During a 2013 interview with Complex, he said: "I love lean; it's great. I was not happy and I was on lean very heavy. I was so fucked up all the time it was bad. My friends couldn't even look at me the same. I was lost."
Mac Miller Career
Miller began his musical career in 2007 with the mixtape But My Mackin' Ain't Easy. He was just 15 at the time. As part of the rap group The Ill Spoken, he contributed to the mixtape How High in 2008.
His 2010 mixtape K.I.D.S. began earning more mainstream praise and his subsequent tour, the Incredibly Dope Tour, sold out every location. His fifth mixtape began to shoot him to higher levels of fame thanks to hit singles such as "Donald Trump," "Wear My Hat" and "All Around the World." His record debut, Blue Slide Park, arrived in 2011 and seemed to legitimize the young artist in the eyes of fans and contemporaries as it debuted at No. 1 on the U.S. Billboard 200. Several more successful albums, mixtapes and collaborations would follow.
In August of this year, Miller released the critically acclaimed album Swimming. In a recent profile with Vulture, the star opened up about his substance abuse issues and how they were reflected in his songwriting:
I used to rap super openly about really dark shit," he says of that time in his life and artistry and the mark it has left on the way audiences connect the facts of his life with the themes of his music, "because that's what I was experiencing at the time. That's fine, that's good, that's life. It should be all the emotions.

https://www.youtube.com/watch?v=VzAjXdBJsEc&list=PLsIPsvDxvD8EKyrhkzup9I4ZtpxKv-ugU
Miller was scheduled to begin a cross-country tour next month.
Mac Miller Quotes
"They're gonna try to tell you no, shatter all your dreams. But you gotta get up, and go and think of better things."
"Life goes on, days get brighter."
No matter where life takes me, find me with a smile."
"Some people need to just stop thinking about everything they do and just do it."
"People change and things go wrong, but just remember life goes on."