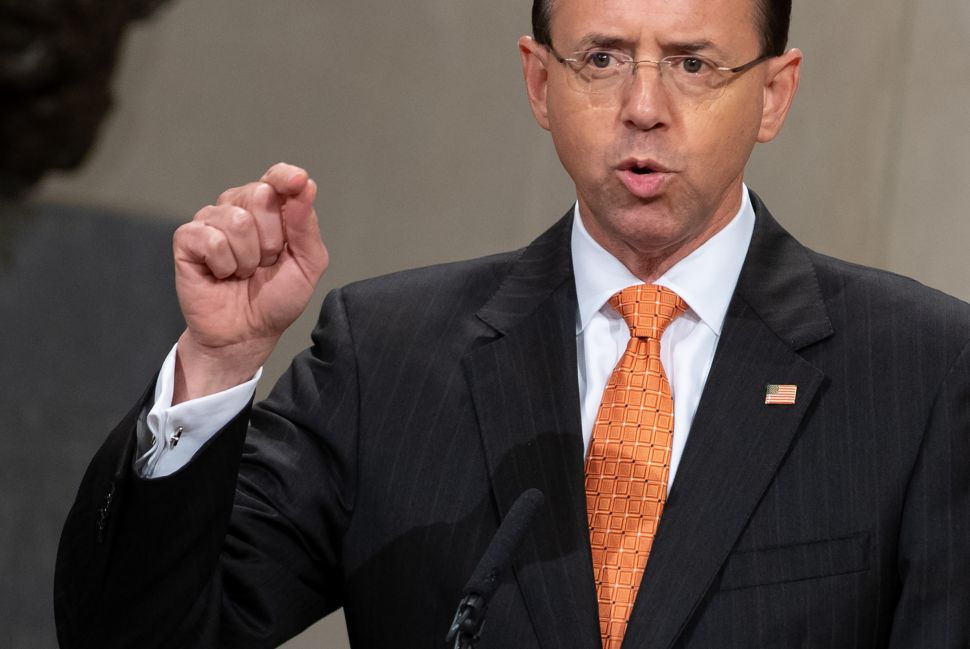 The New York Times found unlikely allies in MAGA-land after publishing a report on Friday alleging Deputy Attorney General Rod Rosenstein sought to secretly wiretap the president. Although Trumpers have previously lambasted the Grey Lady for reporting drawn heavily from anonymous sources, they were quick to seize The Times' unnamed accounts from the Justice Department as partisan ammunition.
"No one is shocked that these guys would do anything in their power to undermine @realdonaldtrump," wrote Donald Trump Jr. over Twitter, attaching a link to the Rosenstein story.
"Rod Rosenstein must be fired today," tweeted Fox News anchor Laura Ingraham.
Trump ally Judge Jeanine Pirro also recommended the president fire Rosenstein after the report's publication.
While nationalists blasted the article throughout the right-wing ecosystem, liberal politicians and journalists were skeptical of both a deep-state narrative and the Grey Lady's reporting. They also warned that the president may use the report as basis to fire Rosenstein and further discredit the Russia investigation.
"So the President should believe these anonymous New York Times sources. But none of the others? Got it," tweeted Democratic Congressman Eric Swalwell (D-Calif.).
"This New York Times report must not be used as a pretext for the corrupt purpose of firing Deputy Attorney General Rosenstein in order to install an official who will allow the president to interfere with the Special Counsel's investigation," said Senator Chuck Schumer (D-N.Y.) in a statement.
Left-leaning politicos and reporters also took issue with the piece. Matthew Chapman, a board member for Democrats Work For America, speculated online that The Times was "being played" by the Trump administration. One journalist, Marcy Wheeler, pointed to the fact that zero "of the people accusing Rosenstein of acting erratically were actual witnesses to his actions."
Shortly after The Times report went live, The Washington Post reported that Rosenstein's comments on secretly recording the president may have been said in jest.
"While McCabe's memos assert both the recording and 25th amendment conversations occurred at a meeting within days of Comey's firing, another person at the meeting, speaking on condition of anonymity to discuss internal deliberations, insisted the recording comment was said in a moment of sarcasm, and that the 25th amendment was not discussed," wrote The Post.
"That person said the wire comment came in response to McCabe's own pushing for the Justice Department to open an investigation into the president," continued the report. "To that, Rosenstein responded with what this person described as a sarcastic comment along the lines of, "What do you want to do, Andy, wire the president?"
Rosenstein has called The Times story "inaccurate and factually incorrect."