Welcome to Observer's 2018 Fall Arts & Entertainment Preview, your comprehensive guide to the best of the season. We've combed through cultural offerings from across the country to bring you our picks for the events worth leaving home for, and the releases you should be staying in for. Opera and dance fans should also check out our lists of must-see exhibitions and theater as well as the albums we'll be listening to as the nights get longer.
This season in opera and dance is a moveable feast: For every classic revival with an operatic superstar (Mefistofele), there are edgy debuts (ABT principal dancer James Whiteside's The Tenant) and eye candy (the physical theater of Humans and Satayaghra). There's also plenty of topicality (Marnie, The City of Others) if you'd like to work out your Trump-era frustration via those onstage. But in all of these upcoming New York City performances, expect to witness the sublime extremes—in either sound or plasticity—of which the human body is capable.
Darko Tresnjak, the Tony-winning director of A Gentleman's Guide to Love and Murder, helms this debut production of the Biblical story about the luscious-locked strongman and the treacherous woman who rips off his weave and sells him out. Stars Elīna Garanča and Roberto Alagna previously demonstrated the necessary chemistry in the Met's Carmen.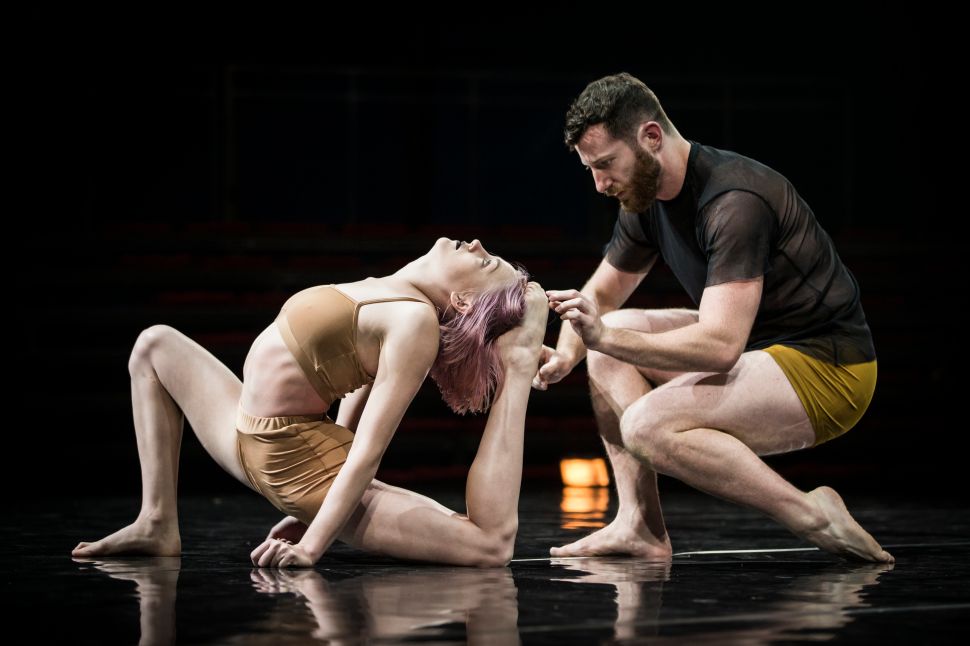 The Australian acrobatic troupe Circa performs an upscale Cirque du Soleil–style act that riffs on what it means to be an interconnected member of our species. Make haste if you like your minimalism sexy and thinky: In promo material, BAM touts a production "with stage and bodies stripped to a bare minimum." Perhaps an elevated version of just another night in Bushwick.
Fancy Free.
Composer Leonard Bernstein and choreographer Jerome Robbins were mere tots when they cooked up Fancy Free, a short ballet about three sailors on shore leave in N.Y.C.. It caused a sensation, inspired the musical On the Town and set the duo on their way. A decade later, they did West Side Story. In celebration of their centenary (both were born in 1918) their Sharks-vs.-Jets ballet is also on the program, along with Balanchine's Prodigal Son.
Tap dancer, choreographer and MacArthur "Genius Grant" recipient Michelle Dorrance is one of the dance world's most rapidly rising stars. For this new work she enlists the American Ballet Theatre in a hybrid piece that combines ballet and tap. We have no idea how that works, which is why we have to see it.
This Afro-Colombian dance company's name means "to return to the root," or to make sense of the present through the lens of the past. The piece they'll present at the Joyce examines issues of income inequality and gender- and sexuality-based discrimination among Colombia's urban minorities, and it looks set to be the season's it's-a-small-world entry.
The acclaimed choreographer Jessica Lang, whose troupe travels the country performing her works, presents her latest piece with the ABT, with whom she's been collaborating for more than two decades. Artist Sarah Crowner—known best for her bold, primary-color canvases that feel a little reminiscent of Matisse's cutouts—has been tapped for the scenery and costuming.
Following a world premiere in London last year, Nico Muhly's opera based on the Hitchcock classic makes its New York debut. The composer goes back to Winston Graham's novel for the story, but director Michael Mayer (Spring Awakening, American Idiot) retains the Technicolor Mad Men milieu of Hitch's 1964 film about a frigid career criminal with multiple identities who is traumatized by an abusive husband. Muhly has said he was writing Act 2 the day Trump was elected.
Philip Glass's classic opera about Mahatma Gandhi, which debuted at BAM in 1981, comes back home for another run. This revival dials up the visual spectacle by reimagining the piece as physical theater, incorporating Swedish circus company Cirkus Cirkör and Swedish opera company Folkoperan. Yarn—heaped into mounds and employed as tightropes—will be a recurring visual motif.
American Ballet Theater superstar James Whiteside stars in this gender-fluid dance drama based on a surrealist French novel, in which a man meditates on human identity. Considering that Whiteside moonlights as a drag queen named Ühu Betch, this could be the fall's most fortuitous casting. Nudity and adult themes are promised.
This visual spectacular—the only completed opera by Italian composer Arrigo Boito, who collaborated with Verdi on Otello and Falstaff—tells the classic tale of Faust's bargain from the devil's point of view. Christian Van Horn and Michael Fabiano star in Robert Carsen's staging as the devil and the due-ower.