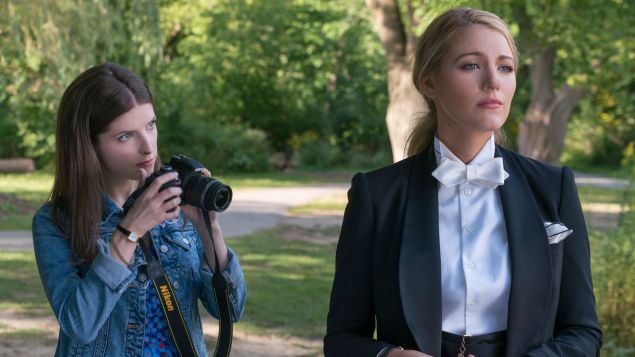 A modern riff on noir that's as bright and shiny as a set of Duplo Blocks and about as complicated, A Simple Favor gets by as a moderately entertaining diversion on the personality of its two leads and the machinations of its plot. But it leaves you with a profound sense that this genre exercise from high-concept comedy director Paul Feig could have been much more had the film possessed any of the style with which it is so clearly obsessed, or the emotional underpinnings required to make its twists and betrayals involving or believable.
There is obvious intent on the part of the Ghostbusters and Spy director to play with and subvert female archetypes; what's less apparent is the extent to which he pulls this off.
What is clear is that the lead characters are more than they appear, starting with the polka dot sweater and critter sock wearing Stephanie (Anna Kendrick). A widowed one-time Bard English major, Stephanie now devotes her time and creative energy to volunteering for her kid's kindergarten and updating her mommy vlog with craft ideas and recipes. (Warning: for people who take issue when someone uses the M word to address an individual who is not one of their primary parental units, this aspect of the film can be particularly cringeworthy.)
The story begins with Stephanie's blog taking on a purpose bigger than chocolate chip zucchini bread: uncovering where her glamorous new friend Emily (Blake Lively) has disappeared to. A high-powered PR executive with a razor sharp sense of style (the clothes are meant to tell much of the story here), Emily is in every way Stephanie's opposite: she only uses the word Mommy in sentences like "Mommy needs a drink," and the one recipe she knows involves very cold gin.
---

A SIMPLE FAVOR ★★
(2/4 stars)
Directed by: Paul Feig
Written by: Jessica Sharzer (script) and Darcey Bell (novel)
Starring: Anna Kendrick, Blake Lively, Henry Golding, Andrew Rannells, Kelly McCormack and Rupert Friend
Running time: 117 mins.

---
They bond over booze, which gives Stephanie a taste of the female friendship her life has been missing, and gives Emily (if that is in fact her real name) a free childcare option she can easily exploit. Films like this are generally won or lost by the tension created by its relationships, and there is a surprising lack of dynamism to this budding companionship, despite Lively and Kendrick's absolute commitment to the material and female friendships being something of a Feig specialty.
Crazy Rich Asian's hunk Henry Golding, playing Emily's failed novelist hubby, is meant to be the eye candy and ratchet up the sex appeal; but the film musters about as much erotic charge as a typical daytime soap. (Perhaps his writer's block stems from the fact that he keeps saying things like, "She's an enigma, my wife.") Kendrick, however, is particularly strong in selling her character's unlikely upshift from Rachel Ray to Jessica Fletcher as Emily's disappearance takes a turn for the felonious and she begins to crack the case.
Over the course of the film, Stephanie wonders, is she being Diabolique-d? Gaslight-ed? Spellbound-ed? This movie is convinced, like Dorothy in Oz clicking her heals and saying "There's no place like home," that if it keeps name-checking classic thrillers it might just become one.
"This is so cinematic," one of the characters exclaims during the lengthy final reveal, which, like too much of the film, involves people standing around explaining things rather than dramatic action. Well, no it isn't. Cinema of that sort requires, among other things, some play with light and shadow, and A Simple Favor looks flatter than a Zillow slideshow.
This is more of a mildly amusing adults-only after school playdate. But with its saucy French pop music and pastel Saul Bass-inspired credits, this film is so hungry to seem like a classic thriller that you come away charmed by its pure-hearted ambition. In this case, that's just enough to make it worth the watch.