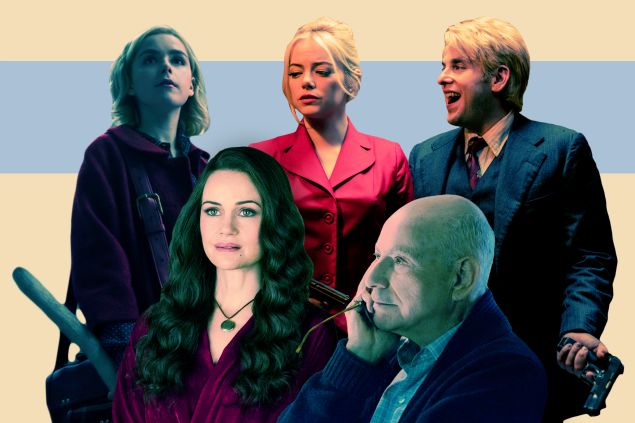 Welcome to Observer's 2018 Fall Arts & Entertainment Preview, your comprehensive guide to the best of the season. We've combed through cultural offerings from across the country to bring you our picks for the events worth leaving home for, and the releases you should be staying in for. Netflix (NFLX) freaks should also check out our lists of must-watch TV, must-see films and must-read books.
Netflix has a cool $13 billion to spend on content this year. So when it comes to looking at new TV this fall, the offerings from the streaming giant itself are enough to encompass what any given network would be putting out, plus 12 others—backwards, in high heels, in almost every imaginable (and unimaginable) genre and in several different languages and countries. Who benefits from this quest for visual domination? We, the viewers. To help you decide where to even start, we've singled out 11 very promising premieres.
Maniac (September 21)
It begins with a secretive, intensive pharmaceutical trial that promises to "solve" the mind's problems…what could go wrong? Directed by Cary Joji Fukunaga (True Detective) and starring Emma Stone and Jonah Hill as lost souls in misguided need of fixing, Maniac is shaping up to be one of Netflix's biggest, splashiest, trippiest, most visually striking trips of the fall. Does anyone know where we can get a script?
Made in Mexico (September 28)
One of the greatest aspects of Netflix's strategy is the widespread availability of international programming. Want The Real World in Japan? Try Terrace House. A Brazilian dystopian thriller? 3%. Now, the service is giving Mexico City the Bravo treatment with a reality series focused on the contact sport of the metropolis's wealthy, elite social scene. Already the show has received backlash in its native country for its out-of-touch premise—but to be honest, we're fascinated to see how it plays out here, where the Housewives franchise is considered high art.
Elite (October 5)
Netflix's new teen drama takes place at Las Encinas, an exclusive private school catering to Spain's highest societal stratosphere. Part Gossip Girl, part Riverdale, the series tracks the tension and conflict that mount as three working-class students are granted admission to study there. With a trailer that promises sex, murder, intrigue and dress codes, we ask that you approach this likely habit-forming series when you're emotionally ready to lose an entire weekend.
The Haunting of Hill House (October 12)
Shirley Jackson, author of The Lottery and literary master of horror, is getting the big-budget TV adaptation she deserves. Netflix's take will flash her 1959 short story forward to today, with a group of siblings who all grew up together in one of America's most haunted houses. A tragic event will reunite them as adults and force them to confront demons (both real and imagined) from their past.
Salt, Fat, Acid, Heat (October 19)
Last year, it was hard to scroll through Food Instagram without encountering the exuberant, illustrated cover of Samin Nosrat's Salt, Fat, Acid, Heat, a book that sought to teach the basic principles of cooking above meticulous recipe-following. Now, she takes this hands-on approach to San Francisco, Japan, Italy and the Yucatán in a scrumptious travelogue. Expect to return home with a few new culinary tricks up your sleeve.
Wanderlust (October 19)
Toni Collette stars as a therapist who begins to put the institution of monogamy to the test…within her own marriage. In this six-part British comedy co-produced with the BBC, expect an insightful, witty and quintessentially dry take on intimacy and happiness as we witness a couple struggling to break free of the cultural mores that define their—and many others'—partnership. 
The Chilling Adventures of Sabrina (October 26)
Kiernan Shipka already gave us a taste of her darker, moodier side in Mad Men's final season, and she'll trot out the teen angst again in this new take on Sabrina, the Teenage Witch. Most of Netflix's reboot attempts that have been centered around capturing the '90s nostalgia of Old Millenials have felt a little forced (Fuller House, anyone?). But with Riverdale writer Roberto Aguirre-Sacasa behind the production, we're confident this update is in good hands. We will, however, miss the sassy black cat.
Patriot Act With Hasan Minhaj (October 28)
Fresh off Hasan Minhaj's Peabody Award–winning Netflix special Homecoming King, the comedian is departing The Daily Show for his own spot in the host's chair. Premiering right before midterms, Minhaj's weekly talk show will take on the political realm with, according to Netflix, "sincerity and depth." Even more reason to tune in: Prashanth Venkataramanujam, head writer for the comedian's incisive remarks at the 2017 White House Correspondents' Dinner, is co-creator and executive producer.
House of Cards, The Final Season (November 2)
The series that launched Netflix as a serious TV contender is coming to an unexpected close, without its disgraced male lead. The focus—as if it wasn't already—is all on Claire Underwood (Robin Wright) and her occupation of the Oval Office. Even juicier: Her new foes will be played by Greg Kinnear and Diane Lane as moneyed, well-connected siblings inspired by the Koch brothers.
The Kominsky Method (November 16)
Netflix has made no bones about trying to poach some of network and cable TV's most prolific showrunners, including Shonda Rhimes and Ryan Murphy. CBS's Chuck Lorre, creator of the wildly successful The Big Bang Theory, is no exception, and his comedy with the streaming giant will star Michael Douglas as a once-successful star–cum–acting coach, and Alan Arkin as his friend and agent. Expect something a little more tender and introspective than a multi-cam sitcom—but also expect to laugh.
The Final Table (November 23)
If Top Chef Masters and Chef's Table had a baby that was then sent off to cook in global challenges that shifted locations every week, you would have The Final Table, Netflix's international food competition show to end all others. The judges? Nine superstar chefs with enough Michelin stars to form their own galaxy.