Within the past couple of years, home furnishings company Restoration Hardware has done its utmost to create cavernous, fantastical retail spaces where potential customers can stroll among the elegantly lit merchandise, perhaps not even noticing that they've entered what's essentially just…a store.
It's a trick a lot of commercial spaces are using as they've found themselves under the strange circumstances of modern capitalism. Now, most of us do our shopping online, so the challenge with brick-and-mortar locations is to provide an experience so extraordinary that it can't be replicated on the internet. 
Just take a look at the new Restoration Hardware Gallery in Manhattan's Meatpacking district, which seeks to accomplish this goal through sheer bombast. The five-story, 90,000-square-foot behemoth of a building is crowned with a rooftop restaurant and terrace space clearly meant as a rebuke to the Soho House next door. The concierge desk downstairs is an Art Deco masterpiece that was apparently lifted from a jazz club in Berlin.
Subscribe to Observer's Entertainment Newsletter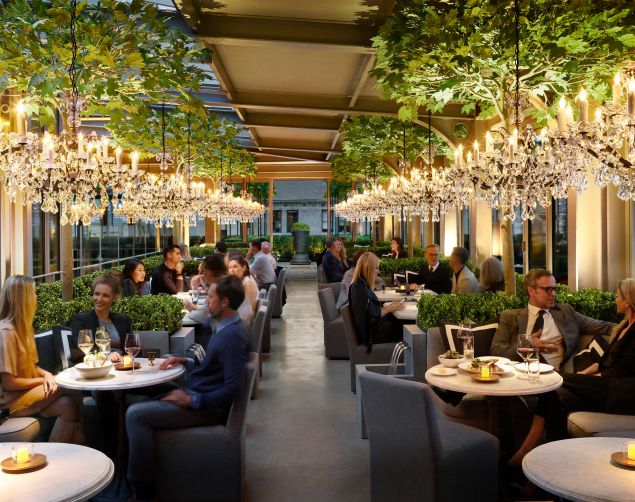 Laden with opulent chandeliers dangling from the ceiling and dotted with lush shrubbery around the perimeter, the upstairs eatery looks more like Queen Elizabeth's private garden than a furniture department store smack-dab in the middle of downtown. And that, of course, is the point: transcend the ordinary to transport customers somewhere their computers can't take them.
Infant and children's items are located on the basement level, which leads up to interior offerings on the ground floor, a design and atelier studio on the second, modernist options (plus a barista bar with incredibly smooth iced coffee) on the third, outdoor and patio furniture on the fourth and, finally, the rooftop dining experience. Columns surround the building's extensive layout; the shimmering skylight is visible from the lobby more than 50 feet below.
The result is a structure that bears at least a passing resemblance to the Whitney, a museum that's within spitting distance. This is most obvious in the brazen similarity between Felix Gonzalez-Torres' dangling lightbulb work, Untitled (America), which adorns the staircase of the Whitney, and the RH steps, also featuring exposed lightbulbs hanging from the ceiling.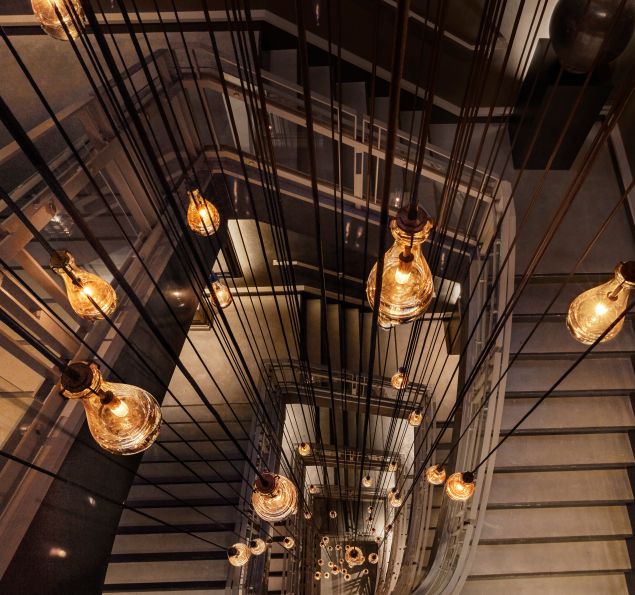 Ultimately, what RH is going for is a space that's so welcoming, comfortable and grand that you forget it's designed to make you buy things like expensive red leather armchairs or the 3D-printed, lower-priced and rather ingenious recreations of contemporary art made by General Public, a company founded by Portia de Rossi.
The company has definitely succeeded at this task.