The Times was not on it this morning.
Like every other news outlet, The New York Times is exhaustively covering Christine Blasey Ford's congressional hearing. Unlike the Anita Hill hearings in 1991, these proceedings are being streamed and tweeted about all around the world.
That means news outlets have to be extra careful about the way they cover these events. And this morning, the Gray Lady failed that mission.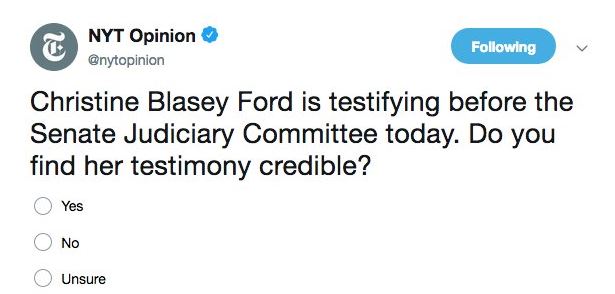 Subscribe to Observer's Daily Newsletter
The post was only up briefly before the Twitter hordes descended. Within 20 minutes, the tweet had been deleted and replaced with an apology.
The Times declined Observer requests for further comment. But the internet doesn't seem inclined to accept its apology.
Ironically, the paper's polling fiasco came soon after prosecutor Rachel Mitchell asked Ford why she went to The Washington Post with her story of abuse instead of The New York Times. The Gray Lady inadvertently showed Ford that she had made the right choice.
This is just the latest in a long series of unforced errors involving women in Times stories. In the past month, the paper has:
Mixed up Angela Bassett and Omarosa in a story about the Emmy Awards;
Accused United Nations ambassador Nikki Haley of ordering $50,000 curtains for her residence—the purchase was actually made during the Obama administration;
And has used gendered language like "snapped," "ripped" and "accused" to describe Cynthia Nixon's performance in a gubernatorial debate.
All of these viral blunders could be explored by a public editor who would act as an ombudsman between the newsroom and the public. But the Times eliminated that position last year, claiming the paper's followers on social media could act as a "modern watchdog."
How's that strategy working out so far?