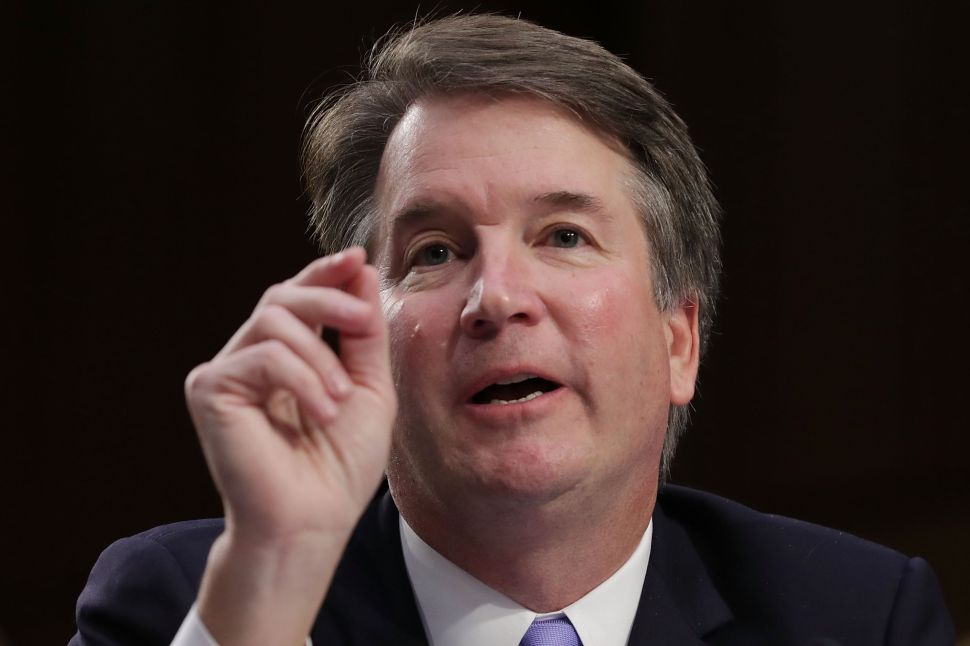 The latest accusations against Supreme Court nominee Brett Kavanaugh sent media Twitter in a time machine back to 1998.
Subscribe to Observer's Daily Newsletter
At about 6:30 last night, the Drudge Report claimed The New Yorker had new information that would present "a new twist" in Kavanaugh's confirmation. So, of course, the media world waited with bated breath.
By 8 p.m., the story by Ronan Farrow and Jane Mayer was out. They reported that Deborah Ramirez, a Yale classmate of Kavanaugh, had accused him of exposing himself at a dorm party, thrusting his penis in her face and forcing her to touch it.
The accusations made waves immediately, but soon, other media outlets started sowing doubt.  NBC, The New York Times and The Washington Post all said they passed on the Ramirez story, raising questions about its credibility.
The Times claimed it had spoken with dozens of Ramirez's classmates, none of whom recalled the party in question. The Gray Lady even reported that Ramirez herself allegedly said she wasn't certain that Kavanaugh was the person who exposed himself to her.
But it turned out Ramirez had only spoken with The New Yorker—she wasn't comfortable communicating directly with other media outlets. So those sites were acting only on conjecture, which explains the holes in their reporting.
It wasn't the media's proudest moment. But it also reminded many veteran political reporters of a scandal from the past.
Indeed, 20 years ago, Matt Drudge was the first person to tease President Bill Clinton's affair with White House intern Monica Lewinsky—he called it a "world exclusive." Back then, Newsweek was the outlet that allegedly had the dirt. Reporter Michael Isikoff discovered the Oval Office amour and found that Lewinsky had been moved from the White House to a job at the Pentagon as a result.
But unlike The New Yorker, Newsweek shelved its piece once Drudge started sniffing around. The magazine "killed a story that was destined to shake official Washington to its foundation," Drudge wrote.
Time magazine and The New York Post held off similar scoops after Newsweek backpedaled. But of course, the story turned out to be true.
Three days later, other major outlets confirmed the story and ran with it online and in print. Newsweek quietly published its own story and faxed it out to subscribers, but Drudge's drubbing had taken the wind out of its sails.
The magazine's editors said at the time that they delayed the article to avoid compromising independent counsel Kenneth Starr's investigation. But on a Yahoo podcast earlier this year marking the 20th anniversary of the failed scoop, Isikoff said he still objected to management's decision to hold the piece.
Thankfully, The New Yorker learned from Newsweek's mistakes. Drudge isn't perfect, but he often gets it right.