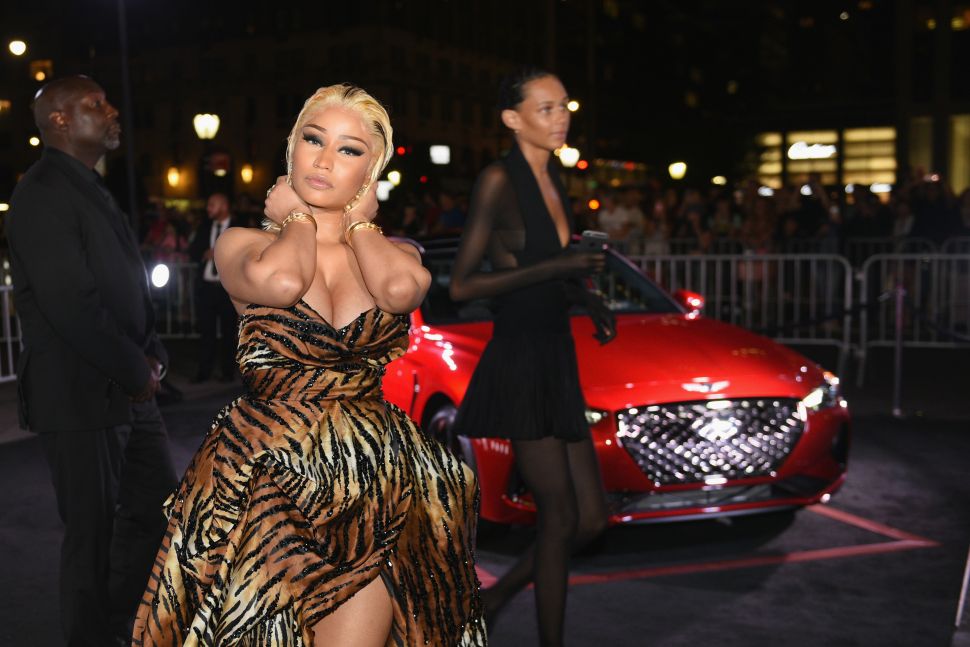 Unless you live under a rock the size of Rhode Island, you already know that Nicki Minaj and Cardi B got into an incredibly intense fight during the Harper's Bazaar ICONS party for New York Fashion Week on Friday night. The altercation left Cardi B with a torn dress and an enormous lump on her forehead.
According to attendees of the event, Cardi B, who was incensed by comments Minaj had allegedly made about her ability to parent her daughter, "aggressively approached" the table where Minaj was sitting and lunged toward her, but was immediately restrained by security guards. Cardi B then removed her red high-heel shoe and chucked it at Minaj. Clear video obtained by Cosmopolitan shows the moment Cardi takes off her shoe and threatens Minaj.
Minaj kept quiet about the incident over the weekend, but she finally broke the silence on Monday's episode of Queen Radio, her popular show that has already spawned a hilarious meme.
"Let me just say this," Minaj began. "The other night I was a part of something so mortifying and humiliating to go through, in front of upper-echelon people who have their lives together. The way they passed by, looking at this disgusting commotion, I will never forget. I could not believe how humiliating it all felt, because how we made ourselves look."
She continued, "I wanna say that I would never discuss anyone's child or parenting. I don't care about anyone's parenting, and it's so crazy to me that people always need to make Onika the bad guy. Onika Maraj has not and will never speak ill of anyone's child. I'm not a clown, and that's clown shit."
Minaj went on to address Cardi directly. "You knew that when that footage came out, you was about to look fuckin' dumb. They hurried up and put out a statement, and I'm such an ill-ass bitch I didn't feel the need to defend myself that night." She then added, "She's built her career off of sympathy and payola."
Next, Minaj took a call from a woman who alleged that Cardi B had insulted her years ago in an Instagram comment. "Ma'am, she called your dead child a monkey?" Minaj asked, clarifying the caller's claim. "She refers to black women as monkeys and roaches," Minaj concluded.
Minaj also accused Cardi of supporting the abuse of other women and sleeping with DJs to get her songs played.
Whether any of these allegations are true remains to be seen, as does the upcoming music video for Minaj's song "Barbie Dreams," which will be released today.
We'll keep you posted as this beef continues.