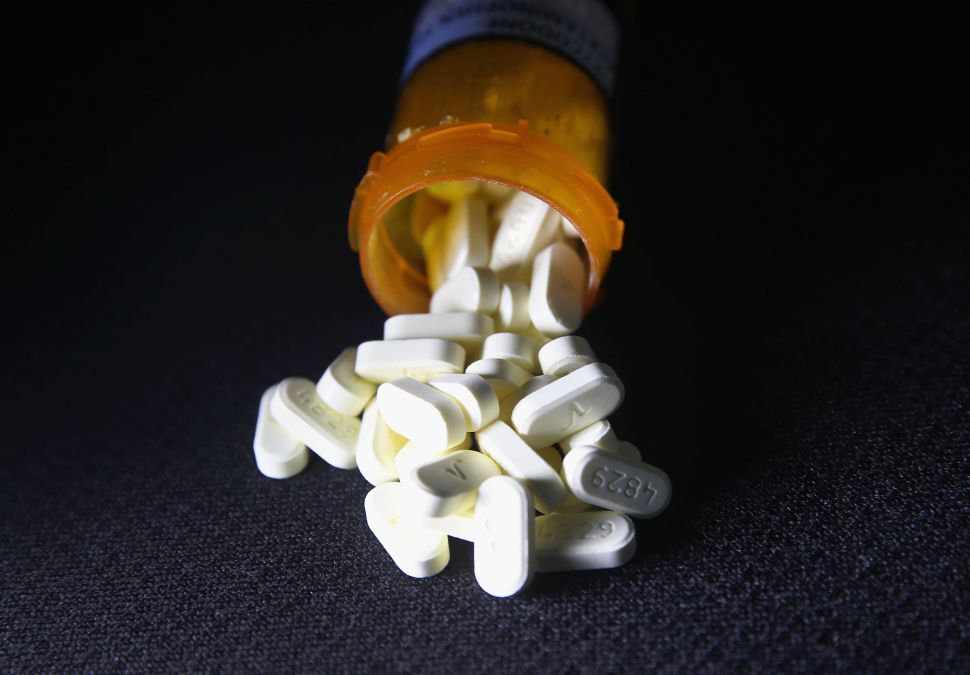 Overdose deaths rose to a level of almost eight per day in New Jersey in 2017, even as the number of opioid prescriptions sank below five million annually for the first time in recent memory.
Those sad statistics help illustrate just how serious the opioid epidemic remains in the state, according to a report by The Record.
There were 2,750 overdose deaths in New Jersey in 2017, compared to 2,221 the year before. For 2018, deaths are expected to be about 3,000, the report said.
A little more than half of the 2017 deaths involved fentanyl or analogues of the synthetic opioid, according to the report.
The report notes that the administration of Gov. Phil Murphy has a $100 million plan to combat opioid abuse. Part of the work involves building on efforts by former Gov. Chris Christie, who had made fighting addiction a focus of his final year in office.
Quote of the Day: "It feels like what the state wants is 'Come in, get beer and get out.' That's not what the craft brewery community is all about." — Sean Galie, co-owner and head brewer of Lower Forge Brewery in Medford.
Fatal overdoses continue to rise in NJ as opioid prescriptions decline
New Jersey's drug crisis is deepening to unprecedented levels and the state is falling behind as others streamline resources and build networks to treat the abuse as a true public health emergency, government officials and advocates say.
The Record Read more
Here's how N.J.'s 'modern plague' of opioid deaths could end, ex-gov and experts say
Despite enacting a groundbreaking law cracking down on doctors' prescribing habits, pumping tens of millions of dollars into treatment, and executing aggressive arrests and prosecutions, New Jersey has failed to stop the steady rise of opioid drug overdose deaths.
NJ.com Read more
New Jersey cracks down on events hosted by microbreweries
When lawmakers passed a law six years ago allowing microbreweries to serve their products in-house and sell more beer to go, they hoped to give New Jersey's fledgling craft beer industry a boost.
The Record Read more
N.J. could soon reduce the cost of your commute with this tax benefit
It's been a rough year for New Jersey commuters. Now lawmakers want to help out — with a tax benefit.
NJ.com Read more
Waiting for legal weed in New Jersey? It could be months before any vote on legalization
A long-awaited bill to legalize marijuana in New Jersey may not pass until late this year, marking another setback in efforts to make New Jersey the ninth state to establish legal marijuana sales for adults.
Asbury Park Press Read more
You'll never believe who the Tea Party just endorsed in N.J.
The Tea Party Express, which supported both repealing the Affordable Care Act and the Republican tax plan that capped the state and local tax deduction, is backing Rep. Leonard Lance for re-election.
NJ.com Read more
New Jersey adopts SALT workaround rules
New Jersey is moving ahead with an effort to give taxpayers a way to skirt a federal limit on local tax deductions, ignoring the Trump administration's month-old attempt to invalidate such workarounds.
Politico Read more
Hunters: We'll Sue Murphy to Bring Back Bear Hunt on State Lands
The New Jersey Outdoor Alliance, The Sportsmen's Alliance, and Safari Club International have announced a joint effort to sue Gov. Phil Murphy over his executive order banning bear hunting on state lands.
NJ101.5 Read more
Clergy Asks Coughlin to Help Change How Fatal Police Shootings Investigated
Clergy at a news conference in Edison yesterday called on Assembly Speaker Craig Coughlin to back a bill that would require the state Attorney General to take over investigations into police-involved fatal shootings.
NJSpotlight Read more
Don't bet on when sports betting could open in South Jersey. A lawsuit is holding it back
The odds on when a sports betting parlor will open in Cherry Hill, or anywhere in South Jersey anytime soon, are not looking good.
NJ.com Read more
Why Cory (Not-Running-for-Anything) Booker Is Stumping Nonstop in New Jersey
It has been two weeks since Senator Cory Booker claimed his "I am Spartacus" moment after releasing documents during the Supreme Court confirmation hearings for Brett Kavanaugh, earning mocking derision from conservatives who saw a presidential aspirant angling for a viral moment.
New York Times Read more
NJ municipal court reform: Chief justice pushes to get changes started
Two months after New Jersey's high court released a scathing report on the state's municipal court system, Chief Justice Stuart Rabner is moving forward with reforms.
Asbury Park Press Read more
Stockton seeks to extend alcohol license to AC campus, angering local restaurants
Stockton University is applying to extend its existing license to serve alcohol for special events to its new campus on Albany Avenue, and many owners of local bars and restaurants in the city are not happy about it.
Press of Atlantic City Read more
Modernizing the Grid in NJ Vital to Achieving Clean Energy Targets
The state yesterday began soliciting input on how to modernize an aging electric and gas grid, a step some view as perhaps the most important barrier to achieving a clean-energy future.
NJSpotlight Read more
Lawmakers revise jet fuel tax to include all airlines
The state Senate budget committee approved changes to a proposed bill that would raise the gas tax on United Airlines to fund a $1.7 billion PATH extension to Newark Liberty International Airport by eliminating the exemption for a 4 cent-per-gallon tax on jet fuel.
NJBiz Read more
Kenney to be Dem candidate for Essex Surrogate
Essex County Democrats have picked former Newark deputy mayor Alturrick Kenney as their candidate for Surrogate to replace Ted Stephens, who resigned earlier this month to become the new Essex County Prosecutor.
New Jersey Globe Read more
Parsippany expected to hire Woodland Park mayor as administrator
Woodland Park Mayor Keith Kazmark is expected to be confirmed as the new township business administrator during Tuesday night's council meeting.
Daily Record Read more
Beach access: Bradley Beach residents balk at proposed swimming restrictions
Residents here balked at a proposal that would have limited when people could swim at the borough's beaches.
Asbury Park Press Read more
Response to Paramus affordable-housing open house indicates need, officials say
For the first time in three years, the borough will open a waiting list for apartments in an affordable-housing complex for seniors and veterans on Garden State Plaza Boulevard.
The Record Read more