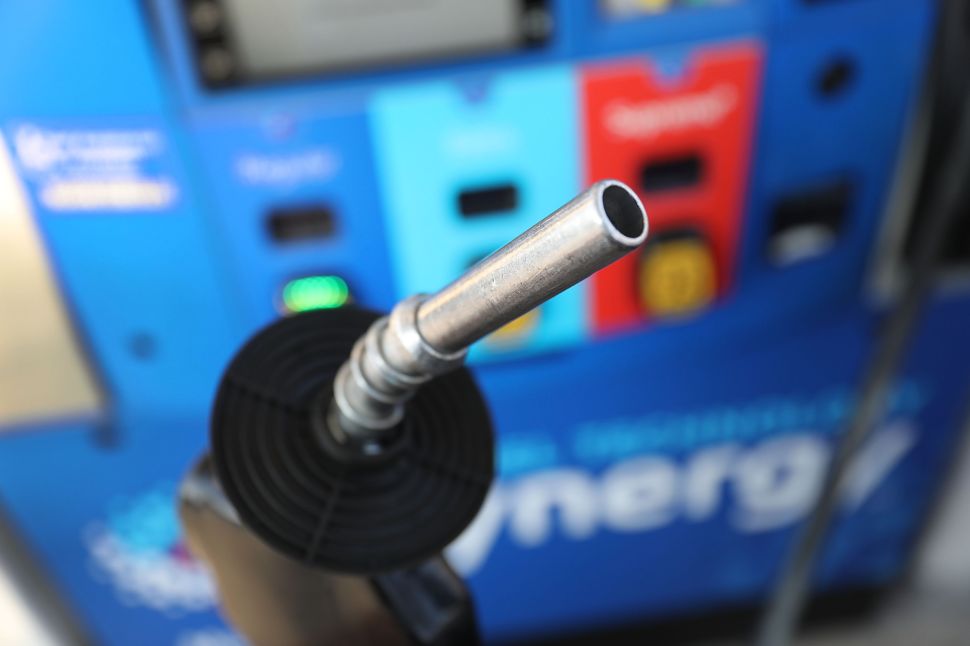 The people who live in New Jersey have no choice but to pay the state's exorbitant taxes.
The people from out-of-state? Not so much.
That's the conclusion of AAA, which says hiking the state gas tax in November 2016 prompted out-of-state motorists to fill up elsewhere, according to a report by NJ101.5.
The automobile agency looked at the total pool of taxable gasoline purchased in New Jersey, Pennsylvania and Delaware and concluded New Jersey's share of sales shrank from an average of 43.68 percent to 41.98 percent. That's 17.7 million gallons less per month, from 2016 to 2017, according to the NJ101.5 report. Meanwhile, gas sales in Pennsylvania and Delaware rose.
The law raising the gas tax in 2016 also permits the state to raise the tax if revenue falls. Gov. Phil Murphy has approved raising the tax by 4.3 cents per gallon on Monday, saying: "It is what it is."
With the state now having one of the higher gas taxes in the nation, AAA doesn't expect taking on additional charges will lead to significant changes in drivers' gas buying habits, the report said.
Quote of the Day: "cory booker brin(g)ing her coffee, thats a guy running for prez." — A Twitter user reacting to the New Jersey senator bring coffee to Christine Blasey Ford during her testimony Thursday.
A Big Reason NJs Gas Tax is Going Up Again
As New Jersey commuters brace for another hike in the gas tax on October 1, a new report shows the last hike has had a drastic impact on drivers' gas buying habits.
NJ101.5 Read more
Cory Booker calls Christine Ford 'heroic' for coming forward about sexual assault
Sen. Cory Booker called Christine Blasey Ford "heroic" on Thursday for coming forward to talk about her alleged sexual assault by Supreme Court nominee Brett Kavanaugh.
The Record Read more
Cory Booker jumps to get coffee for Christine Blasey Ford at Kavanaugh hearing, because who else?
She just wanted a cup of coffee.
Prior to her opening statement, Christine Blasey Ford, the woman who has accused Supreme Court nominee Judge Brett Kavanaugh of sexual assault, said she anticipated "needing some caffeine" after reading her testimony.
NJ.com Read more
First Lady, Weinberg and Oliver slam Lance over "tends not to believe" remark
Three powerful New Jersey women beat up on Rep. Leonard Lance today saying that he "tends not to believe" Dr. Christine Blasey Ford's allegation that U.S. Supreme Court nominee Brett Kavanaugh sexually assaulted her 35 years ago.
New Jersey Globe Read more
N.J. GOP Senate candidate Hugin doesn't trash Obamacare as he unveils his reform plan
For years, many Republicans have ripped into the Affordable Care Act — better known as Obamacare — saying the health-care law should be repealed and replaced.
NJ.com Read more
MacArthur Attacks, Kim Pushes Back in 3rd District
Andy Kim, the Democratic candidate for New Jersey's 3rd Congressional District, is closing in on the Republican incumbent Tom MacArthur — literally.
NJSpotlight Read more
Whitman dropped from Middlesex event over Trump comments
Former Gov. Christine Todd Whitman's invitation to a Middlesex County event that was to feature her and other former Republican Govs. Thomas Kean and Chris Christie was rescinded because of statements she made opposing Trump and calling for a Democratic takeover of Congress.
New Jersey Globe Read more
Strongest plastics ban in the nation takes first step forward in New Jersey
A bill that would impose the strongest statewide ban on everyday plastic products in the nation was approved by a Senate committee on Thursday.
The Record Read more
On the day of Kavanaugh hearing, NJ adopts 'zero-tolerance' policy on sexual harassment
For the first time in nearly a decade, the Senate and Assembly on Thursday upgraded their policy against harassment and discrimination, voting unanimously to mandate training for lawmakers and their staff and to make the complaint process more transparent.
The Record Read more
A vote for legal weed in N.J. coming on this day, top lawmaker says
New Jersey's top lawmaker has set a new date for at least one house of the state Legislature to vote legalizing recreational marijuana in the Garden State: Oct. 29.
NJ.com Read more
One racist rant later, the $100K race to replace a sheriff is on
It was just after 9:30 p.m. Wednesday night when the announcement came that Secretary of State Tahesha Way untangled the conflicting election laws and deemed Bergen County voters will decide on Election Day who will be their new Sheriff.
NJ.com Read more
No sick-time payout for Michael Saudino, Bergen County says
Michael Saudino, the former Bergen County sheriff, will not receive a lump sum payout from the county coffers for his unused sick days, vacation time or terminal leave, but his four undersheriffs will take home thousands of dollars after their resignations last week.
The Record Read more
Deal for Stockton to buy empty Atlantic Club property falls through
A highly touted deal for Stockton University to expand its new Atlantic City campus by purchasing the former Atlantic Club Casino property has fallen through, the two sides said Thursday.
Inquirer Read more
Crackdown on sex abuse at N.J. women's prison moves ahead
New Jersey lawmakers on Thursday advanced legislation seeking to crack down on sex abuse behind bars in the midst of a sex abuse scandal at the state's women's prison.
NJ.com Read more
This NJ school district wants parents to ban kids from social media until age 13
Months after a social media threat sent a Manalapan elementary school into lockdown, the school district superintendent is asking third graders' parents to ban them from social media until they turn 13 years old.
Asbury Park Press Read more
Passaic County judge removed for abuse of office
A Superior Court judge in Passaic County has been barred from the bench after a panel said she aided a friend in a child custody dispute and lied to authorities to cover her tracks.
The Record Read more
Billhimer confirmed as Ocean County prosecutor
The state Senate unanimously confirmed longtime criminal defense attorney Bradley Billhimer as the next Ocean County prosecutor Thursday.
Asbury Park Press Read more
Port Authority approves $19 minimum wage for Newark airport workers
The Port Authority of New York and New Jersey's board of commissioners voted unanimously Thursday to increase the minimum wage for workers at Newark Liberty International Airport to $19 per hour by 2023.
The Record Read more
Joe Coronato to become Ocean County 'drug czar?' Freeholders support proposal
Does Ocean County need its own drug czar?
Asbury Park Press Read more
Paterson changes health plan for more than 2,000 employees
Despite opposition from the unions that represent police officers and firefighters, the City Council voted 8-1 to approve a change in Paterson's employee health benefits insurance that officials say will save $20 million per year.
Paterson Press Read more
Golden: Legalizing Marijuana – Not So Easy After All, Governor?
The first promise was that it would be accomplished in the first 100 days. That was followed by assurances offered by editorial-page columnists that it would be law by the end of June. Take it to the bank, they predicted. That was followed by a pledge to act by the end of September.
NJSpotlight Read more