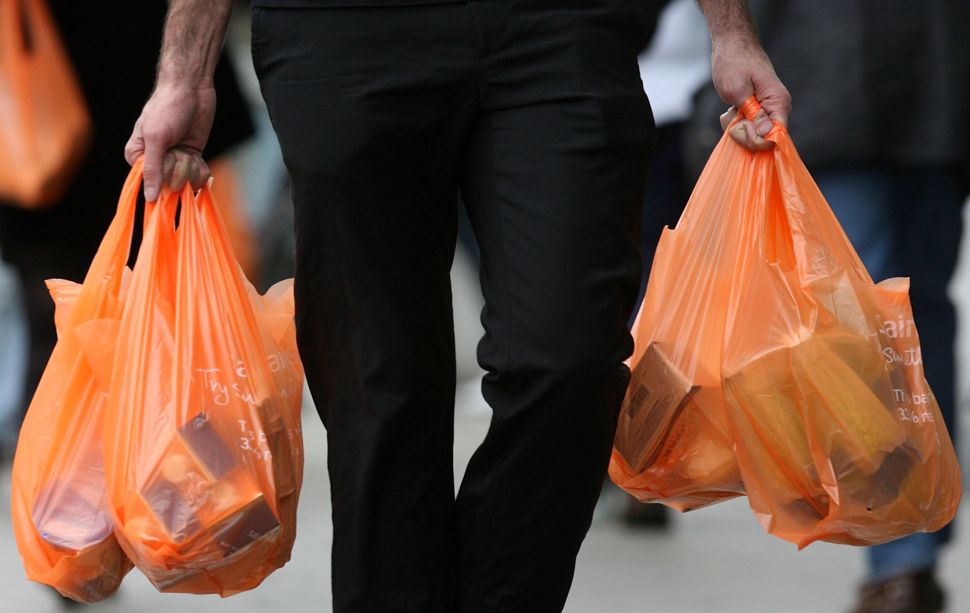 Governor Phil Murphy vetoed a plan to charge shoppers five-cents for every plastic and paper shopping bag, saying it didn't do enough to eliminate plastic waste.
So lawmakers have now introduced a bill that would ban plastic shopping bags and double the amount they will charge for paper ones, according to a report by NJSpotlight.
The proposed measure would also ban plastic straws and polystyrene food containers. Lawmakers say such a ban is needed to reduce plastic waste. They also say New Jersey residents, who already bear one of the highest tax burdens in the nation, need to be discouraged from switching to paper bags instead, the report said.
The paper bag fee would be split evenly between the state and retailers, with the money collected by the state supposedly going to a fund to encourage plastic recycling. But the state has a record of promoting such surcharges for special purposes, then routinely raiding those funds for the general budget.
And while online shoppers don't use shopping bags, lawmakers are eyeing them for a tax hike, too.
Both houses of the state legislature are expected to act today on a measure that would allow for broader taxes of online sales, a measure that's expected to cost residents here between $216 million and $351 million more per year, according to ROI-NJ. The legislature is moving quickly to adopt the new tax after the U.S. Supreme Court in June cleared the way for states to collect tax on more internet sales.
Quote of the Day: "Just over and over again, you find anomalies in the New Jersey tax code that make it more expensive and a little more arbitrary. Because you want a neutral tax code that's not picking winners and losers, and often New Jersey is doing that."  — Jared Walczak, senior policy analyst at the Tax Foundation, on New Jersey's business tax climate.
Lawmakers Plan to Ban Plastic Carryout Bags, Straws, Food Containers
The state is looking to adopt one of the nation's most far-reaching bills to address pollution caused from plastic waste.
NJSpotlight Read more
Bill taking advantage of new internet sales tax rules set for votes in both houses Thursday
A bill that should help New Jersey get an approximate $200 million bump in revenue from online sales tax is scheduled to be voted on in both houses of the state Legislature on Thursday.
ROI-NJ Read more
Business advocates, GOP wary of CBT 'clean-up' bill
A bill aimed at cleaning up several provisions of the corporate business tax has drawn some wariness from advocates across the state, arguing it is moving too quickly.
NJBiz Read more
NJ Ranks 50th in Annual Business Tax Climate Study
New Jersey still has the worst business-tax climate in the country, says the Tax Foundation in a new report.
NJ101.5 Read more
Gov. Phil Murphy may not get to appoint Bergen County sheriff replacement
Former Sheriff Michael Saudino's abrupt resignation last week after secretly recorded racist and homophobic comments he made were published has pitched the county elections into chaos.
The Record Read more
Lance, Malinowski Duel in 7th District
On a recent Sunday morning at Code 593 Café in downtown Wharton a local crowd was enthusiastically anticipating hearing from Tom Malinowski, the Democratic candidate in New Jersey's 7th Congressional District.
NJSpotlight Read more
N.J. Republican Senate nominee Hugin hasn't made up mind on Kavanaugh
Bob Hugin, New Jersey's Republican U.S. Senate candidate, said he is holding off saying whether he supports U.S. Supreme Court nominee Brett Kavanaugh until after Thursday.
NJ.com Read more
Hugin won't endorse Grossman, but won't disavow him either
U.S. Senate candidate Bob Hugin won't endorse congressional candidate Seth Grossman, but stopped short of disavowing him.
New Jersey Globe Read more
Hillary Clinton coming to N.J. to help fill Menendez campaign coffers
Hillary Clinton will help embattled U.S. Sen. Robert Menendez raise money for his re-election next month, a campaign spokesman said Tuesday.
NJ.com Read more
Cory Booker calls on Brett Kavanaugh to withdraw ahead of hearing on sexual allegations
Already prepared to vote "no," Sen. Cory Booker now does not want Judge Brett Kavanaugh's nomination to the Supreme Court to get that far.
The Record Read more
Lost in the Kavanaugh furor: A federal budget! Here's how Jersey cashed in.
Lost amid all the other news coming out of Washington, most notably the nomination of Judge Brett Kavanaugh to the U.S. Supreme Court, Congress is quietly moving towards avoiding a government shutdown in advance of the Oct. 1 deadline.
NJ.com Read more
NJ marijuana legalization: Will legal weed put money in your pocket?
In 2016, when New Jersey rose to become a top weed enforcer nationally, marijuana possession busts accounted for nearly 11 percent of all arrests in the state.
Asbury Park Press Read more
N.J. street gangs are using younger teens, guns, and extreme violence, experts say
Street gangs are growing at an alarming rate across the state, and the members are young, wielding guns, and taunting their enemies through social media, experts told the New Jersey State Commission of Investigation during a hearing Wednesday in Trenton.
Inquirer Read more
NJ Obesity Rate Still at its Highest Level
New Jersey posts the 11th lowest obesity rate in the nation among adults, according to a new report.
NJ101.5 Read more
NJ upends how doctors get paid, so why do vaccination, C-section rates lag?
New Jersey doctors and hospitals are increasingly paid based on quality, but patients aren't getting the care they need to prevent illnesses and bigger bills down the road, a report released Tuesday said.
Asbury Park Press Read more
Murphy's heath care deal with teachers union just got a thumbs-up from Wall Street
Changes coming to teachers' health care plans that will cut state costs by nearly $400 million over two years represent an important thawing in labor relations as the state looks for even bigger savings, a Wall Street rating agency noted Wednesday.
NJ.com Read more
Terminally Ill Tell NJ Let Us Go With Dignity
Susan Boyce has already outlived her original prognosis, but the 55-year-old Rumson resident knows "the end is inevitable" due to a progressive terminal illness that's left her with less than 30 percent of a normal person's lung capacity.
NJ101.5 Read more
Fuel at former New Jersey nuclear plant removed from reactor
The owner of what was considered to be America's oldest nuclear power plant until its shutdown last week says it has removed the nuclear fuel from the reactor.
Associated Press Read more
There's a certified push to recall mayor, so why are ads calling it a fraud?
For the last few weeks, a group of Orange residents has papered the city with fliers calling the campaign to recall Mayor Dwayne Warren a "scam" and warning of a "fraud alert."
NJ.com Read more
Woman charged in cash-for-votes scheme tied to Hoboken rent control campaign
The city woman charged by federal prosecutors with promoting a cash-for-votes bribery scheme is tied to a committee that unsuccessfully campaigned to weaken the city's rent control regulations in 2013.
Jersey Journal Read more
Elected official is paid $21K, but he's ditching meetings after facing charges
Paul Dougherty did not show up at the monthly meeting of Haddon Township commissioners Tuesday evening. It's been more than two months since he has.
NJ.com Read more
GOP senator calls Paterson school board's Las Vegas trip a 'colossal waste'
A Republican state senator from Montville is calling two Paterson school board members' trip to an education conference in Las Vegas this week a "colossal waste" of taxpayers' money.
Paterson Press Read more
Murphy pledges to revitalize struggling city of Trenton
The city that plays hosts to government offices and New Jersey's Statehouse could be get a boost from Gov. Phil Murphy's administration.
NJ.com Read more
Mocked for shaving on train, man gets NJ Transit job interview
Anthony Torres, 56, the homeless man who was shamed on social media earlier this month for shaving on an NJ Transit train, has gotten an interview offer from the company, according to reports.
Asbury Park Press Read more
My sergeant made me make a sex tape: Wall police lawsuits allege racism, more
The township police department is being sued by an ex-cop and a suspended dispatcher, who are accusing a number of its officers of repeatedly using racist language, including referring to African Americans as "monkeys" and using the N-word.
The Record Read more
New Jersey Hall of Fame finally finds a permanent home – at American Dream
New Jersey, butt of jokes for its mobsters and mosquitoes, officially buried its inferiority complex Wednesday with shovel and hard hat.
The Record Read more
Botany's portable toilet an effective, unpopular solution for homeless sanitation situation
The experimental portable toilet intended for use by homeless individuals in the city's Botany section is working so far, but remains unpopular with residents.
The Record Read more
Editorial: Expand public access to police camera tapes
Police dashboard and body cameras exist primarily to expand public accountability. Their presence helps prevent law enforcement abuses by assuring — theoretically, at least — greater transparency.
The Record Read more